Courage to Be Faithful
From: Our Daily Bread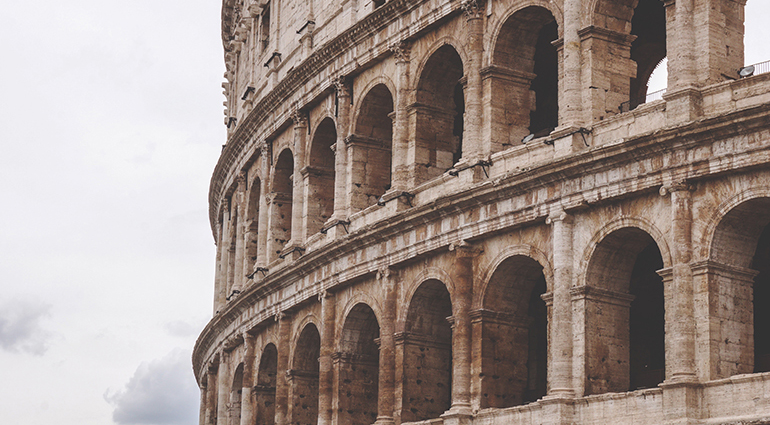 Fear is Hadassah's constant companion. Hadassah, a young Jewish girl living in the first century, is a fictional character in Francine Rivers' book A Voice in the Wind.After Hadassah becomes a slave in a Roman household, she fears persecution for her faith in Christ. She knows that Christians are despised, and many are sent to their execution or thrown to the lions in the arena. Will she have the courage to stand for the truth when she is tested?
When her worst fear becomes reality, her mistress and other Roman officials who hate Christianity confront her. She has two choices: recant her faith in Christ or be taken to the arena. Then, as she proclaims Jesus as the Christ, her fear falls away and she becomes bold even in the face of death.
The Bible reminds us that sometimes we will suffer for doing what is right—whether for sharing the gospel or for living godly lives that are against today's values. We are told not to be frightened (1 Peter 3:14), but to "revere Christ as Lord" in our hearts (v. 15). Hadassah's main battle took place in her heart. When she finally made up her mind to choose Jesus, she found the courage to be faithful.
When we make the decision to honor Christ, He will help us to be bold and to overcome our fears in the midst of opposition.
Father, give me boldness to stand firm in difficult times.
Let us be bold as we witness for God.
Branded by Shame
From: Our Daily Journey
Read:
Genesis 3:1-24
At that moment their eyes were opened, and they suddenly felt shame at their nakedness. So they sewed fig leaves together to cover themselves (Genesis 3:7).
When our pastor was a youn man, he accidentally defaced a much-loved dining room table. Beautifully crafted, it had been in the family for generations, but it was left with an ugly mark when he accidentally placed a piping-hot dish directly on it. Although his parents forgave him, he was overcome with shame. Years later when he saw an ad for a furniture repair specialist, he got the table fixed. Although he'd been forgiven, the sting of shame only faded once the mark on the table had been removed by the skillful hand of a master.
Shame is a feeling Adam and Eve had never experienced. They had known only an intimate fellowship with their Maker. But when Satan tricked them into tasting the forbidden fruit, they were overcome by the unfamiliar and uncomfortable feelings of guilt and shame (Genesis 3:1-6). "At that moment their eyes were opened, and they suddenly felt shame at their nakedness. So they sewed fig leaves together to cover themselves" (Genesis 3:7).
For the first time, horrible feelings caused them to retreat and seek to hide from God (Genesis 3:8-10). Perhaps also for the first time, they blamed others for their actions (Genesis 3:11-13). But the damage had been done: the ugly stain of sin was forever branded on humanity. As the heartbroken couple reeled from a damaged relationship with their Creator and banishment from their beloved home, their Master was the only One who could restore them (Genesis 3:14-24).
And He did. "For the sin of this one man, Adam, brought death to many. But even greater is God's wonderful grace and his gift of forgiveness to many through this other man, Jesus Christ" (Romans 5:15).
No matter what you've done or how ashamed you feel, He can forgive and heal you.
Have faith that whatever you ask for in prayer is already granted you, and you will find that it will be (Mark 11:24).
When my little son was about ten years of age, his grandmother promised him a stamp album for Christmas. Christmas came, but no stamp album, and no word from grandmother. The matter, however, was not mentioned; but when his playmates came to see his Christmas presents, I was astonished, after he had named over this and that as gifts received, to hear him add, "And a stamp album from grandmother."
I had heard it several times, when I called him to me, and said, "But, Georgie, you did not get an album from your grandmother. Why do you say so?"
There was a wondering look on his face, as if he thought it strange that I should ask such a question, and he replied, "Well,  mamma, grandma said, so it is the same as." I could not say a word to check his faith.
A month went by, and nothing was heard from the album. Finally, one day, I said, to test his faith, and really wondering in my heart why the album had not been sent, "Well, Georgie, I think grandma has forgotten her promise."
"Oh, no, mamma," he quickly and firmly said, "she hasn't."
I watched the dear, trusting face, which, for a while, looked very sober, as if debating the possibilities I had suggested. Finally a bright light passed over it, and he said, "Mamma, do you think it would do any good if I should write to her thanking her for the album?"
"I do not know," I said, "but you might try it." A rich spiritual truth began to dawn upon me.
In a few minutes a letter was prepared and committed to the mail, and he went off whistling his confidence in his grandma. In just a short time a letter came, saying:
"My dear Georgie: I have not forgotten my promise to you, of an album. I tried to get such a book as you desired, but could not get the sort you wanted; so I sent on to New York. It did not get here till after Christmas, and it was still not right, so I sent for another, and as it has not come as yet, I send you three dollars to get one in Chicago. Your loving grandma."
As he read the letter, his face was the face of a victor. "Now, mamma, didn't I tell you?" came from the depths of a heart that never doubted, that, "against hope, believed in hope" that the stamp album would come. While he was trusting, grandma was working, and in due season faith became sight.
It is so human to want sight when we step out on the promises of God, but our Savior said to Thomas, and to the long roll of doubters who have ever since followed him: "Blessed are they who have not seen, and yet have believed."
–Mrs. Rounds