10   

Jesus called the crowd to Him and said, "Listen and understand.
12   

Then the disciples came to Him and said, "Are You aware that the Pharisees were offended when they heard this?"…
Trash Talk
Get more Strength.org
5/23/2017
"The tongue also is a fire, a world of evil . . . . It corrupts the whole person, sets the whole course of his life on fire, and is itself set on fire by hell." James 3:6
One morning when I was pulling out of our driveway on my way to work, I noticed that someone had thrown a beer can on our lawn. I picked it up, tossed it into our garbage can and drove away without giving it much thought.
A little further down the road, the thought hit me: What will the garbage man think when he sees a beer can tumble out of the minister's trash can? I suppose, if my trash can could have talked, it would have set the garbage man straight. But unfortunately, trash cans don't say much these days. So, my reputation was left to whatever the sanitation engineer would conclude. And while beer cans in your trash may not be the worst thing that could happen, I wondered what would have been the conclusion if a neighbor boy had dumped his porn magazines into our garbage?
We have all jumped to a conclusion about somebody without knowing all the facts, only to hear the rest of the story and then feel terrible about what we have said about that person to others. To make matters worse, there is no way that we can retrace all our false information to rescue the victim's reputation. No wonder James warns, "The tongue is a fire, a world of evil."
When we draw conclusions quickly—without careful consideration of the consequences and risks, we stoop to the level of tabloid reporting. We carelessly trash valued reputations and do irreparable damage. This lethal habit of our tongues is called the sin of beguilement—the sin of drawing wrong conclusions and then passing them on.
Avoiding this kind of "trash talk" means that we refuse to make any firm conclusions until the facts are in. When in doubt, go to the person for clarification. If your conclusions are true, you can help them repent and lead them lovingly to recovery. If they are not true, you can stick up for them if others are spreading beguilement about them. And, when someone comes to you with some "trash talk" about another person, be quick to ask, "Do you know that for sure?" Tell them that you really don't want to know about the situation until you both can be certain about the facts. Encourage them to go directly to the person before they say anything else to others.
Reputations are too important to throw in the trash. I'm a raving fan of protecting people in love rather than getting some sort of sick joy out of speaking poorly about others. After all, Scripture tells us that "Love covers over a multitude of sins" (1 Peter 4:8
)!
Do You Worship The Work?
From: Utmost.org
Beware of any work for God that causes or allows you to avoid concentrating on Him. A great number of Christian workers worship their work. The only concern of Christian workers should be their concentration on God. This will mean that all the other boundaries of life, whether they are mental, moral, or spiritual limits, are completely free with the freedom God gives His child; that is, a worshiping child, not a wayward one. A worker who lacks this serious controlling emphasis of concentration on God is apt to become overly burdened by his work. He is a slave to his own limits, having no freedom of his body, mind, or spirit. Consequently, he becomes burned out and defeated. There is no freedom and no delight in life at all. His nerves, mind, and heart are so overwhelmed that God's blessing cannot rest on him.
But the opposite case is equally true– once our concentration is on God, all the limits of our life are free and under the control and mastery of God alone. There is no longer any responsibility on you for the work. The only responsibility you have is to stay in living constant touch with God, and to see that you allow nothing to hinder your cooperation with Him. The freedom that comes after sanctification is the freedom of a child, and the things that used to hold your life down are gone. But be careful to remember that you have been freed for only one thing– to be absolutely devoted to your co-Worker.
We have no right to decide where we should be placed, or to have preconceived ideas as to what God is preparing us to do. God engineers everything; and wherever He places us, our one supreme goal should be to pour out our lives in wholehearted devotion to Him in that particular work. "Whatever your hand finds to do, do it with your might…" (Ecclesiastes 9:10).
The Shrinking Piano
From: Our Daily Bread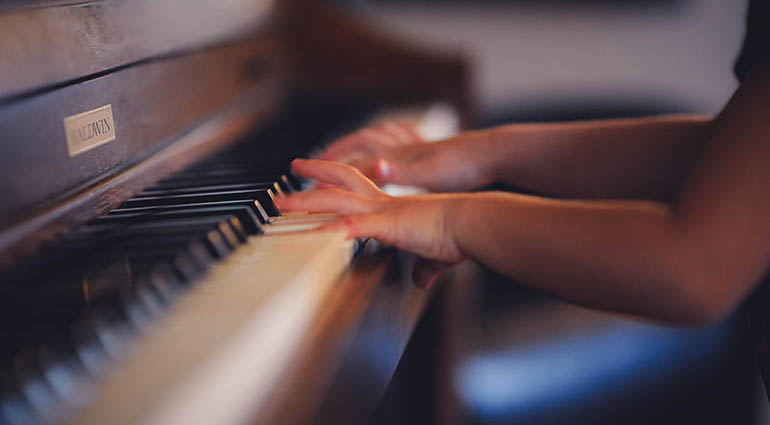 He who began a good work in you will carry it on to completion until the day of Christ Jesus. Philippians 1:6
For three consecutive years, my son participated in a piano recital. The last year he played, I watched him mount the steps and set up his music. He played two songs and then sat down next to me and whispered, "Mom, this year the piano was smaller." I said, "No, it's the same piano you played last year. You're bigger! You've grown."
Spiritual growth, like physical growth, often happens slowly over time. It is an ongoing process that involves becoming more like Jesus, and it happens as we are transformed through the renewing of our minds (Rom. 12:2).
When the Holy Spirit is at work in us, we may become aware of sin in our lives. Wanting to honor God, we make an effort to change. Sometimes we experience success, but at other times, we try and fail. If it seems like nothing changes, we get discouraged. We may equate failure with a lack of progress, when it's often proof that we are in the middle of the process.
Spiritual growth involves the Holy Spirit, our willingness to change, and time. At certain points in our lives, we may look back and see that we have grown spiritually. May God give us the faith to continue to believe that "He who began a good work in [us] will carry it on to completion until the day of Christ Jesus" (Phil. 1:6).
Dear God, give me a desire to grow spiritually. I want to honor You with my life and experience the joy of the Spirit's work inside of me.
Spiritual growth is a process.