6    

But He gives us more grace. This is why it says: "God opposes the proud, but gives grace to the humble."
8    

Draw near to God, and He will draw near to you. Cleanse your hands, you sinners, and purify your hearts, you double-minded.…
When Yes Means No
From: Our Daily Bread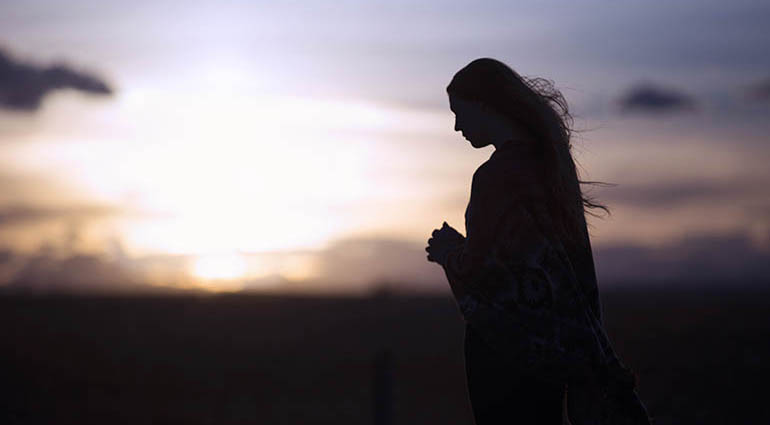 I call on the Lord in my distress, and he answers me. Psalm 120:1
I thanked God for the privilege of serving as my mom's live-in caregiver during her battle against leukemia. When medicines began to hurt more than help, she decided to stop treatment. "I don't want to suffer anymore," she said. "I want to enjoy my last days with family. God knows I'm ready to go home."
I pleaded with our loving heavenly Father—the Great Physician—confident He could work miracles. But to say yes to my mom's prayers, He would have to say no to mine. Sobbing, I surrendered, "Your will be done, Lord."
Soon after, Jesus welcomed my mama into a pain-free eternity.
In this fallen world, we'll experience suffering until Jesus returns (Rom. 8:22–25). Our sinful nature, limited vision, and fear of pain can distort our ability to pray. Thankfully, "the Spirit intercedes for God's people in accordance with the will of God" (v. 27). He reminds us that in all things God works for the good of those who love Him (v. 28), even when His yes to someone else means a heartbreaking no for us.
When we accept our small part in His greater purpose, we can echo my mom's watchword: "God is good, and that's all there is to it. Whatever He decides, I'm at peace." With confidence in the Lord's goodness, we can trust Him to answer every prayer according to His will and for His glory.
Our Daily Bread welcomes writer Xochitl Dixon!
Meet Xochitl and all our authors at odb.org/all-authors.
God's answers are wiser than our prayers.
I Trust God
From: Streams in the Desert
Though he slay me, yet will I trust him (Job 13:15).
For I know whom I have believed (2 Tim. 1:12).
I will not doubt, though all my ships at sea
Come drifting home with broken masts and sails;
I will believe the Hand which never fails,
From seeming evil worketh good for me.
And though I weep because those sails are tattered,
Still will I cry, while my best hopes lie shattered:
'I trust in Thee.'
I will not doubt, though all my prayers return
Unanswered from the still, white realm above;
I will believe it is an all-wise love
Which has refused these things for which I yearn;
And though at times I cannot keep from grieving,
Yet the pure ardor of my fixed believing
Undimmed shall burn.
I will not doubt, though sorrows fall like rain,
And troubles swarm like bees about a hive.
I will believe the heights for which I strive
Are only reached by anguish and by pain;
And though I groan and writhe beneath my crosses.
I yet shall see through my severest losses
The greater gain.
I will not doubt. Well anchored is this faith,
Like some staunch ship, my soul braves every gale;
So strong its courage that it will not quail
To breast the mighty unknown sea of death.
Oh, may I cry, though body parts with spirit,
'I do not doubt,' so listening worlds may hear it,
With my last breath.
"In fierce storms," said an old seaman, "we must do one thing; there is only one way: we must put the ship in a certain position and keep her there." This, Christian, is what you must do.
Sometimes, like Paul, you can see neither sun nor stars, and no small tempest lies on you; and then you can do but one thing; there is only one way. Reason cannot help you; past experiences give you no light. Even prayer fetches no consolation. Only a single course is left. You must put your soul in one position and keep it there.
You must stay upon the Lord; and come what may–winds, waves, cross-seas, thunder, lightning, frowning rocks, roaring breakers–no matter what, you must lash yourself to the helm, and hold fast your confidence in God's faithfulness, His covenant engagement, His everlasting love in Christ Jesus.
–Richard Fuller
Helpful or Heartless Toward Others?
From: Utmost.org
Do we need any more arguments than these to become intercessors– that Christ "always lives to make intercession" (Hebrews 7:25), and that the Holy Spirit "makes intercession for the saints"? Are we living in such a relationship with others that we do the work of intercession as a result of being the children of God who are taught by His Spirit? We should take a look at our current circumstances. Do crises which affect us or others in our home, business, country, or elsewhere, seem to be crushing in on us? Are we being pushed out of the presence of God and left with no time for worship? If so, we must put a stop to such distractions and get into such a living relationship with God that our relationship with others is maintained through the work of intercession, where God works His miracles.
Beware of getting ahead of God by your very desire to do His will. We run ahead of Him in a thousand and one activities, becoming so burdened with people and problems that we don't worship God, and we fail to intercede. If a burden and its resulting pressure come upon us while we are not in an attitude of worship, it will only produce a hardness toward God and despair in our own souls. God continually introduces us to people in whom we have no interest, and unless we are worshiping God the natural tendency is to be heartless toward them. We give them a quick verse of Scripture, like jabbing them with a spear, or leave them with a hurried, uncaring word of counsel before we go. A heartless Christian must be a terrible grief to our Lord.
Are our lives in the proper place so that we may participate in the intercession of our Lord and the Holy Spirit?