…

26  

"You of little faith," Jesus replied, "why are you so afraid?" Then He got up and rebuked the winds and the sea, and it was perfectly calm.
"

28   

When Jesus arrived on the other side in the region of the Gadarenes, two demon-possessed men met Him on their way from the tombs. They were so violent that no one could pass that way.…
What is the true identity of Jesus Christ? He is the Son of God. He is God the Son. He is God.
[Written by Joe Stowell for Our Daily Bread.]
Follow Me, and I will make you fishers of men. —Matthew 4:19
If someone were to ask, "Who are you?" my guess is that you would tell a little about yourself and what you do—"I'm an electrician" or "I'm a nurse." But that's not really who you are—it's what you do. Which leads to the question, If what you do is who you are, who will you be when you stop doing what you're doing?!
Who you are is found in your relationship to Jesus. And this sense of identity will drive your behavior. Take Matthew, for example. As a tax collector during the reign of the Roman Empire, his life was driven by greed. But everything changed the day Jesus showed up and invited Matthew to follow Him (Matt. 9:9
). Suddenly Matthew had a whole new identity as a follower of Christ! And he wasn't the only one. We also read about four fishermen in Matthew 4:18-25
, Peter, Andrew, James, and John, who left their nets to follow Him.
Jesus is a compelling Person, and He is still looking for followers. He wants to make something of your life by giving you the identity of a follower of Jesus. It doesn't mean giving up your career, but it does mean that you will do your work—and all of life—according to His will and ways.
So next time someone asks, "Who are you?" I hope you'll answer, "I'm a follower of Jesus"!
If you are a follower of Jesus, that's all the identity you need
His Word the Last Word
From: Our Daily Bread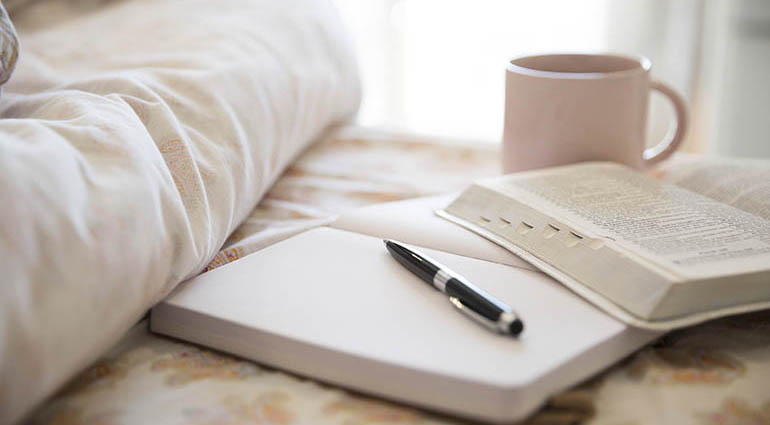 On my bed I remember you; I think of you through the watches of the night. Because you are my help, I sing in the shadow of your wings. Psalm 63:6–7
Dawson Trotman, a dynamic Christian leader of the mid-twentieth century and founder of The Navigators, emphasized the importance of the Bible in the life of every Christian. Trotman ended each day with a practice he called "His Word the last word." Before going to sleep he meditated on a memorized Bible verse or passage, then prayed about its place and influence in his life. He wanted the last words he thought about each day to be God's words.
The psalmist David wrote, "On my bed I remember you; I think of you through the watches of the night. Because you are my help, I sing in the shadow of your wings"  (Ps. 63:6–7). Whether we are in great difficulty or enjoying a time of peace, our last thought at night can ease our minds with the rest and comfort God gives. It may also set the tone for our first thought the next morning.
A friend and his wife conclude each day by reading aloud a Bible passage and daily devotional with their four children. They welcome questions and thoughts from each child and talk about what it means to follow Jesus at home and school. They call it their version of "His Word the last word" for each day.
What better way to end our day!
Thank You Father, for Your Word in our hearts and our minds—our last thought at night as we rest securely in You.
The Spirit of God renews our minds when we meditate on the Word of God.
Envy and Humility
From: Our Daily Journey
Read:
Acts 11:19-30
Barnabas went on to Tarsus to look for Saul. When he found him, he brought him back to Antioch (Acts 11:25-26).
The movie Amadeus depicts Antonio Salieri as a composer who couldn't enjoy his gift because he happened to live at the same time as the great Wolfgang Amadeus Mozart. Salieri worked diligently to create a decent musical work, only to watch the impish Mozart sit down at the piano and play soaring music, seemingly off the top of his head. Salieri begged God for Mozart's gift, but he believed that God gave him just enough talent to recognize the many ways he didn't measure up.
Salieri's jealousy had turned to envy. Jealousy says, "I want what you have." Envy says, "If I can't have what you have, then I don't want you to have it." Envy rejoices at others' failures.
The book of Acts depicts Joseph as a gifted leader in the early church. Loved by all, the other apostles nicknamed him "Barnabas (which means 'Son of Encouragement')" (Acts 4:36). He happened to live at the same time as the greatest church leader of all time, the apostle Paul. Rather than feel threatened by this talented leader, Barnabas humbly served by his side.
When the Christians in Jerusalem weren't sure they could trust the newly converted Saul, Barnabas "brought him to the apostles" and vouched for his story (Acts 9:26-27). When Barnabas was sent to encourage the believers in Antioch, he went and found Saul so they could lead together (Acts 11:22-26). And when Paul refused to take another chance on Mark, Barnabas decided to let Paul go on and lead without him. Barnabas saw potential in Mark and was willing to risk his reputation to lift him up (Acts 15:36-40).
How do we react when we see people who are better at whatever it is we do? May we seize the opportunity to praise God for their abilities and pray for their success.