(True satisfaction come from a heart that is at peace with God. This allows us to know the peace of God).
…

6   

Be anxious for nothing, but in everything, by prayer and petition, with thanksgiving, present your requests to God.
8   

Finally, brothers, whatever is true, whatever is honorable, whatever is right, whatever is pure, whatever is lovely, whatever is admirable—if anything is excellent or praiseworthy—think on these things.
The Search For Satisfaction
[Written by Joe Stowell for Our Daily Bread.]
Why do you spend money for what is not bread, and your wages for what does not satisfy? —Isaiah 55:2
When it comes to jigsaw puzzles, we all know that to enjoy a satisfying outcome you need all the pieces. In many ways, life is like that. We spend our days putting it together, hoping to create a complete picture out of all the scattered parts.
Yet sometimes it seems like a piece is missing. Perhaps we've been pursuing the wrong pieces to the puzzle. Even though we may know that life without God at the center is a life that has lost the most important piece, do we live as though He isn't particularly relevant? And even though we may attend church regularly, is He the throbbing center of our lives? Sometimes we grow accustomed to feeling distant from God. This makes it easier to sin, complicating the sense that something important is missing.
But no matter how far we may drift from God, He wants us near. He appealed to His people through the prophet Isaiah: "Why do you spend money for what is not bread, and your wages for what does not satisfy? Listen carefully to Me, and eat what is good, and let your soul delight itself in abundance" (Isa. 55:2
).
If something is missing in your life, remember that God is the only One who can fully and abundantly satisfy you. Let Him complete the picture of your life.
The God-shaped void within our heart
Cannot be filled by treasure;
It's only God who satisfies
In ways we cannot measure. —Sper
There's a longing in every heart that only Jesus can satisfy.
What Lasts Forever?
From: Our Daily Bread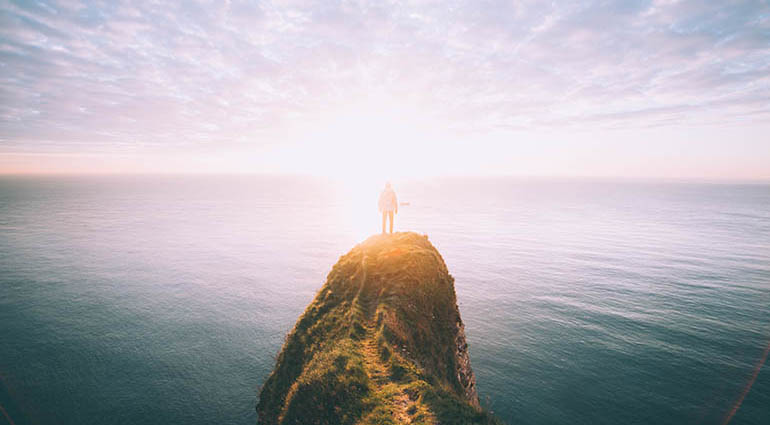 You remain the same, and your years will never end. Psalm 102:27
My friend, who had gone through many difficulties recently, wrote, "As I reflect on the past four semesters of student life, so many things have changed . . . . It is scary, really scary. Nothing stays forever."
Indeed, many things can happen in two years—a career change, newfound friendship, illness, death. Good or bad, a life-altering experience may be lurking just around the corner, waiting to pounce! We simply don't know. What great comfort, then, to know that our loving heavenly Father does not change.
The psalmist says, "You remain the same, and your years will never end" (Ps. 102:27). The implication of this truth is immense. It means that God is forever loving, just, and wise. As Bible teacher Arthur W. Pink so wonderfully states: "Whatever the attributes of God were before the universe was called into existence, they are precisely the same now, and will remain so forever."
In the New Testament, James writes, "Every good and perfect gift is from above, coming down from the Father of the heavenly lights, who does not change like shifting shadows" (James 1:17). In our changing circumstances, we can be assured that our good God will always be consistent to His character. He is the source of everything good, and everything He does is good.
It may seem that nothing lasts forever, but our God will remain consistently good to those who are His own.
Lord, You are the One who never changes, and You are so good to us. Calm our hearts today with the grace and peace that come only from You.
The One who holds the universe together will not let go of you.
Into the Dark Unknown
From: Our Daily Journey.org
At the outset of World War II, a man—who would eventually rescue 669 children from Nazi slaughter—helped two Jewish boys secure passage on a train escaping Czechoslovakia. After the war, the boys received a final letter from their parents who had died in a concentration camp.
Here are a few lines: The time has therefore come . . . for us to ask you to become good men. . . . You took a piece of your poor parents' hearts with you. . . . [You have heard] about the hard fate of all our loved ones. We too will not be spared and will go bravely into the unknown, with the hope that we shall yet see you again when God wills. Don't forget us, and be good.
We can only imagine the agony the parents experienced as they penned those lines and the boys' convulsing sorrow as they read them. I have no words to assuage this grief.
I do know, however, that the Bible doesn't ignore this kind of anguish. In a most distressing narrative, Scripture recounts how Job lost his children, his wealth, and his reputation as a God-fearing man (Job 1:14-19, 22:4-5). His ruin was so immense that when his friends came to visit him, they hardly recognized him (Job 2:12).
Though he endured much confusion and grief, Job refused to turn from his Creator. Although he would "curse the day of his birth," he would not reject God even when his wife prodded him to do exactly that—to "curse God and die" (Job 2:9). Job believed God was present in the ruins as much as in the blessings (Job 1:21).
Like Job, many of us will face terrible sorrows, but God will be with us even there. We may face hardship and despair, and we may have no answers or consolation. But God is with us, even in the dark unknown (Romans 8:38-39).