Jesus said to her, "I am the resurrection and the life. The one who believes in me will live, even though they die; and whoever lives by believing in me will never die. Do you believe this?"
"Don't be alarmed," he said. "You are looking for Jesus the Nazarene, who was crucified. He has risen! He is not here. See the place where they laid him."
For we believe that Jesus died and rose again, and so we believe that God will bring with Jesus those who have fallen asleep in him.
His Resurrection Destiny
From: Utmost.org
Our Lord's Cross is the gateway into His life. His resurrection means that He has the power to convey His life to me. When I was born again, I received the very life of the risen Lord from Jesus Himself.
Christ's resurrection destiny— His foreordained purpose— was to bring "many sons to glory" (Hebrews 2:10). The fulfilling of His destiny gives Him the right to make us sons and daughters of God. We never have exactly the same relationship to God that the Son of God has, but we are brought by the Son into the relation of sonship. When our Lord rose from the dead, He rose to an absolutely new life— a life He had never lived before He was God Incarnate. He rose to a life that had never been before. And what His resurrection means for us is that we are raised to His risen life, not to our old life. One day we will have a body like His glorious body, but we can know here and now the power and effectiveness of His resurrection and can "walk in newness of life" (Romans 6:4). Paul's determined purpose was to "know Him and the power of His resurrection" (Philippians 3:10).
Jesus prayed, "…as You have given Him authority over all flesh that He should give eternal life to as many as You have given Him" (John 17:2). The term Holy Spirit is actually another name for the experience of eternal life working in human beings here and now. The Holy Spirit is the deity of God who continues to apply the power of the atonement by the Cross of Christ to our lives. Thank God for the glorious and majestic truth that His Spirit can work the very nature of Jesus into us, if we will only obey Him.
"For God's Sake!"
From: Our Daily Journey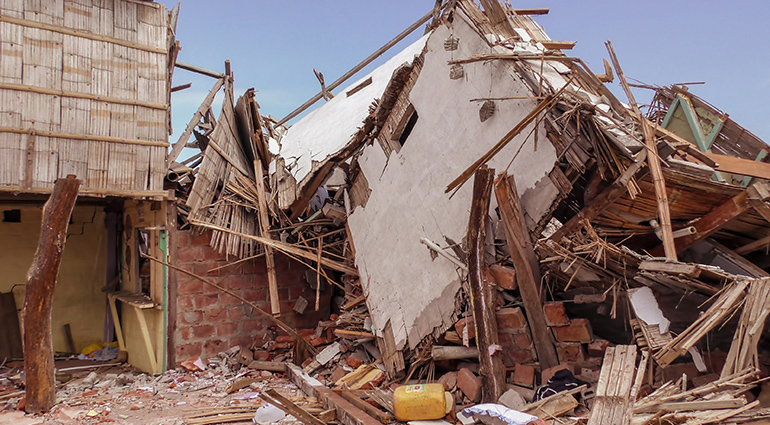 As I read the news account of the 7.8-magnitude earthquake that rocked Ecuador in 2016, the exclamation of one young man stood out: "For God's sake, help me find my family!"
"For God's sake . . ."
Those words can certainly be used wrongly—taking the Lord's name in vain. Yet, while I have no way of knowing if the young man has a relationship with God, it occurred to me that we so often invoke His name when calamity strikes. And since we're made in His image (Genesis 1:27), to cry out for the sake of others can truly be for His sake.
The plaintive cry of the young man reminds me of an exclamation from the lips of Joel: "Lord, help us!" (Joel 1:19). Judah, the prophet's nation, had been decimated by two natural disasters—an overwhelming swarm of locusts had eaten everything in their path and a drought had turned what remained to dust (Joel 1:6,12). The physical destruction—mirroring the nation's spiritual condition—was devastating (Joel 1:14-15).
Joel, whose name means "the Lord (Yahweh) is God," had been called to deliver God's solemn message to the people of Judah (Joel 1:1-2). A two-pronged response was prescribed: Cry in grief and call out to God for relief.
These two reactions can lead to help and restoration when we confront pain. Perhaps someone close to us has taken her last breath. Or we've witnessed the ruthless slaughter of innocents. Or the disease has returned . . .
In genuine mourning and heartfelt prayer, we can draw close to God whose love "never ends." But we may need to "lie face down in the dust" to once again find "hope at last" (Lamentations 3:22,29). For our sake, God meets us in our suffering and leads us through the fire and rubble to the joy that lies ahead.
A Shepherd for Life
From: Our Daily Bread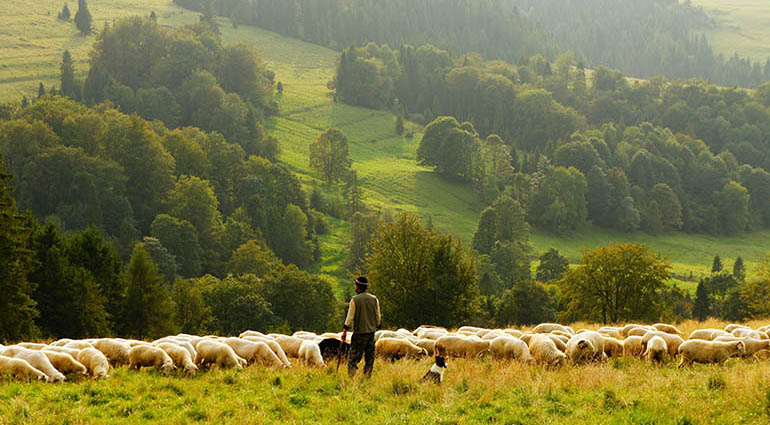 God . . . has been my shepherd all my life to this day. Genesis 48:15
When my son changed grades in school he cried, "I want my teacher for life!" We had to help him realize that changing teachers is a part of life. We may wonder: Is there any relationship that can last a lifetime?
Jacob, the patriarch, found out there is one. After living through many dramatic changes and losing loved ones along the way, he realized there had been a constant presence in his life. He prayed, "May the God . . . who has been my shepherd all my life to this day . . . bless these boys" (Gen. 48:15–16).
Jacob had been a shepherd, so he compared his relationship to God as that of a shepherd and his sheep. From the time a sheep is born through its growth to old age the shepherd cares for it day and night. He guides it during the day and protects it during the night. David, also a shepherd, had the same conviction, but he highlighted the eternal dimension to it when he said, "I will dwell in the house of the Lord forever" (Ps. 23:6).
Changing teachers is a part of life. But how good it is to know that we can have a relationship for life. The Shepherd has promised to be with us every day of our earthly existence (Matt. 28:20). And when life here ends, we will be closer to Him than ever.
Father, I thank You for being the Shepherd of my life. I praise Your faithfulness.