…

35    

For I was hungry and you gave Me something to eat, I was thirsty and you gave Me something to drink, I was a stranger and you took Me in,
37    

Then the righteous will answer Him, 'Lord, when did we see You hungry and feed You, or thirsty and give You something to drink?…
(Pictures of people being set free from captivity)
The Significance of Suffering
From: Get More Strength
"Consider him who endured such opposition from sinful men, so that you will not grow weary and lose heart." Hebrews 12:3
Let's be honest, most of us would have to admit that we have a natural aversion to suffering. It may not bother us so much when "bad" people suffer, but we often get bent out of shape when suffering happens to "good" people—especially to us! We think that life owes us happiness, comfort, wealth, and a bit of prosperity. So when life deals us a blow, it's no wonder we are prone to "grow weary and lose heart."
Thankfully the writer of Hebrews helps put things into perspective by instructing us to "consider" the suffering of Jesus. When we fully grasp the terrible suffering that Jesus Christ—the only perfect person to walk this planet—endured on our behalf, it makes all the difference.
It's significant to note that Jesus knew exactly what was coming. The night before His death, He told His disciples, "I have eagerly desired to eat this Passover with you before I suffer" (Luke 22:15
, italics mine). I have often thought that it would have been a lot easier for Him to die a different way—something more sudden and less violent. Why was such deep agony required?
Jesus knew that suffering is part and parcel of Satan's grip on our lives. Satan loves to bring it on, because he believes the more suffering he can throw at us, the more we will become defeated, discouraged, and disengaged from God. That's his plan. And so the enemy threw the book at Jesus. Satan entered the heart of Judas, which meant that Jesus would suffer the bitter betrayal of a trusted friend. The kangaroo courts and crowds declared Jesus to be a criminal, beat and mocked Him, and inflicted terrible agony on Him. He stumbled up the cobblestone steps carrying His own cross, felt the stab of the sword in His side, the nails in His hands and feet, the thorns on His brow. He tasted suffering for us, and all the while Satan said, "Take that!"
What Satan did not know was that behind the scenes, God was working to use Jesus' experience of suffering to turn the tables on Satan and defeat him through the suffering. The suffering of Jesus was a prelude to the ultimate defeat of sin, death, and hell.  Because He died on the cross and suffered for us, we too can be assured that in the depths of suffering there is the reality that victory will be God's end game for us. So, when Satan heaps suffering on your life, you can be certain that God, who works all things together for good (Romans 8:28
), is ready to turn the tables on Satan to bring victory out of defeat for you.
I don't know about you, but I'm really thankful that Jesus was not only willing to die, but to defeat the stronghold of suffering in the process. He willingly walked into the arena of suffering in order to achieve complete, final victory over the ravaging effects of sin. And what's more, He proved that there's life beyond the grave.
So don't miss the significance in your time of suffering! When Satan throws his best stuff at you, because of Jesus you can believe that God is both able and ready to turn the tables on him—and to bring you out with hands held high in victory!
Sweet Scent
From: Our Daily Bread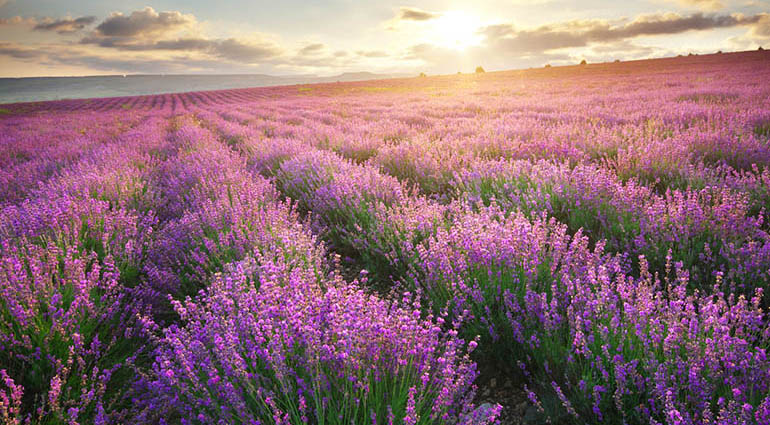 Thanks be to God, who . . . uses us to spread the aroma of the knowledge of him everywhere. 2 Corinthians 2:14
Author Rita Snowden tells a delightful story about visiting a small village in Dover, England. Sitting outside a café one afternoon enjoying a cup of tea, she became aware of a beautiful scent. Rita asked a waiter where it was coming from, and was told it was the people she could see passing by. Most of the villagers were employed at a nearby perfume factory. As they walked home, they carried the fragrance that permeated their clothes out into the street.
What a beautiful image of the Christian life! As the apostle Paul says, we are the aroma of Christ, spreading His fragrance everywhere (2 Cor. 2:15). Paul uses the image of a king returning from battle, his soldiers and captives in tow, wafting the smell of celebratory incense in the air, declaring the king's greatness (v. 14).
We spread the aroma of Christ in two ways. First, through our words: telling others about the One who is beautiful. Second, through our lives: doing deeds of Christlike sacrifice (Eph. 5:1–2). While not everyone will appreciate the divine fragrance we share, it will bring life to many.
Rita Snowden caught a scent and was driven to seek its source. As we follow Jesus we too become permeated with His fragrance, and we carry His aroma into the streets through our words and deeds.
Lord Jesus, make us carriers and communicators of Your beauty to the people in our homes, offices, and neighborhoods.
We are the aroma of Christ to others.
Adding Interest?
From: Our Daily Journey
Read:
Exodus 22:16-31
If you lend money to any of my people who are in need, do not charge interest as a money lender would (Exodus 22:25).
We can take for granted the idea that any money loaned to someone should be paid back with interest; this is seen as normal. Secular culture often judges things on a purely functional basis, whereby acquiring wealth and even gaining at the expense of another is simply the way things are. In contrast, God has always judged things from a "heart perspective." What's the motivation behind our actions? Are we fueled by desire for our own gain, or by compassion, love, and a desire to glorify God?
God's laws in Exodus 22 were designed to ensure that His people always acted fairly, possessing a heart attitude of compassion and justice that reflected His own. The Israelites were to display integrity, honesty, kindness, and love to one another. In charging interest to one of your own people, it was possible that you were taking advantage of someone's financial hardship. This showed a lack of love and misrepresented the character of God.
In verse 26, note how God told His people to return a person's cloak, even if it was taken as a pledge. It didn't matter to Him what the business transaction was—He required His people to care about a person's well-being at all times, including those who couldn't defend themselves (Exodus 22:16,22).
God has put His laws in the hearts of believers in Jesus. The Holy Spirit guides us from within—helping us to understand and live out the wisdom of Scripture (2 Timothy 3:16-17). How can we be more generous today, not only with our money, but—even more—with our time, our kindness, and our love for all people? When we give, let's not always expect a return, but simply rejoice in God using us to build His kingdom.