…

34    

"Sir," they said, "give us this bread at all times."
36   

But as I told you, you have seen Me and still you do not believe.…
A Boy's Lunch
[Written by Joe Stowell for Our Daily Bread.]
I am the bread of life. He who comes to Me shall never hunger. —John 6:35
Once I made the mistake of thinking I could single-handedly finish a 28-ounce steak at a restaurant. I had the remainder boxed up to take home. I thought, At least it will give me another feast to look forward to.
As I left the restaurant, a homeless man approached me, asking for money. At first I refused. But struck by sudden guilt, I called him back, gave him $5, and blessed him in Jesus' name. Having done my Christian duty, I was happy to go on my way, boxed-up steak in hand, until he asked, "What about the box?" I have to admit, I had a hard time parting with my steak.
One of my favorite stories in the New Testament is about the little boy who brown-bagged it to a revival service (John 6:1-14
). If he was like most boys, his lunch was a very important commodity. Yet he was willing to give his lunch of five barley loaves and two small fish to the Lord. I think he may have known that by putting his lunch in the hands of Jesus, He could do something extraordinary with it. And He did. He fed thousands of hungry people.
Jesus is still looking for a few common folk like you and me who are willing to commit out-of-the-ordinary, intentional acts of selfless sacrifice so that He can turn our offering into His glory. Commit such an act today!
Let me give of myself, dear Lord,
Always ready to sacrifice,
Willing to share what I hold dear,
Never deterred by the price. —Hess
Let Jesus share with others what you want to keep for yourself.
Just a Touch
From: Our Daily Bread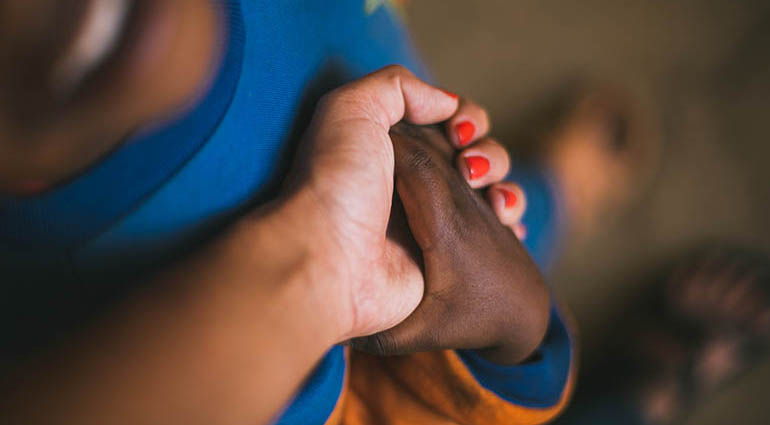 Jesus reached out his hand and touched the man. Matthew 8:3
Kiley leaped at the chance to go to a remote area of East Africa to assist a medical mission, yet she felt uneasy. She didn't have any medical experience. Still, she could provide basic care.
While there, she met a woman with a horrible but treatable disease. The woman's distorted leg repulsed her, but Kiley knew she had to do something. As she cleaned and bandaged the leg, her patient began crying. Concerned, Kiley asked if she was hurting her. "No," she replied. "It's the first time anyone has touched me in nine years."
Leprosy is another disease that can render its victims repulsive to others, and ancient Jewish culture had strict guidelines to prevent its spread: "They must live alone," the law declared. "They must live outside the camp" (Lev. 13:46).
That's why it's so remarkable that a leper approached Jesus to say, "Lord, if you are willing, you can make me clean" (Matt. 8:2). "Jesus reached out his hand and touched the man. 'I am willing,' he said. 'Be clean!' " (v. 3).
In touching a lonely woman's diseased leg, Kiley began to show the fearless, bridge-building love of Jesus. A single touch made a difference.
Lord, we want to show the fearless love You showed when You walked this earth.
What difference might we make if we overcome our fears and trust God to use us?
In Hiding?
From: Our Daily Journey
Read:
Genesis 3:8-13
People who conceal their sins will not prosper, but if they confess and turn from them, they will receive mercy (Proverbs 28:13).
My parents didn't have much money, so when Dad gave me a small pocketknife, I treasured it. The gift came with one caveat though. Because I was only eight years old, I couldn't use it—I could only carry it in my pocket!
You might guess how that went. Soon I found a place to hide and opened the knife to admire the edge. It wasn't long before I began to whittle sticks with it. One day the blade slipped and cut my finger. Now I had to hide the wound from my parents! It wasn't long until my mother noticed and quickly guessed the cause of the cut. At first, I engaged in hardline denial. But after what seemed like weeks of "interrogation" (actually only a few minutes), I admitted my crime. Dad took the knife and forgave me. Eventually, he gave it back—much later.
When we do something we know is wrong, our instinct is to hide. That's what Adam and Eve did when they did the one thing that God told them not to do. God came looking for them, but His motive wasn't to destroy them in anger. Instead He asked, "Where are you?" (Genesis 3:9)—not because He didn't know, but because He knew Adam and Eve had to confront what they had done.
Both the man and the woman engaged in blame-shifting (Genesis 3:12-13), neither of them owning up to their disobedience. Still, God provided for them and made a way forward. He never stopped loving them.
In my case, my dad felt more sadness than anger over my disobedience. That's a small picture of God. We're ashamed of our failures and sin, and so we hide from Him. Yet He already knows us intimately, and He always comes looking for us. That's the kind of God we serve. He offers us a place to belong—one with other forgiven sinners. Today, will we hide or step inside?