You have Searched Me and Know Me   Psalm 139:8
…7    Where can I go from Your Spirit? Or where can I flee from Your presence?
8    If I ascend to heaven,You are there; If I make my bed in Sheol, behold,You are there.
9    If I take the wings of the dawn, If I dwell in the remotest part of the sea,…
 We are never alone.
Alone in Space
From: Our Daily Bread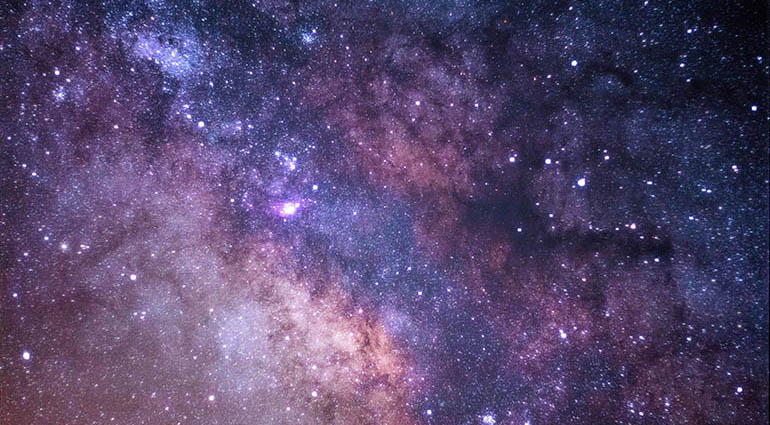 Surely the Lord is in this place, and I was not aware of it. Genesis 28:16
Apollo 15 astronaut Al Worden knew what it felt like to be on the far side of the moon. For three days back in 1971, he flew alone in his command module, Endeavor, while two crewmates worked thousands of miles below on the surface of the moon. His only companions were the stars overhead that he remembers as being so thick they seemed to wrap him in a sheet of light.
As the sun went down on the Old Testament character Jacob's first night away from home, he too was profoundly alone, but for a different reason. He was on the run from his older brother—who wanted to kill him for stealing the family blessing normally given to the firstborn son. Yet on falling asleep, Jacob had a dream of a staircase joining heaven and earth. As he watched angels ascending and descending, he heard the voice of God promising to be with him and to bless the whole earth through his children. When Jacob woke he said, "Surely the Lord is in this place, and I was not aware of it" (Gen. 28:16).
Jacob had isolated himself because of his deceit. Yet as real as his failures, and as dark as the night, he was in the presence of the One whose plans are always better and more far-reaching than our own. Heaven is closer than we think, and the "God of Jacob" is with us.
Father, thank You for using the story of Jacob to show us that the glory of Your unseen presence and goodness is far greater than we could imagine.
God is nearer than we think.
"Instead you thrill to GOD'S Word, you chew on Scripture day and night. You're a tree replanted in Eden, bearing fresh fruit every month, Never dropping a leaf, always in blossom." Psalm 1:2-3 (MSG)
I could write songs and sonnets about my affection for crayons. I'm smitten, and I have been since before kindergarten.
There's a special place in my heart for a new box of crayons. The cleverly named colors, even the waxy smell … the endless possibilities very nearly intoxicate me.
The great news for girls like me is that coloring isn't just for kids anymore — and even simple coloring can be an act of worship. I recently dove into a new readable coloring Bible, and it's changing the way I read Scripture. As I opened the pages, I found a beautiful invitation to meditate on the Word of God.
The words of Scripture are the living words of God (Hebrews 4:12), and they hold eternal wisdom. God wants us to dive into His Word, to discover the rich treasures of truth about Him and guidance for our daily lives.
The problem I've found, and maybe you have too, is that it's so hard for me to actually slow down. Meditation simply can't be done in a hurry.
Meditation takes time.
Meditation is a blend of studying, rereading, repeating, thinking, analyzing, investigating and enjoying the Word of God. It's a physical, intellectual and emotional activity that welcomes every part of our being. The practice of meditation doesn't fit well into the pace of our culture, let alone my busy life. It's a challenge to overcome the obstacles of busyness and distraction to welcome the space meditation requires. Enter coloring.
The psalmist writes in today's key verse that to meditate is similar to how one would "chew on" something — letting God's truth into our lives and digesting it into our system. "Instead you thrill to GOD'S Word, you chew on Scripture day and night. You're a tree replanted in Eden, bearing fresh fruit every month, Never dropping a leaf, always in blossom" (Psalm 1:2-3).
Coloring is an activity often associated with children, so as we grow older, it's easy to set aside our crayons and colored pencils in lieu of more sophisticated tools, like pens and highlighters — especially for Bible study. But I've learned coloring can be beneficial for adults, creating a sense of wellness, quietness and even meditation.
The reason? Coloring has a natural de-stressing effect. When I focus on what my hands are doing, I lift my focus away from busyness and worry. The same is true when I focus on the words of God.
The end result is meditating on Scripture helps me quiet my mind and my spirit. When I settle into a book of the Bible, a page or even a single verse, I can find stillness, meditation, trust, peace and creativity, all centered on the Word of God.
There's no way to avoid the strife and turmoil in the world around us, and it's so very difficult to step away from the busyness of everyday life to focus on God and His Word. But, the Lord promises to meet us there, restore our peace and give us a steadiness and sense of stability that only comes from Him.
Dear Lord, thank You for gifts of color and beauty in the world you've created. Thank You for giving us Your Holy Word, a book that gives us every truth we need. Please, Lord, help me to slow down to create the space that meditation requires, so I can fix my thoughts on You. Grant us Your perfect peace. In Jesus' Name, Amen.
Vital Intercession
From: Utmost.org
As we continue on in our intercession for others, we may find that our obedience to God in interceding is going to cost those for whom we intercede more than we ever thought. The danger in this is that we begin to intercede in sympathy with those whom God was gradually lifting up to a totally different level in direct answer to our prayers. Whenever we step back from our close identification with God's interest and concern for others and step into having emotional sympathy with them, the vital connection with God is gone. We have then put our sympathy and concern for them in the way, and this is a deliberate rebuke to God.
It is impossible for us to have living and vital intercession unless we are perfectly and completely sure of God. And the greatest destroyer of that confident relationship to God, so necessary for intercession, is our own personal sympathy and preconceived bias. Identification with God is the key to intercession, and whenever we stop being identified with Him it is because of our sympathy with others, not because of sin. It is not likely that sin will interfere with our intercessory relationship with God, but sympathy will. It is sympathy with ourselves or with others that makes us say, "I will not allow that thing to happen." And instantly we are out of that vital connection with God.
Vital intercession leaves you with neither the time nor the inclination to pray for your own "sad and pitiful self." You do not have to struggle to keep thoughts of yourself out, because they are not even there to be kept out of your thinking. You are completely and entirely identified with God's interests and concerns in other lives. God gives us discernment in the lives of others to call us to intercession for them, never so that we may find fault with them.