Be a blessing to others through God's work in you.
 "I will bless those who bless you, . . . and all peoples on earth will be blessed through you." Genesis 12:3
 
Drumroll, Please . . .
From: Get More Strength.org
"I will bless those who bless you, . . . and all peoples on earth will be blessed through you." Genesis 12:3
There are some moments in Scripture that I would have choreographed a little differently if it had been up to me. Now, before you start writing in to tell me I'm a heretic, please know that I believe wholeheartedly in the final authority of Scripture and the sovereignty of God. I don't want to risk a lightning bolt and am not slacking off in my theology!
But if you or I were consulted about some of these moments in Scripture, we might have orchestrated them with a little more fanfare. For instance, the moment when Adam woke up to find Eve before him had to be a "fireworks, roses, and violins" kind of moment! Or what about the birth of Christ? Though God had a purpose in it, we probably would have chosen something a little more dramatic than a dingy stable and a few shepherds.
I have the same kinds of thoughts when I read through Genesis 12:1-3
. This conversation between Abraham and God occurs in the middle of nowhere. I think of Abraham as a great patriarch, but in this moment he is an uninitiated nomad with no doubt an idolatrous background. And yet, here in this conversation between God and a rather unlikely person, God makes an earth-shattering promise. God shows up and tells Abraham that he would become a great nation. Then God promises—this is the moment we would cue the drum roll and a thousand-trumpet fanfare—that through him, "All peoples on earth will be blessed."
This is one of the first prophecies of the coming of Jesus Christ through the seed of Abraham. Take it personally—you and I, who are followers of Jesus today, are recipients of the phenomenal benefits of that promise.
Both genealogies of Jesus in the Gospels trace His lineage back to Abraham. Through the entire Old Testament, even when it seemed that the promise had been jeopardized by the unfaithfulness of Israel, God was faithfully preparing to keep His promise to Abraham. And then the moment arrived when the promise was fulfilled. On the hill of Calvary, it was a descendant of Abraham hanging on the cross, giving His life for us so that, as the promise predicted, you and I could be "blessed" in massive proportion. And it all started with a promise made to a wandering nomad over 4,000 years ago. No cheering crowds or angelic choirs—just God, His promise, and an unlikely recipient.
And here is the good news. God still shows up to speak to rather unassuming people like you and me. Every time we read His promises to us it is a profound moment. Behind every promise and plan He lays out for us in His Word, there are ramifications of strategic proportions. You may not hear a lot of fanfare, but the God who was faithful to Abraham will be faithful to His promises to you! So strike up the band—drum roll, please—God still speaks and delivers on His promises! Are you listening? Do you believe?
The Ministry of Memory
From: Our Daily Bread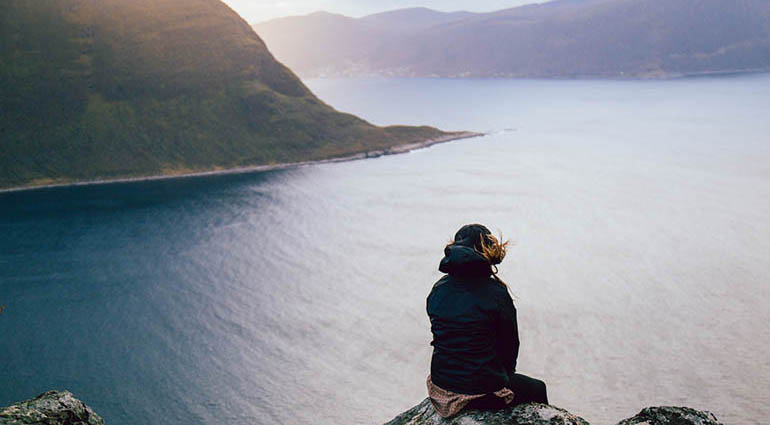 "For I know the plans I have for you," declares the Lord, "plans to prosper you and not to harm you, plans to give you hope and a future." Jeremiah 29:11
Our experiences of loss and disappointment may leave us feeling angry, guilty, and confused. Whether our choices have closed some doors that will never reopen or, through no fault of our own, tragedy has invaded our lives, the result is often what Oswald Chambers called "the unfathomable sadness of 'the might have been.' " We may try to suppress the painful memory, but discover we can't.
Chambers reminds us that the Lord is still active in our lives. "Never be afraid when God brings back the past," he said. "Let memory have its way. It is a minister of God with its rebuke and chastisement and sorrow. God will turn the 'might have been' into a wonderful [place of growth] for the future."
In Old Testament days when God sent the people of Israel into exile in Babylon, He told them to serve Him in that foreign land and grow in faith until He brought them back to their home. " 'For I know the plans I have for you,' declares the Lord, 'plans to prosper you and not to harm you, plans to give you hope and a future' " (Jer. 29:11).
God urged them not to ignore or be trapped by events of the past but instead to focus on Him and look ahead. The Lord's forgiveness can transform the memory of our sorrow into confidence in His everlasting love.
Father, thank You for Your plans for us, and for the future that awaits us in Your love.
For more insight from Oswald Chambers, visit utmost.org.
God can use our deepest disappointments to nurture our faith in Him.
Amazing Grace, Amazing Faith
From: Our Daily Journal
If I asked you to hum the melody of Amazing Grace, it's likely you would know it. It's a well-known song that reminds us about God's astonishing forgiveness. His grace gave us spiritual sight when we were blind—allowing us to draw near to Him. God's grace makes us shiver in reverence of Him, but it also eases our fears. As the song says, God's grace is truly amazing!
While we marvel at the wonders of God, it's interesting that Jesus once marveled at a person's faith. In one instance, a Roman officer approached Jesus and explained that his servant was bedridden and in severe pain. Jesus volunteered to visit the soldier's house and heal the man. But the centurion felt he wasn't worthy of Jesus' visit, and believed He could heal his servant without being present (Matthew 8:8). "When Jesus heard this, He was amazed" (Matthew 8:10). Then He commended the solider for his great faith, and confirmed that He had made the patient well.
What keeps us from amazing Jesus with our faith? Without even knowing it, we sometimes believe that the laws of nature and time limit His power. In reality, nothing could be further from the truth. Jesus is the One who created time and the scientific constants that help us understand our world. "Through [Christ] God created everything in the heavenly realms and on earth. He made the things we . . . can't see . . . and He holds all creation together" (Colossians 1:16-17).
According to the Bible, Jesus can do whatever He wants, whenever He wants. He has the power to heal us physically and give us spiritual life. God has revealed His incredible grace through His Son (2 Timothy 1:9-10). If He's amazed you with His grace, will you amaze Him with your faith?