Forgive as the Lord forgave you. Colossians 3:13
 
Should I Forgive?
From: Our Daily Bread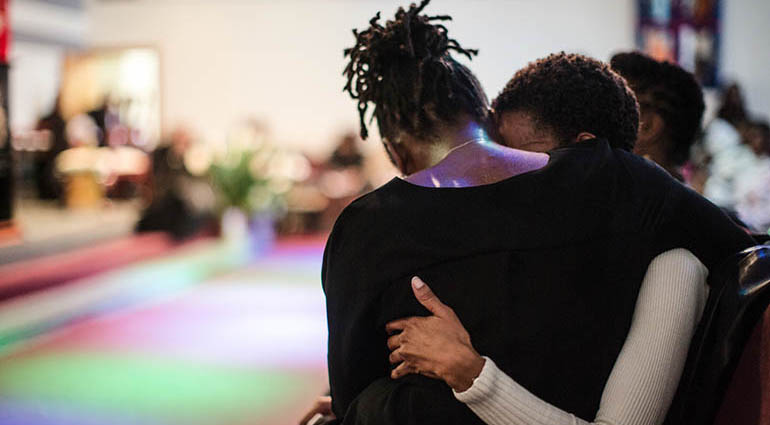 I arrived early at my church to help set up for an event. A woman stood crying at the opposite end of the sanctuary. She'd been cruel and gossiped about me in the past, so I quickly drowned out her sobs with a vacuum cleaner. Why should I care about someone who didn't like me?
When the Holy Spirit reminded me how much God had forgiven me, I crossed the room. The woman shared that her baby had been in the hospital for months. We cried, embraced, and prayed for her daughter. After working through our differences, we're now good friends.
In Matthew 18, Jesus compares the kingdom of heaven to a king who decided to settle his accounts. A servant who owed a staggering amount of money pleaded for mercy. Soon after the king canceled his debt, that servant tracked down and condemned a man who owed him far less than what he'd owed the king. When word got back to the king, the wicked servant was imprisoned because of his own unforgiving spirit (vv. 23–34).
Choosing to forgive doesn't condone sin, excuse the wrongs done to us, or minimize our hurts. Offering forgiveness simply frees us to enjoy God's undeserved gift of mercy, as we invite Him to accomplish beautiful works of peace-restoring grace in our lives and our relationships.
Lord, help us give our grievances to You so that You may turn them into something good. Make us ready to forgive completely and earnestly. Give us Your spirit of unity.
Forgiving others expresses our trust in God's right to judge according to His perfection and goodness.
Party On?
From: Our Daily Journey
I recently read of the plight of "370,000 . . . ordinary middle-class people" forced to rummage "in stinking piles of rubbish for rotten cabbage leaves." Hundreds of thousands of people in the country were scavenging for food while members of the political upper crust were "enjoying lavish parties and gourmet cuisine." The article revealed unjust conditions and the failure of governmental leaders to do the right thing to help their people.
The prophet Amos similarly brought strong words to Israel and its upper crust for "partying on" while the poor suffered. He described the corrupt wealthy as "fat cows" who called out, "Bring us another drink!" even as they "[oppressed] the poor and [crushed] the needy" (Amos 4:1).
It's interesting to note that the very people Amos condemned were offering sacrifices. The problem? They were giving offerings to Yahweh, but their purpose in doing so was simply for themselves (Amos 4:4-5). Worship that's offered with complete indifference to the suffering of others is deeply offensive to God.
God in His holiness (His perfect nature) lovingly disciplined His erring people so that they would turn to Him and pursue justice. But the haunting refrain found five times in chapter 4 reveals their stone-cold hearts: "But still you would not return to me" (Amos 4:6,8,9,10,11).
Scripture reveals that God loves all people and wants us to care for those in need (Jeremiah 22:3; 1 John 3:17). If we've grown cold in our compassion for the poor and oppressed—partying on while they remain in misery—it's time to repent and return to Him. And as our all-powerful God provides (Amos 4:13), may we share sacrificially with others today.
Liberty and the Standards of Jesus
From: Utmost.org
A spiritually-minded person will never come to you with the demand— "Believe this and that"; a spiritually-minded person will demand that you align your life with the standards of Jesus. We are not asked to believe the Bible, but to believe the One whom the Bible reveals (see John 5:39-40). We are called to present liberty for the conscience of others, not to bring them liberty for their thoughts and opinions. And if we ourselves are free with the liberty of Christ, others will be brought into that same liberty— the liberty that comes from realizing the absolute control and authority of Jesus Christ.
Always measure your life solely by the standards of Jesus. Submit yourself to His yoke, and His alone; and always be careful never to place a yoke on others that is not of Jesus Christ. It takes God a long time to get us to stop thinking that unless everyone sees things exactly as we do, they must be wrong. That is never God's view. There is only one true liberty— the liberty of Jesus at work in our conscience enabling us to do what is right.
Don't get impatient with others. Remember how God dealt with you— with patience and with gentleness. But never water down the truth of God. Let it have its way and never apologize for it. Jesus said, "Go…and make disciples…" (Matthew 28:19), not, "Make converts to your own thoughts and opinions."