Which of you, intending to build a tower, does not sit down first and count the cost, whether he has enough to finish it… —Luke 14:28


Building For Eternity
From: Utmost.org
Our Lord was not referring here to a cost which we have to count, but to a cost which He has already counted. The cost was those thirty years in Nazareth, those three years of popularity, scandal, and hatred, the unfathomable agony He experienced in Gethsemane, and the assault upon Him at Calvary— the central point upon which all of time and eternity turn. Jesus Christ has counted the cost. In the final analysis, people are not going to laugh at Him and say, "This man began to build and was not able to finish" (Luke 14:30).
The conditions of discipleship given to us by our Lord in verses 26, 27, and 33 mean that the men and women He is going to use in His mighty building enterprises are those in whom He has done everything. "If anyone comes to Me and does not hate his father and mother, wife and children, brothers and sisters, yes, and his own life also, he cannot be My disciple " (Luke 14:26). This verse teaches us that the only men and women our Lord will use in His building enterprises are those who love Him personally, passionately, and with great devotion— those who have a love for Him that goes far beyond any of the closest relationships on earth. The conditions are strict, but they are glorious.
All that we build is going to be inspected by God. When God inspects us with His searching and refining fire, will He detect that we have built enterprises of our own on the foundation of Jesus? (see 1 Corinthians 3:10-15). We are living in a time of tremendous enterprises, a time when we are trying to work for God, and that is where the trap is. Profoundly speaking, we can never work for God. Jesus, as the Master Builder, takes us over so that He may direct and control us completely for His enterprises and His building plans; and no one has any right to demand where he will be put to work.
Praise in the Dark
From: Our Daily Bread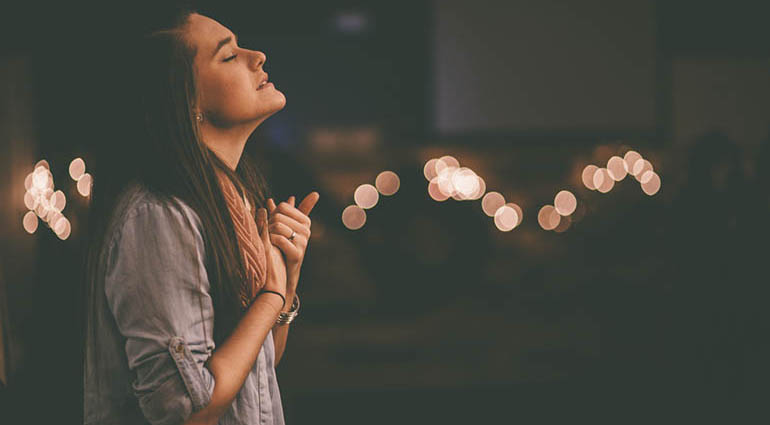 Through Jesus, therefore, let us continually offer to God a sacrifice of praise—the fruit of lips that openly profess his name. Hebrews 13:15
Even though my friend Mickey was losing his eyesight, he told me, "I'm going to keep praising God every day, because He's done so much for me."
Jesus gave Mickey, and us, the ultimate reason for such never-ending praise. The twenty-sixth chapter of Matthew tells us about how Jesus shared the Passover meal with His disciples the night before He went to the cross. Verse 30 shows us how they concluded the meal: "When they had sung a hymn, they went out to the Mount of Olives."
It wasn't just any hymn they sang that night—it was a hymn of praise. For millennia, Jews have sung a group of Psalms called "The Hallel" at Passover (hallel is the Hebrew word for "praise"). The last of these prayers and songs of praise, found in Psalms 113–118, honors the God who has become our salvation (118:21). It refers to a rejected stone that became a cornerstone (v. 22) and one who comes in the name of the Lord (v. 26). They may very well have sung, "The Lord has done it this very day; let us rejoice today and be glad" (v. 24).
As Jesus sang with His disciples on this Passover night, He was giving us the ultimate reason to lift our eyes above our immediate circumstances. He was leading us in praise of the never-ending love and faithfulness of our God.
You are always worthy of praise, Lord, even when I don't feel like praising You! Help me to learn to praise You more and more.
Praising God helps us recall His goodness that never ends.
Facing Life's Temptations
From: Our Daily Journey
Read:
Genesis 4:1-10
If you refuse to do what is right, then watch out! Sin is crouching at the door, eager to control you. But you must subdue it and be its master (Genesis 4:7).
Bill battled drug and alcohol addiction for years before gaining victory. From his experience, he's identified four warning signs of impending relapse: isolation, internal feelings of discontent, frustration and anger, and delusional thinking.
Not all of us are recovering addicts, but we all face temptation in life. Thankfully, "when you are tempted, [God] will show you a way out so that you can endure" (1 Corinthians 10:13). There are times, however, when we don't take His wise path.
Cain battled the temptation to sin. One of Adam and Eve's sons, he grew to be a farmer while his brother Abel was a shepherd (Genesis 4:1-2). At harvest time, both brothers gave a sacrifice to the Lord, Cain from the crops he grew and Abel from the flock he tended. But something about Cain's sacrifice offended God; perhaps he gave grudgingly or less than he could have. God accepted Abel and his sacrifice, but rejected Cain and his offering. This filled him with rage and despair (Genesis 4:3-5).
God told Cain that he and his sacrifice would have been accepted if he had been obedient. The Lord cautioned: "If you refuse to do what is right, then watch out! Sin is crouching at the door, eager to control you. But you must subdue it and be its master" (Genesis 4:7). This was God's "way out" for Cain, but he refused to take it, gave in to temptation, and killed his brother (Genesis 4:8).
When we humble ourselves before God, we become aware of the sin that can trip us up (Hebrews 12:1). We can't master sinful desires in our own strength—only by the power of the Holy Spirit can we can resist them (Romans 8:5). May we pray and ask for the Spirit to give us what we need to resist temptation today.