Where there is no revelation [or prophetic vision], the people cast off restraint… —Proverbs 29:18
(Pictures of things that are just out of their grasp).
Reaching Beyond Our Grasp
From: Utmost.org
There is a difference between holding on to a principle and having a vision. A principle does not come from moral inspiration, but a vision does. People who are totally consumed with idealistic principles rarely do anything. A person's own idea of God and His attributes may actually be used to justify and rationalize his deliberate neglect of his duty. Jonah tried to excuse his disobedience by saying to God, "…I know that You are a gracious and merciful God, slow to anger and abundant in lovingkindness, One who relents from doing harm" (Jonah 4:2). I too may have the right idea of God and His attributes, but that may be the very reason why I do not do my duty. But wherever there is vision, there is also a life of honesty and integrity, because the vision gives me the moral incentive.
Our own idealistic principles may actually lull us into ruin. Examine yourself spiritually to see if you have vision, or only principles.
Ah, but a man's reach should exceed his grasp,
Or what's a heaven for?
"Where there is no revelation [or prophetic vision]…." Once we lose sight of God, we begin to be reckless. We cast off certain restraints from activities we know are wrong. We set prayer aside as well and cease having God's vision in the little things of life. We simply begin to act on our own initiative. If we are eating only out of our own hand, and doing things solely on our own initiative without expecting God to come in, we are on a downward path. We have lost the vision. Is our attitude today an attitude that flows from our vision of God? Are we expecting God to do greater things than He has ever done before? Is there a freshness and a vitality in our spiritual outlook?
Too Good Not to Share
From: Our Daily Bread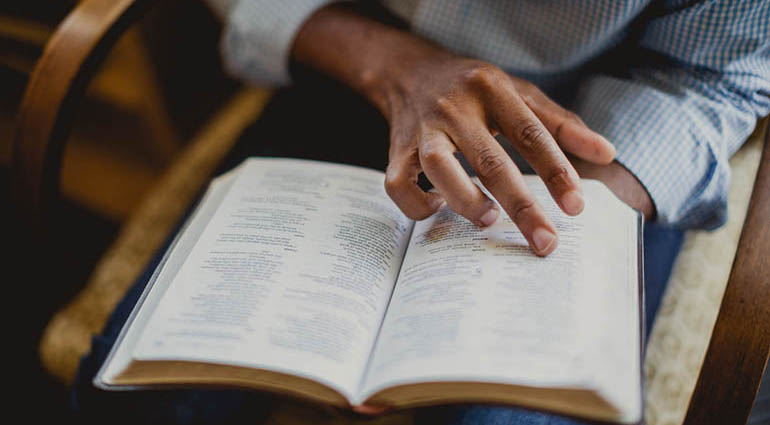 [John] came as a witness to testify concerning that light, so that through him all might believe. John 1:7
During court proceedings, witnesses are more than onlookers or spectators. They are active participants who help determine the outcome of a case. The same is true of our witness for Christ. We are to be active participants in a matter of absolute importance—the truth of Jesus's death and resurrection.
When John the Baptist came to tell people about Jesus, the light of the world, he did so by declaring his knowledge of Jesus. And John the disciple, who recorded the events, testified of his experience with Jesus: "We have seen his glory, the glory of the one and only Son, who came from the Father, full of grace and truth" (John 1:14). The apostle Paul would elaborate on this idea as he told young Timothy, "The things you have heard me say in the presence of many witnesses entrust to reliable people who will also be qualified to teach others" (2 Tim. 2:2).
All Christians have been summoned before the courtroom of the world. The Bible says we are not mere spectators but active participants. We testify to the truth about Jesus's death and resurrection. John the Baptist was the voice of one calling in the desert. Our voices can be heard in our workplace, neighborhood, church, and among our family and friends. We can be active witnesses, telling them about the reality of Jesus in our lives.
Do our actions enable us to witness for Jesus? In what creative ways might we witness today?
The gospel is too good not to share.
Foreigners and Nomads
From: Our Daily Journey
Read:
Hebrews 11:1-16
These people died still believing what God had promised them. They did not receive what was promised, but they . . . agreed that they were foreigners and nomads here on earth (Hebrews 11:13).
Born in Jakarta, Indonesia, I maintained Nigerian citizenship because of my parents' diplomatic status. I once met a lady from Indonesia who excitedly launched into her native tongue after learning my birthplace. Embarrassed, I informed her that I was only there briefly and had no knowledge of the language. I was born in the country—but am not of it.
Likewise, the Bible refers to believers as foreigners and nomads on the earth—not of it (Hebrews 11:13). Our identity isn't created by the secular world; we live out God's heavenly perspective. The heroes of faith profiled in Hebrews 11 were described as "looking forward to a country they [could] call their own" (Hebrews 11:14). This didn't mean their birthplace or place of origin, "but they were looking for a better place, a heavenly homeland. That is why God is not ashamed to be called their God, for he has prepared a city for them" (Hebrews 11:16).
It's for this reason that Jesus urged His followers to store up treasures in heaven, rather than on earth, for our hearts tend to be centered wherever we have our treasure (Matthew 6:19-21). He went on to describe those who hoard material things in this life as fools who don't have "a rich relationship with God" (Luke 12:16-21).
Whenever I take a trip for work I focus on the tasks that need to be accomplished, but never lose sight of the fact that my home awaits me. This prompts me to be efficient with my time, so as not to delay or jeopardize my trip back there.
In the same way, we must strive to accomplish the earthly purpose for which we've been created in God's power and leading. He's the One who will one day renew the earth—uniting it with all that is heaven (Revelation 21:1).