…

3  

And I heard a loud voice from the throne saying: "Behold, the dwelling place of God is with man, and He will live with them. They will be His people, and God Himself will be with them as their God.
5  

And the One seated on the throne said, "Behold, I make all things new." Then He said, "Write this down, for these words are faithful and true."…
Tears No Longer
From: Our Daily Journey
In 2013 Dr. Ad Vingerhoets, a social and behavioral scientist from the Netherlands, wrote a book called Why Only Humans Weep. He's one of only a few scientists who have dedicated their lives to studying why people cry. Vingerhoets states that "tears are of extreme relevance for human nature. We cry because we need other people."
Lamentations 2 is part of a poem written during a painful and tearful time of need—need for other people and for God. It's about the destruction of Jerusalem, the suffering and exile of its people, and God's anger at their sin. The prophet said that He "brought unending sorrow and tears upon beautiful Jerusalem" (Lamentations 2:5). He went on to say, "I have cried until the tears no longer come; my heart is broken. My spirit is poured out in agony as I see the desperate plight of my people" (Lamentations 2:11).
Years later, a poet also wrote about tears and the exile of Israel, but in a new light. Psalm 126 says, "When the Lord brought back his exiles to Jerusalem, it was like a dream! We were filled with laughter, and we sang for joy. And the other nations said, 'What amazing things the Lord has done for them.' . . . Those who plant in tears will harvest with shouts of joy. They weep as they go to plant their seed, but they sing as they return with the harvest" (Psalm 126:1-2,5-6).
Human suffering is all around us. On any given day we can read stories of profound suffering in the news. We can find it in every city. At times, it fills our own lives.
But our hope is in the same God who returned the exiles to Jerusalem. As John wrote, Jesus will someday "wipe every tear from [our] eyes, and there will be no more death or sorrow or crying or pain" (Revelation 21:4). That will be a new and glorious day.
Unlighted Paths
From: Our Daily Bread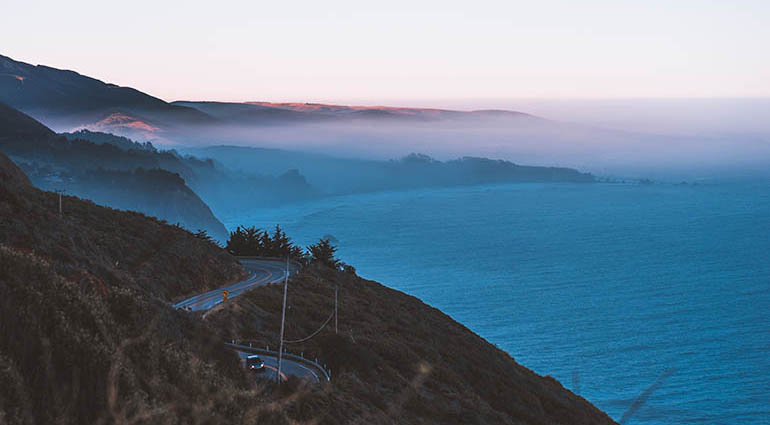 The Lord your God will be with you wherever you go. Joshua 1:9
As we ventured home from a family vacation, the road took us through some desolate parts of central Oregon. For nearly two hours after dusk we drove through deep canyons and across desert plateaus. Fewer than twenty sets of headlights punctuated the darkness. Eventually the moon rose on the horizon, visible to us when the road crested hills but eclipsed when we traveled through the lowlands. My daughter remarked on its light, calling it a reminder of God's presence. I asked whether she needed to see it to know He was there. She replied, "No, but it sure helps."
After Moses's death, Joshua inherited leadership of the Israelites and was charged to take God's chosen people into the Promised Land. Despite his divine commission, Joshua must have felt challenged by the daunting nature of his task. God graciously offered Joshua assurance to be with him on the journey ahead (Josh. 1:9).
The road of life often travels through uncharted territory. We voyage through seasons when the path ahead isn't clearly visible. God's plan may not always be apparent to us, but He has promised to be with us "always, to the very end of the age" (Matt. 28:20). What greater assurance could we hope for, no matter what uncertainty or challenge we might face? Even when the path is unlit, the Light is with us.
Lord, thank You for being near me even when I cannot see You. Please comfort me with Your presence.
Add means that we have to do something. We are in danger of forgetting that we cannot do what God does, and that God will not do what we can do. We cannot save nor sanctify ourselves— God does that. But God will not give us good habits or character, and He will not force us to walk correctly before Him. We have to do all that ourselves. We must "work out" our "own salvation" which God has worked in us (Philippians 2:12). Add means that we must get into the habit of doing things, and in the initial stages that is difficult. To take the initiative is to make a beginning— to instruct yourself in the way you must go.
Beware of the tendency to ask the way when you know it perfectly well. Take the initiative— stop hesitating— take the first step. Be determined to act immediately in faith on what God says to you when He speaks, and never reconsider or change your initial decisions. If you hesitate when God tells you to do something, you are being careless, spurning the grace in which you stand. Take the initiative yourself, make a decision of your will right now, and make it impossible to go back. Burn your bridges behind you, saying, "I will write that letter," or "I will pay that debt"; and then do it! Make it irrevocable.
We have to get into the habit of carefully listening to God about everything, forming the habit of finding out what He says and heeding it. If, when a crisis comes, we instinctively turn to God, we will know that the habit has been formed in us. We have to take the initiative where we are, not where we have not yet been.