Choose Whom You will Serve         Joshua 24:15
14   "Now, therefore, fear the LORD and serve Him in sincerity and truth; and put away the gods which your fathers served beyond the River and in Egypt, and serve the LORD.
15    "If it is disagreeable in your sight to serve the LORD,choose for yourselves today whom you will serve: whether the gods which your fathers served which were beyond the River, or the gods of the Amorites in whose land you are living; but as for me and my house, we will serve the LORD."
16   The people answered and said, "Far be it from us that we should forsake the LORD to serve other gods;…
From: Get More Strength.org
"You adulterous people, don't you know that friendship with the world is hatred toward God? Anyone who chooses to be a friend of the world becomes an enemy of God" James 4:4
Ever been caught in the middle of a fight? When I was a kid in junior high school, two of my buddies had a disagreement and planned to prove their dominant masculinity in a fight at the park after school. "Red" was a friend from my youth group at church, and Larry was a buddy from my neighborhood. As we walked to the park after school that day, all of Red's friends were following him, while all of Larry's friends clustered around him. I didn't know what to do. Both of them were my friends. So I decided to do the diplomatic thing. First, I walked for a bit with Larry, and then I slipped over to Red's side of the street. I'll never forget what Red said to me. "Joe, you're either my friend or Larry's friend. You can't have it both ways. Make up your mind."
Ouch.
I knew right away that what he said had a ring of truth to it. Not unlike Red's remark to me, the apostle James jabs us with a stinging warning: "Anyone who chooses to be a friend of the world becomes an enemy of God."
I doubt that any of us would want to be on the wrong side of that equation. Yet it's so easy to sidle up to the ways of the world. How can we know whose side we're really on? Thankfully, Paul gives us a clue. In Galatians 5:19-21
, just before he gives the famous list of the fruits of the Spirit, he lists several examples of how friendship with the world shows up in our actions: "sexual immorality, impurity and debauchery; idolatry and witchcraft; hatred, discord, jealousy, fits of rage, selfish ambition, dissensions, factions and envy; drunkenness, orgies, and the like."
If you find yourself in that list, you're making a huge statement about whose side you're on. And here's a scary thought—not only are you a friend of the world, but an enemy of God when your actions stand in sharp contrast to His will and His ways. Thankfully, Paul doesn't leave us in enemy territory. He goes on to list some examples of what friendship with God looks like: "love, joy, peace, patience, kindness, goodness, faithfulness, gentleness and self-control" (Galatians 5:22-23
).
Jesus Himself made the grounds for friendship with Him clear when He said to His disciples, "You are my friends if you do what I command" (John 15:14
). Doing His will is what proves our friendship with Him, and it is what empowers us to bear much fruit to His glory!
So, whose side are you on? Friendship with Jesus is proven when we walk with Him in His will and His ways, which means that friendship with Jesus is a choice—a choice between Him and the ways of this fallen world.
Take it from me, James, Paul, and my friend Red, you can't have it both ways. So be sure that you're walking in Jesus' crowd!
Camping Psalms
From: Our Daily Bread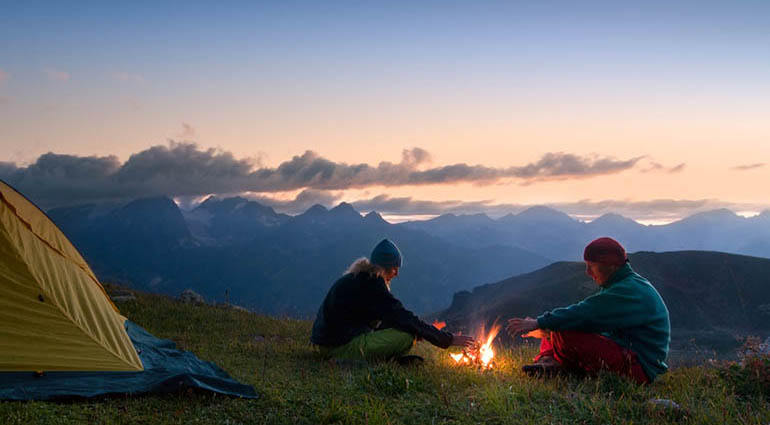 Lord, our Lord, how majestic is your name in all the earth! Psalm 8:1
When my husband and I go for nature walks, we bring our cameras and take close-ups of the plants at our feet, which are like microcosms of the world. What amazing variety and beauty we see, even in the fungi that spring up overnight and dot the woods with splashes of bright orange, red, and yellow!
The snapshots of life that surround us inspire me to lift my eyes to the Maker who created not only mushrooms but also the stars in the heavens. He designed a world of infinite scope and variety. And He made you and me and placed us in the very middle of this beauty to enjoy and to rule over it (Gen. 1:27–28; Ps. 8:6–8).
My thoughts turn to one of our family's "camping psalms"—psalms we read as we sit around the fire. "Lord, our Lord, how majestic is your name in all the earth! You have set your glory in the heavens. . . . When I consider your heavens, the work of your fingers, the moon and the stars, which you have set in place, what is mankind that you are mindful of them, human beings that you care for them?" (Ps. 8:1–4).
How amazing that the great God who created the world in all its splendor cares for you and me!
O Lord, our majestic Maker, our hearts turn toward praise when we see snapshots of Your beautiful world. Thank You for creating us! Help us to rule Your world with wisdom.
A God wise enough to create me and the world I live in is wise enough to watch out for me.  Philip Yancey
Lily's Choice
From: Our Daily Journey
Lilias Trotter had an unusual talent for painting landscapes. Born mid-nineteenth century, she acquired famous artist John Ruskin as a mentor. Ruskin believed her talent could dominate the art world. But as Lily's art matured, so did her devotion to God. She began frequenting dangerous areas to help women in need, a practice Ruskin discouraged because he felt it kept her from perfecting her artwork. Eventually, Lily decided to spend her life serving others in Algeria.
Lily's decision to follow her calling over a prestigious art career reminds me of the way Jesus came to earth. He "gave up his divine privileges; he took the humble position of a slave" (Philippians 2:7). As Lily took on the mission of serving in a foreign country, she gave up her safe, comfortable life. Instead of being admired for her artwork, she chose to serve forgotten women and children. One of the women Lily cared for said with amazement, "No one has ever loved us like this!"
But no one has ever loved humankind like Jesus (John 15:9,13). We know He sacrificed His life for us, but we may not think as often about how He sacrificed His position in heaven as well. "Though he was God, he did not think of equality with God as something to cling to" (Philippians 2:6). Knowing the glory of heaven as home, Jesus willingly "appeared in human form" (Philippians 2:7). He went through the the human birth process to end up in a cocoon of blankets at the mercy of His own creation. It was a radical way to say, "I love you."
Life inevitably requires decisions about how to invest our talent, time, and money. May we, as Lily did, choose to follow where God leads and serve others out of His compassionate heart.