The Last Will Be First
From: Our Daily Bread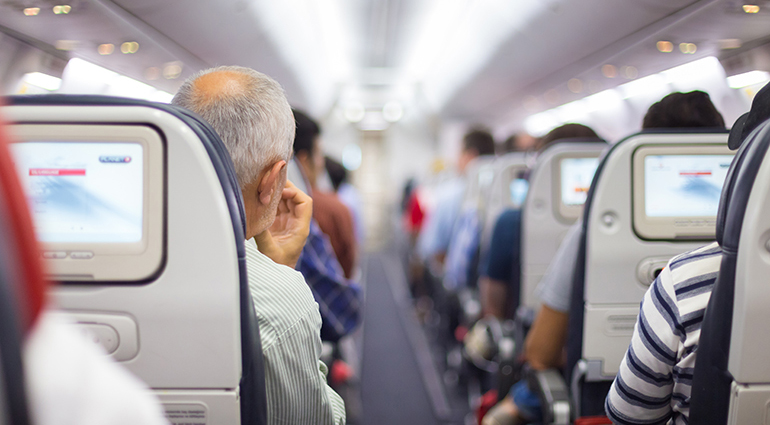 Recently I was among the last in line to board a large passenger jet with unassigned seating. I located a middle seat beside the wing, but the only spot for my bag was the overhead compartment by the very last row. This meant I had to wait for everyone to leave before I could go back and retrieve it.
I laughed as I settled into my seat and a thought occurred to me that seemed to be from the Lord: "It really won't hurt you to wait. It will actually do you good." So I resolved to enjoy the extra time, helping other passengers lower their luggage after we landed and assisting a flight attendant with cleaning. By the time I was able to retrieve my bag, I laughed again when someone thought I worked for the airline.
That day's experience made me ponder Jesus's words to His disciples: "Anyone who wants to be first, must be the very last, and the servant of all" (Mark 9:35).
I waited because I had to, but in Jesus's "upside down" kingdom, there's a place of honor for those who voluntarily set themselves aside to attend to others' needs.
Jesus came into our hurried, me-first world not "to be served, but to serve, and to give his life as a ransom for many" (Matt. 20:28). We serve Him best by serving others. The lower we bend, the closer we are to Him.
Loving Lord, help me to follow You into the needs of others and serve You there.
Jesus's kingdom is upside-down.
Life from the Barren Places
From: Our Daily Journey
Read:
Luke 1:1-17
[Zechariah and Elizabeth] had no children because Elizabeth was unable to conceive, and they were both very old (Luke 1:7).
My wife and I have numerous friends who've struggled to have a baby. They've endured multiple trips to doctors, different kinds of infertility procedures, and the grief of losing children to miscarriages. It's obvious how painful this has been for them—how much it's filled them with doubts about themselves and about the God who promises to care for us.
Zechariah and Elizabeth were familiar with similar sorrow. Scripture tells us that even though Zechariah and Elizabeth "were righteous in God's eyes" and were "careful to obey all the Lord's commandments and regulations," they "had no children because Elizabeth was unable to conceive" (Luke 1:7). Sometimes we mistakenly believe our troubles are self-inflicted, the result of some character flaw or disobedience to God. But this good couple had been living as best they could and still . . . no children.
Luke adds an extra detail to make certain we know how desperate the situation was: "They were both very old" (Luke 1:7). They were well past the age when parents bear children, past the age when any sensible person would hold on to any hope. And yet, God promised a son. "God has heard your prayer," the angel said (Luke 1:13).
What prayers are you desperate for God to hear? For a shattered relationship? A family on the brink?
Although not every disappointment or sadness receives the full healing and restoration we long for in this lifetime, God does promise that at the end of the story He will trample every kind of death. In fact, Zechariah and Elizabeth's son (John the Baptist) arrived as the herald to God's weary people (and to us), announcing that life was arriving in Jesus. His new life sprouts from our barren places.
"Even so the tongue is a little member and boasts great things. See how great a forest a little fire kindles!" James 3:5 (NKJV)
We'd enjoyed a great holiday weekend — a great time with family, lots of time to fellowship and awesome food. I seasoned the meat. My husband grilled. The best part? Cooking over the coals outside meant no cleanup for me!
Early the next morning, my husband took out the trash. He gathered the dark rocks from the night before, threw them in a black plastic bag and put them out with the rest of the trash. He left for work, and I turned my focus to the business of starting yet another day of work, managing the home and school with the kids.
A couple hours later, my doorbell rang. My neighbor stopped by to tell me my trash can was smoking. I looked outside to check. She was right. There was a thin wisp of smoke rising. I called my husband to ask him if I should be concerned. He assured me all would be fine. I went back to focusing on my work and home and kids.
Not too long after, another neighbor knocked on the door and told me the same thing. I looked at the trash can again. Things looked the same. I reassured the concerned neighbor that my husband wasn't worried, and the small cloud hovering over the container hadn't changed much as the morning progressed.
An hour later, when one of my boys asked if I knew about the smoke in the front of our house, I flippantly reassured him that I did. He urged me to look again because the smoke was getting bigger.
I walked through my front door expecting to see the same dainty trail of smoke that I'd noticed all morning. Instead, I walked outside to find smoke billowing into the air. I made my way closer to the can to peer inside and was met with the sight of flames licking up and out of the container.
Fire!
I ran inside to grab my cell phone, call my husband and grab a bucket of water. By the time I made it back outside, the trash can was melting.
And the flames were much bigger than before.
I called the fire department.
Can I just say that I felt like an idiot, watching the big ol' firetruck pull up in front of my house? In no time flat, they put out the fire and talked to me and my husband, who'd come home from work, about making sure coals are cool before disposing of them.
Such a small thing can cause a big problem.
James 3:5 reminds us that while our tongue is small, it can cause major damage if it's not attended to or kept in check. "Even so the tongue is a little member and boasts great things. See how great a forest a little fire kindles!"
It's tempting to think how we use our tongues is inconsequential. Our words may not appear to do much damage, so we aren't more careful. We put our words into the world when we should hold our tongue and let our hearts or emotions cool down first. We ignore all indicators that tell us we might be setting something (or someone) on fire.
And when people try to tell us that we've hurt or offended them with our words or that our speech is not helpful, we hear them, but move on, unaware or indifferent to the smoldering danger that can destroy someone close to us.
I'm reminded today that my words have power. The power to heal and the power to hurt. Words are no small thing. May I encourage you to be careful how you use your tongue? Let's choose blessing over cursing. Help over hurt. And choose to wait rather than rush the wrong words into the world.
Dear God, help me use my tongue in a way that honors You. I don't want this small part of my body to cause damage in my own or in others' lives. Help me be aware of the power of my tongue and use it to honor others and glorify You. In Jesus' Name, Amen.