The eyes of the Lord range throughout the earth to strengthen those whose hearts are fully committed to him. 2 Chronicles 16:9
Food is meant to give us strength. God gives strength to all who are committed to HIm.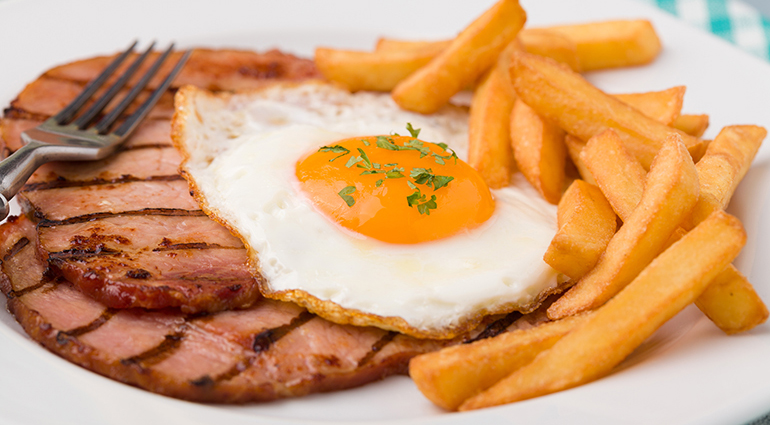 The eyes of the Lord range throughout the earth to strengthen those whose hearts are fully committed to him. 2 Chronicles 16:9
In the fable of the chicken and the pig, the two animals discuss opening a restaurant together. As they plan their menu, the chicken suggests they serve ham and eggs. The pig swiftly objects saying, "No thanks. I'd be committed, but you would only be involved."
Although the pig didn't care to put himself on the platter, his understanding of commitment is instructive to me as I learn to better follow God with my whole heart.
To protect his kingdom, Asa, king of Judah, sought to break up a treaty between the kings of Israel and Aram. To accomplish this, he sent personal treasure along with "silver and gold out of the treasuries of the Lord's temple" to secure favor with Ben-Hadad, the king of Aram (2 Chron. 16:2). Ben-Hadad agreed and their joint forces repelled Israel.
But God's prophet Hanani called Asa foolish for relying on human help instead of God who had delivered other enemies into their hands. Hanani asserted, "The eyes of the Lord range throughout the earth to strengthen those whose hearts are fully committed to him" (v. 9).
As we face our own battles and challenges, let's remember that God is our best ally. He strengthens us when we're willing to "serve up" a whole-hearted commitment to Him.
Lord, I want to rely on You more fully. Sometimes I see only what is around me. Please help me to look up and to trust You more.
When we are abandoned to God, He works through us all the time. Oswald Chambers
It is a trap to presume that God wants to make us perfect specimens of what He can do— God's purpose is to make us one with Himself. The emphasis of holiness movements tends to be that God is producing specimens of holiness to put in His museum. If you accept this concept of personal holiness, your life's determined purpose will not be for God, but for what you call the evidence of God in your life. How can we say, "It could never be God's will for me to be sick"? If it was God's will to bruise His own Son (Isaiah 53:10), why shouldn't He bruise you? What shines forth and reveals God in your life is not your relative consistency to an idea of what a saint should be, but your genuine, living relationship with Jesus Christ, and your unrestrained devotion to Him whether you are well or sick.
Christian perfection is not, and never can be, human perfection. Christian perfection is the perfection of a relationship with God that shows itself to be true even amid the seemingly unimportant aspects of human life. When you obey the call of Jesus Christ, the first thing that hits you is the pointlessness of the things you have to do. The next thought that strikes you is that other people seem to be living perfectly consistent lives. Such lives may leave you with the idea that God is unnecessary— that through your own human effort and devotion you can attain God's standard for your life. In a fallen world this can never be done. I am called to live in such a perfect relationship with God that my life produces a yearning for God in the lives of others, not admiration for myself. Thoughts about myself hinder my usefulness to God. God's purpose is not to perfect me to make me a trophy in His showcase; He is getting me to the place where He can use me. Let Him do what He wants.
I Must Confess
From: CBN, and Gene Markland, Author
How many times have we heard that confession is good for the soul? One of the first scriptures we are taught as new Christians is the Apostle John's admonition,
"But if we confess our sins to him, he is faithful and just to forgive us our sins and to cleanse us from all wickedness" (1 John 1:9NLT).
Virtually every religion urges confession of sin by one method or another. Even within the Christian Church, there are differences in methods and rituals. The important thing to remember is to open our self to God and not hold back.
I am reminded of the old hymn written by Elisha Hoffman in 1893, I Must Tell Jesus. One verse says: "I must tell Jesus all of my troubles, He is a kind, compassionate friend; If I but ask Him He will deliver, Make of my troubles quickly an end."
Elisha Hoffman told how he came to write the hymn:
"During a pastorate in Lebanon, Pennsylvania, there was a woman to whom God permitted many visitations of sorrow and affliction. Coming to her home one day, I found her much discouraged. She unburdened her heart, concluding with the question, 'Brother Hoffman, what shall I do? What shall I do?' I quoted from the word, then added, 'You cannot do better than to take all of your sorrows to Jesus. You must tell Jesus.'
For a moment she seemed lost in meditation. Then her eyes lighted as she exclaimed, 'Yes, I must tell Jesus.' As I left her home I had a vision of that joy-illuminated face … and I heard all along my pathway the echo, 'I must tell Jesus … I must tell Jesus.'"
As Pastor Hoffman explained, this dear sister didn't hold back. Confession goes beyond seeking forgiveness for our sins. Confession is a way of drawing close to God and developing an intimate personal relationship by sharing the private side of our lives with Him. If we are honest with ourselves, sometimes we do wrong. People struggle with secrets, and whether it is sin or thoughts of sin, the Lord Jesus welcomes our confession.
We should share our heart with Him, our whole heart. Just lay it out! He knows it all anyway, and if there is sin, He'll forgive us. Or if we struggle with sin, He'll help us to overcome it. Living the Christian life is a journey, not an arrival. Every step of the journey brings us closer to conforming to the image of Christ.
Holding back from Him stunts our spiritual growth. Letting go and confessing to God releases us into the vastness of His forgiveness, mercy, and grace. Give it up! We must forget about our pride and draw close to Him. We have His promise that when we draw close to Him, He will draw close to us.
The Bible also tells us to encourage ourselves in the Lord. Jesus said, "I tell you, you can pray for anything, and if you believe that you've received it, it will be yours" (Mark 11:23-24 NLT). We can experience the power of the Word of God by confessing it into our lives.
Confess and receive the promises of God. We should remind ourselves that the Bible says, "I can do all things through Christ which strengthens me" (Philippians 4:13NLT).
And, "It is by confessing with your mouth that you are saved" (Romans 10:10 NLT). We should keep short accounts with God by confessing our sins, confessing our innermost thoughts, and confessing His word into our life.
I am still a work in progress myself … I must confess.