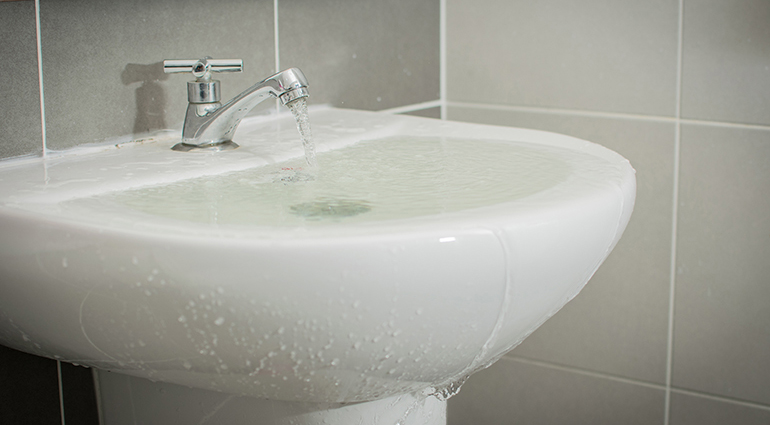 In a vision, he has seen a man named Ananias come and place his hands on him to restore his sight. Acts 9:12
It was an early Saturday morning in my sophomore year of high school, and I was eager to get to my job at the local bowling lanes. The evening before, I had stayed late to mop the muddy tile floors because the janitor called in sick. I hadn't bothered to tell the boss about the janitor so I could surprise him. After all, What could go wrong? I thought.
Plenty, as it turns out.
Stepping in the door, I saw inches of standing water, with bowling pins, rolls of toilet paper, and boxes of paper scoresheets bobbing on top. Then I realized what I had done: While doing the floors, I had left a large faucet running overnight! Incredibly, my boss greeted me with a huge hug and a big smile—"for trying," he said.
Saul was actively punishing and harassing Christians (Acts 9:1–2) when he came face to face with Jesus on the road to Damascus (vv. 3–4). Jesus confronted the soon-to-be-called apostle Paul with his sinful actions. Blinded by the experience, Saul/Paul would need a Christian—Ananias—to restore his sight to him in an act of courage and grace (v. 17).
Both Saul and I received unexpected grace.
Most people know they're messed up. Instead of lectures, they need a hope for redemption. Stern faces or sharp words can block their view of that hope. Like Ananias, or even my boss, followers of Jesus must become the face of grace in these life-changing encounters with others.
A Christian's grace-filled actions can smooth someone's path to the Savior's presence.
Freedom from Fear
From: Our Daily Journey
Read:
Luke 2:8-14 
"Don't be afraid!" he said. "I bring you good news that will bring great joy to all people" (Luke 2:10).
Coming from a family where I was the oldest of five children, I just assumed my husband and I would easily begin having children soon after our wedding day. Our hopes began to fade however as month after long month passed with no joyful news. One morning, however, my hair stylist asked, "Have you had a baby recently?" I was shocked. She explained that the quality of my hair indicated that my body had experienced a rush of hormones, leaving her to wonder whether I'd recently given birth. I hadn't, of course, but I soon found out I was pregnant—with twins! In the midst of my fear and sadness I heard news that ignited hope of a future filled with joy.
More than 2,000 years ago, a group of frightened shepherds received some good news that calmed their fears, restored their hopes, and brought them great joy.
The men were on the night shift, guarding their sheep. Perhaps they were huddled around a fire sharing stories when the sky lit up and an angel of the Lord appeared to the stunned men (Luke 2:8-9). "Don't be afraid!" he said. "I bring you good news that will bring great joy to all people. The Savior—yes, the Messiah, the Lord—has been born today in Bethlehem, the city of David!" (Luke 2:10-11).
God announced the birth of His Son to a group of humble shepherds—men who were marginalized by the social and religious elite of the day. In an instant, God dispelled their fear and weakness as the host of heaven declared, "Glory to God in highest heaven, and peace on earth to those with whom God is pleased" (Luke 2:14).
As you consider the joy of the good news of "God with us" (Matthew 1:23), may you too find in Him freedom from all your fears.
Show Your Joy to the World
KAREN EHMANFrom: Crosswalk.com, Joy To The World
"But I trust in your unfailing love; my heart rejoices in your salvation. I will sing the LORD's praise, for he has been good to me." Psalm 13:5-6 (NIV)
When you think of the phrase, "Christmas is coming!" … what sort of emotion does it evoke?
It might be any one of these:
Panic: I only have three more Saturdays of shopping before Christmas. I'm never going to get it all done!
Frustration: Ugh. There are so many activities this month. We are going to be running all over the place with very little time to just be together as a family at home, enjoying each other's company.
Regret: Why did I say we'd host the family get-together? Now I have to straighten and scrub this place from top to bottom AND make the dessert I signed up to provide, as if I didn't already have enough to do this month.
Envy: I noticed on Facebook the gorgeous holiday decorations my co-worker has in her home. They look like they are straight from an HGTV Christmas special. Our place looks like we bought ours from the clearance bin at the local secondhand store.
So many sentiments can invade our hearts and minds. But these emotions don't stay there.
Often, they weasel their way into our behavior. We appear distracted when talking with a friend. Our frustration morphs into hurry as we frantically try to get it all done. Our regret makes us a grumpy and ungracious hostess. Our envy leads to ungratefulness and can prevent us from experiencing the joy that should come from the whole reason for the celebration of Christmas in the first place.
Are these the attitudes we want on display during the month of December? Or should we choose the attitude reflected in the old familiar hymn, Joy to the World?
Joy.
The emotion that ought to be deeply experienced during the Christmas season — and, in turn, displayed in our behavior — should be joy. Today's key verse states, "But I trust in your unfailing love; my heart rejoices in your salvation. I will sing the LORD's praise, for he has been good to me. "
This verse declares that our reaction to the salvation God freely offers — which began when Jesus came into the world as a baby that very first Christmas — should be that rejoicing.
In this Old Testament verse, the word translated for rejoice actually means "to exult, to go about or to be excited to levity." What a stark contrast to the emotions we usually display during the yuletide season!
But what if we tried to take our roller coaster of emotions to God, asking Him to replace them with joy instead? If we choose to consciously thank God for the indescribable gift of salvation through Jesus, perhaps we could learn to recapture the joy of Christmas. And not just to feel it in our hearts, but to go about during the season, excited to the point of levity, exulting God in the process.
The word exult means "to leap for joy," and it's usually connected with a triumph of some kind. Through Jesus' birth, death and resurrection, He triumphed over death. We need not fear the future because of the miracle of Christmas. If we have responded to the gospel — the good news about Jesus offering us salvation — we too can experience a victory over the grave and dwell with God forever in heaven someday. What a reason to rejoice!
Today, let's chase down some Christmas cheer. But not just keep it to ourselves. Parking our minds on the truth of salvation through Jesus helps us show joy to the world during the Christmas season. A spotless house and homemade fruitcake are optional.
Father, may my mind dwell this season on the incredible gift of salvation through Jesus that is the source of all joy in this life and the life to come. In Jesus' Name, Amen.