The Lord upholds all who fall and lifts up all who are bowed down. Psalm 145:14
Restored Failures
From: Our Daily Bread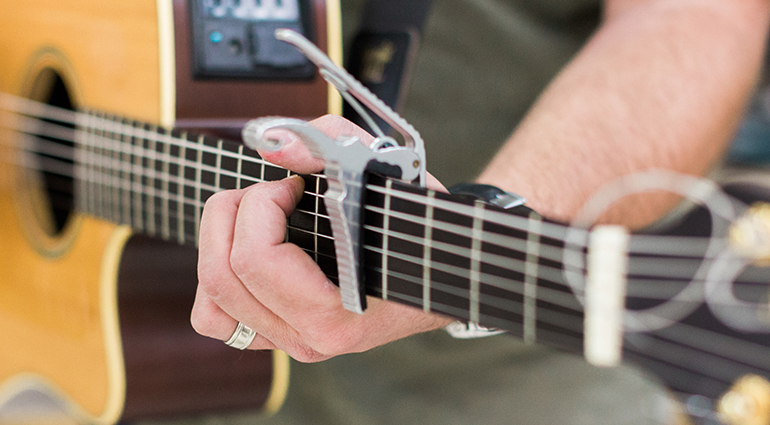 The Lord upholds all who fall and lifts up all who are bowed down. Psalm 145:14
A guest band was leading praise and worship at our church, and their passion for the Lord was moving. We could see—and feel—their enthusiasm.
Then the musicians revealed that they were all ex-prisoners. Suddenly their songs took on special meaning, and I saw why their words of praise meant so much to them. Their worship was a testimony of lives broken and restored.
The world may embrace success. But stories of past failure offer people hope too. They assure us that God loves us no matter how many times we have failed. Pastor Gary Inrig says that what we call the Hall of Faith in Hebrews 11 could well be entitled God's Hall of Reclaimed Failures. "There is scarcely an individual in that chapter without a serious blemish in his or her life," he observes. "But God is in the business of restoring failures . . . . That is a great principle of God's grace."
I love the comfort of Psalm 145, which speaks of God's "wonderful works" (vv. 5–6) and glorious kingdom (v. 11). It describes His compassion (vv. 8–9) and faithfulness (v. 13)—then immediately tells us that He lifts up those who have fallen (v. 14). All His attributes are expressed when He picks us up. He is indeed in the business of restoration.
Have you failed before? We all have. Have you been restored? All who have been redeemed are stories of God's grace.
Our stories of failure can be God's stories of success.
Angels We Have Heard on High
By: Kenneth W. Osbeck
As vast numbers of angels swiftly descended toward earth through the star sprinkled sky, the leading angel halted them with a sign. They hovered with folded wings over a silent field near Bethlehem. "There they are," said the leading angel, "the humble shepherds who have been chosen by God to receive our message. It will be the most wonderful news that mortal man has ever received. Are you ready with your great angelic chorus?"
The leading angel drifted slightly downward so that he could be seen by the shepherds below. They were terrified! Each one of them covered his face in the brilliance of the light but earnestly listened with awe as the vision before him began to speak in his own language:
"Do not be afraid. I bring you good news of great joy that will be for all the people. Today in the town of David a Savior has been born to you; he is Christ the Lord" (Luke 2:11).
Instantly surrounding the angel was the brilliant heavenly host, and echoing through the sky was the most beautiful singing that the shepherds had ever heard, exulting and praising God for the long-awaited gift of His Son. They made haste to see the Savior with their own eyes.
The Bible teaches that angels are the ministering servants of God and that they are continually being sent to help and protect us, the heirs of salvation. Certainly their most important task, however, was this momentous occasion announcing Christ's arrival on earth!
Although little is known of its origins, this inspiring eighteenth-century French carol has become a universal favorite.
Angels we have heard on high, sweetly singing o'er the plains,
and the mountains, in reply, echoing their joyous strains.

Shepherds, why this jubilee? Why your joyous strains prolong?
What the gladsome tidings be which inspire your heav'nly song?

Come to Bethlehem and see Him whose birth the angels sing;
come, adore on bended knee Christ the Lord, the newborn King.

See Him in a manger laid, Jesus, Lord of heav'n and earth;
Mary, Joseph, lend your aid, with us sing our Savior's birth.

Chorus: Gloria in excelsis Deo! Gloria in excelsis D

The Offering of the Natural
Paul was not dealing with sin in this chapter of Galatians, but with the relation of the natural to the spiritual. The natural can be turned into the spiritual only through sacrifice. Without this a person will lead a divided life. Why did God demand that the natural must be sacrificed? God did not demand it. It is not God's perfect will, but His permissive will. God's perfect will was for the natural to be changed into the spiritual through obedience. Sin is what made it necessary for the natural to be sacrificed.
Abraham had to offer up Ishmael before he offered up Isaac (see Genesis 21:8-14). Some of us are trying to offer up spiritual sacrifices to God before we have sacrificed the natural. The only way we can offer a spiritual sacrifice to God is to "present [our] bodies a living sacrifice…" (Romans 12:1). Sanctification means more than being freed from sin. It means the deliberate commitment of myself to the God of my salvation, and being willing to pay whatever it may cost.
If we do not sacrifice the natural to the spiritual, the natural life will resist and defy the life of the Son of God in us and will produce continual turmoil. This is always the result of an undisciplined spiritual nature. We go wrong because we stubbornly refuse to discipline ourselves physically, morally, or mentally. We excuse ourselves by saying, "Well, I wasn't taught to be disciplined when I was a child." Then discipline yourself now! If you don't, you will ruin your entire personal life for God.
God is not actively involved with our natural life as long as we continue to pamper and gratify it. But once we are willing to put it out in the desert and are determined to keep it under control, God will be with it. He will then provide wells and oases and fulfill all His promises for the natural (see Genesis 21:15-19).