11 On coming to the house, they saw the child with his mother Mary, and they bowed down and worshiped him. Then they opened their treasures and presented him with gifts of gold, frankincense and myrrh.12 And having been warned in a dream not to go back to Herod, they returned to their country by another route.    Matthew 2: 11-12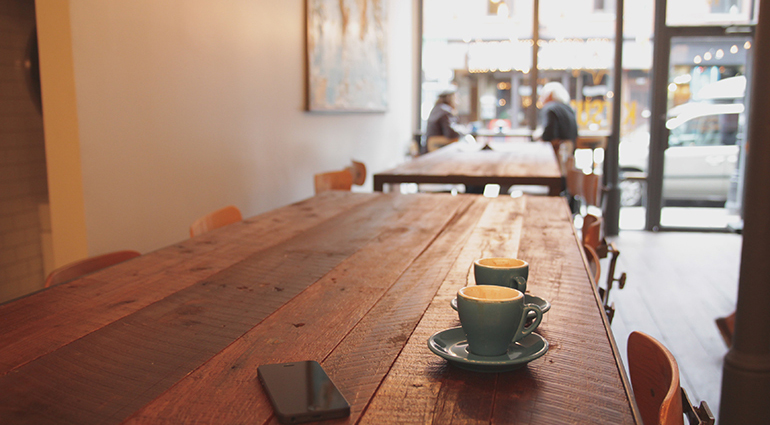 For it is by grace you have been saved, through faith—and this is not from yourselves, it is the gift of God. Ephesians 2:8
London's Café Rendezvous has nice lighting, comfortable couches, and the smell of coffee in the air. What it doesn't have are prices. Originally started as a business by a local church, the café was transformed a year after it started. The managers felt that God was calling them to do something radical—make everything on the menu free. Today you can order a coffee, cake, or sandwich without cost. There isn't even a donation jar. It's all a gift.
I asked the manager why they were so generous. "We're just trying to treat people the way God treats us," he said. "God gives to us whether we thank him or not. He's generous to us beyond our imaginations."
Jesus died to rescue us from our sins and reconcile us with God. He rose from the grave and is alive now. Because of this, every wrong thing we've done can be forgiven, and we can have new life today (Eph. 2:1–5). And one of the most amazing things about this is that it is all free. We can't buy the new life Jesus offers. We can't even donate toward the cost (vv. 8–9). It's all a gift.
As the folks at Café Rendezvous serve their cakes and coffees, they give people a glimpse of God's generosity. You and I are offered eternal life for free because Jesus has paid the bill.
Let the one who is thirsty come; and let the one who wishes take the free gift of the water of life. Revelation 22:17
Eternal life is a free gift ready to be received.
Only One King
From: Our Daily Journey
Read:
Matthew 2:1-12
Where is the newborn king of the Jews? We saw his star as it rose, and we have come to worship him (Matthew 2:2).
Think of any monarchy in the history of the world. The royal family may have had a few princes and princesses. It may have even had more than one queen, as did the kingdoms of David and Solomon. But there was only one king.
The king in today's text was a madman. Herod murdered his own wives and children because he feared they would try to usurp his power. Augustus Caesar reportedly joked it was better to be Herod's pig than his son, because out of deference to the Jews he wouldn't kill his pig. On his deathbed, Herod ordered a stadium to be filled with Jewish political and religious leaders, wanting them killed when he died so that tears would be shed at his passing. Thankfully, these wishes weren't obeyed.
But although Herod was a madman, he wasn't completely crazy. He understood that there could only be one king. If the baby in Bethlehem was the "king of the Jews," then that meant Herod wasn't (Matthew 2:2). So he killed all the boys "who were two years old and under" in Bethlehem (Matthew 2:16).
Herod's twisted ravings reveal the sober truth of Christmas. The Son of God didn't enter our world to prop up our own fragile kingdoms. He did not enter this world so He could rubber-stamp our plans or whatever our desires compel us to do. Jesus came to rule, because defeating all other powers is the only way He can "save his people from their sins" (Matthew 1:21). The Father sent Jesus to rescue us from Satan's "kingdom of darkness and [transfer] us into the Kingdom of his dear Son, who purchased our freedom" (Colossians 1:13-14).
Jesus loves us too much to share His sovereign rule with any lesser power. His very presence challenges all other realms. There can only be one king in your life. Who will it be?
Spiritual House Cleaning During the Holidays
From: J.A. Marx, Author
A couple of years ago, God gave me a special name, one He alone calls me. This so excited me that I asked Him if He had a name for my house, too, which I had just moved into. I heard Him whisper, Beauty. Months later, He expanded that to Beauty of Holiness, letting me know that in the new life, even my home had new purpose. Talk about humbling.
I take Beauty seriously. My place is His place; He provided it. My role is to steward it well. In the same way I dust and vacuum, He's taught me another type of cleaning that maintains His peace, joy, and love.
Some of my houseguests enter carrying burdens of sorrow or grief, and I'm grateful they're here. I trust that before they leave, they will have sampled joy. Prior to their arrival, I asked the Holy Spirit to decorate my interior with Kindness and Gentleness, or whatever He deemed necessary.
On occasion, guests enter with burdens of bitterness or rebellion. Though it's often unseen in the natural, the Holy Spirit will reveal this rebellion. Our heart condition, good or bad, leaks out whether we're aware of it or not. While I don't waste time casting pearls of wisdom to the rebellious, I do pour out love, because the Father has loved me when I'm at my worst. I'm accountable before God for my actions alone, not for those of another. He's the final Judge.
No matter who walks into my home, they leave a spiritual footprint, similar to a carbon footprint.
"By wisdom a house is built, by understanding it is prepared, and by knowledge its rooms are filled with every rare and pleasing treasure." Proverbs 24:3-4 TLV
When guests leave, I clean house, every time, even if I detected only good or healthy deposits. I ask the Spirit to remove all residue of sorrow, depression, and especially rebellion and bitterness, etc. All guests are welcomed with sincere love; but the fragments of chaos they unknowingly leave behind receive a pink slip. How this all works in the unseen realm, I can't explain. I can only testify to my disturbed sleep or the strange emotional slumps that fall on me after certain individuals spend time in my home—if I don't take time to clean.
If it's not in Heaven, I don't want it in my home. Jesus defeated sin and death through His work on the Cross. His work made us the righteousness of God, therefore we don't have to put up with any deposit attempts by the enemy.
I steward Beauty with joy. God has blessed me, and He trusts me with His blessings. He trusts you, too.
How about your home? Are you ready for holiday guests? No matter who enters your house, they leave a spiritual footprint upon exiting.
Steps to help keep peace and love burning strong:
Turn on praise music. Maybe let it play all night on low.
Use your authority in Christ to command all things/spirits not aligned with God to bow the knee to Jesus and leave immediately.
Speak Scripture over your home, each room. The Word of God spoken aloud has healing & cleansing effects.
Rejoice! And give God thanks.
'Tis the season to clean.