Luke 1: 13-14
13 The angel said to him, "Don't be afraid, Zechariah! God has heard your prayer. Your wife Elizabeth will have a son, and you will name him John. 14 He will be your pride and joy, and many people will be glad that he was born.
Picture of the Angel talking to Elizabeth, Mary's sister, about
the birth of John the Baptist
Big World, Bigger God
From: Our Daily Bread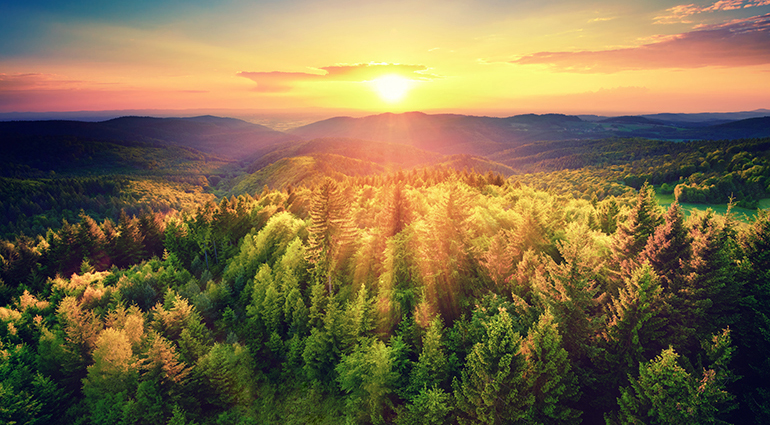 As we drove through northern Michigan, Marlene exclaimed, "It's unbelievable how big the world is!" She made her comment as we passed a sign marking the 45th parallel—the point halfway between the equator and the North Pole. We talked about how small we are and how vast our world is. Yet, compared to the size of the universe, our tiny planet is only a speck of dust.
If our world is great, and the universe is vastly greater, how big is the One who powerfully created it? The Bible tells us, "For by [Jesus] all things were created, both in the heavens and on earth, visible and invisible, whether thrones or dominions or rulers or authorities—all things have been created through Him and for Him" (Col. 1:16 nasb).
This is good news because this same Jesus who created the universe is the One who has come to rescue us from our sin for every day and forever. The night before He died, Jesus said, "These things I have spoken to you, so that in Me you may have peace. In the world you have tribulation, but take courage; I have overcome the world" (John 16:33 nasb).
When facing the large and small challenges of life, we call on the One who made the universe, died and rose again, and won victory over this world's brokenness. In our times of struggle, He powerfully offers us His peace.
Lord, I'm grateful that You are greater than my mind could ever comprehend. Help me to trust You today.
God's grace is immeasurable, His mercy inexhaustible, His peace inexpressible.
Undoing Death
From: Our Daily Journey
Read:
John 1:29-31
The next day John saw Jesus coming toward him and said, "Look! The Lamb of God who takes away the sin of the world!" (John 1:29).
I once heard an amazing true story of how one man's conversion affected untold numbers of people. When the man—who lived in a South American village—heard the good news of the gospel and decided to follow Jesus, his life radically changed. First, he stopped being abusive toward his wife. Then he began selflessly acting on her behalf. After a while, his wife started her own business and hired other villagers. As a result, the village prospered financially. In turn, many children could spend their days learning at school instead of toiling all day in the fields.
This story is just one of countless examples showing that John the Baptist was right. Jesus really does cleanse us from our sins. He really does take away the sin of the world (John 1:29; 1 John 1:9).
Romans 6:23 says, "The wages of sin is death." The payoff or result of sin is death. Sin devours and destroys our bodies, minds, souls, the earth, our economies, communities, social and religious structures—everything. But in and through Jesus we counteract spiritual and physical death. Although we will all die physically unless Jesus returns in our lifetime, for those who follow Jesus, sin and death don't have the last word. Jesus tells us, "I am the resurrection and the life. Anyone who believes in me will live, even after dying" (John 11:25).
And not only will we live after death—but, when we follow Jesus, we begin to live fully now. Jesus came to bring us abundant life (see John 10:10). Little by little, He overcomes and takes away sin and its death-dealing effects. He is making all things new (Revelation 21:5). That's what God's life does. It brings new life—resurrection!—to all it touches.
You must learn to wrestle against the things that hinder your communication with God, and wrestle in prayer for other people; but to wrestle with God in prayer is unscriptural. If you ever do wrestle with God, you will be crippled for the rest of your life. If you grab hold of God and wrestle with Him, as Jacob did, simply because He is working in a way that doesn't meet with your approval, you force Him to put you out of joint (see Genesis 32:24-25). Don't become a cripple by wrestling with the ways of God, but be someone who wrestles before God with the things of this world, because "we are more than conquerors through Him…" (Romans 8:37). Wrestling before God makes an impact in His kingdom. If you ask me to pray for you, and I am not complete in Christ, my prayer accomplishes nothing. But if I am complete in Christ, my prayer brings victory all the time. Prayer is effective only when there is completeness— "take up the whole armor of God…."
Always make a distinction between God's perfect will and His permissive will, which He uses to accomplish His divine purpose for our lives. God's perfect will is unchangeable. It is with His permissive will, or the various things that He allows into our lives, that we must wrestle before Him. It is our reaction to these things allowed by His permissive will that enables us to come to the point of seeing His perfect will for us. "We know that all things work together for good to those who love God…" (Romans 8:28)— to those who remain true to God's perfect will— His calling in Christ Jesus. God's permissive will is the testing He uses to reveal His true sons and daughters. We should not be spineless and automatically say, "Yes, it is the Lord's will." We don't have to fight or wrestle with God, but we must wrestle before God with things. Beware of lazily giving up. Instead, put up a glorious fight and you will find yourself empowered with His strength.