Beginning Again
From: Our Daily Bread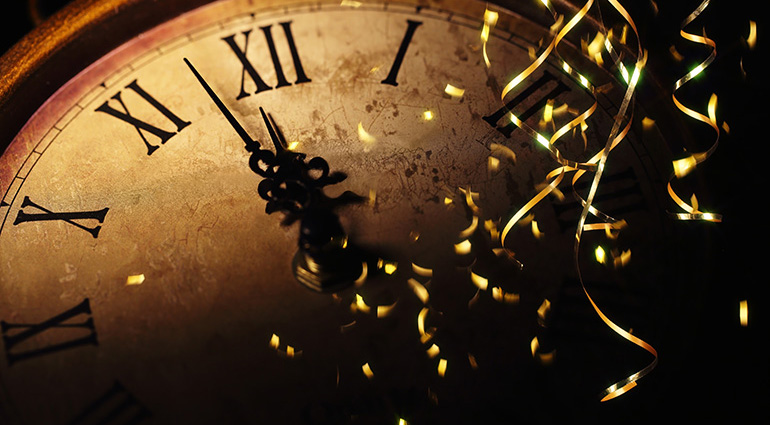 Everyone whose heart God had moved—prepared to go up and build the house of the Lord in Jerusalem. Ezra 1:5
After Christmas festivities conclude at the end of December, my thoughts often turn to the coming year. While my children are out of school and our daily rhythms are slow, I reflect on where the last year has brought me and where I hope the next will take me. Those reflections sometimes come with pain and regret over the mistakes I've made. Yet the prospect of starting a new year fills me with hope and expectancy. I feel I have the opportunity to begin again with a fresh start, no matter what the last year held.
My anticipation of a fresh start pales in comparison to the sense of hope the Israelites must have felt when Cyrus, the king of Persia, released them to return to their homeland in Judah after seventy long years of captivity in Babylon. The previous king, Nebuchadnezzar, had deported the Israelites from their homeland. But the Lord prompted Cyrus to send the captives home to Jerusalem to rebuild God's temple (Ezra 1:2–3). Cyrus also returned to them treasures that had been taken from the temple. Their lives as God's chosen people, in the land God had appointed to them, began afresh after a long season of hardship in Babylon as a consequence for their sin.
No matter what lies in our past, when we confess our sin, God forgives us and gives us a fresh start. What great cause for hope!
God's grace offers us fresh starts.
January 1, 2018


Adjusting Your Pace-of-Life in 2018
KATY MCCOWN
"But Martha was distracted with much serving. And she went up to him and said, 'Lord, do you not care that my sister has left me to serve alone? Tell her then to help me.'" Luke 10:40 (ESV)
I'm not a morning person.
I never have been. During my school days, I woke up at the very last minute to dress and brush my teeth before hurrying out the door. I usually reduced breakfast to dry cereal in a cup that I shoveled in my mouth once I jumped in the car.
But some days, I acted the polar opposite. On a rare occasion, I'd pop out of bed before the sun came up and be ready for the day, long before anyone else. These were usually field trip days. A break from the norm, an exciting adventure! Those were the days I looked forward to, and my morning routine proved it.
In our key verse today, we find Martha preparing for a break from the norm. It's festival time in Israel, and Martha is busy with all the surrounding details that come with it. Festival time was a big deal. It was appointed by God and carried specific directives about how, when and where to celebrate.
Then there's Mary, Martha's sister, who seemed completely oblivious to the added demands of this big moment. While Martha hustled and bustled, Mary "sat at the Lord's feet and listened to his teaching" (Luke 10:39b, ESV).
Mary's actions seem insignificant on the backdrop of the big festival at hand. Martha certainly thought so. Yet, the Bible records a different perspective.
In response to Mary's choice to slow down and sit at Jesus' feet, our key verse says, "But Martha was distracted with much serving. And she went up to him and said, 'Lord, do you not care that my sister has left me to serve alone? Tell her then to help me'" (Luke 10:40).
First of all, can't you just see Martha with her hand on her hip, tapping her foot? Oh my goodness, she's throwing a temper tantrum at Jesus! I love how Jesus does not appear to point His finger at her and usher a stern, "No ma'am!" Instead, He gets straight to the heart of the matter.
Jesus exposes Martha's heart and the anxiety bubbling beneath the surface. Then He turns to Mary simply sitting near Him and calls it good.
Did you catch that? Scripture labels the "big" moment a distraction. Jesus points to the "small" moment as the good portion.
Our days are filled with things that excite us and things that feel dull and mundane. Sometimes we pace our days according to the agenda before us. The big moments pull us out of bed and usher us full-speed ahead, while the small moments call for us to linger and perhaps enjoy one more cup of coffee. But sometimes, I think we get it backwards.
From the perspective of God's throne, I don't know if big and small moments even exist. Instead, every moment is "from him and through him and to him," (Romans 11:36a, ESV).
As we begin this new year, let's approach every moment as one God has appointed for His glory. Let's leave room in the pace of each day to linger in our quiet time listening to Jesus. Let's slow down … even when we feel pressed by life's seemingly "big" moments to neglect what we perceive as small.
Eventually I learned to become a morning person. Now, when I wake up I choose not to catalog the day's events and decide if I want to get up or go back to sleep. Instead, I start by talking with my Lord. My time with Him sets the pace for the day, and that alone makes getting up worth it!
Lord, I give You this day. I'm excited for all You have planned for me today. I trust You will use every moment, big and small. Help me to adjust my life to Your priorities. Set my pace so it complements, not competes with, Your purposes. Help me to walk in step with Your Spirit. In Jesus' Name, Amen.
No Fear Factor
From: Joe Stowell, Author
"God gave us a spirit not of fear but of power and love and self-control." 2 Timothy 1:7 ESV
The reality TV show Fear Factor featured people who are willing to face their worst fears for notoriety and financial gain. I need to tell you that I rarely watched more than a fleeting moment of the show as I surfed with my remote. I find it tough to watch people eat cockroaches, immerse themselves in a tank full of creepy worms with legs, and stay under water far too long with slimy eels crowding around their heads. It's just not my definition of high-value entertainment. But the program did remind me that fear is an emotion that we are all very familiar with. In fact, my discomfort with watching for any length of time probably has something to do with reminding me of things and events that I fear or at least find uncomfortable.
Yet thinking of the program does make me wonder: Would I be willing to conquer my fears to do what Jesus asks me to do, just as these contestants overcome their fears for a moment in the spotlight of national TV?
There is no doubt that fear is no friend of our effectiveness for Christ. We are often fearful about witnessing, giving our money away, saying no to our friends, forgiving a cruel offense, saying yes to a short-term missionary assignment, or risking being misunderstood if we speak up for biblical values at the water-cooler. If Satan can get us stymied by fear, he doesn't have to do much else to shut down our spiritual progress and usefulness.
So, let's talk about what it takes to succeed for Jesus in the face of fear.
First, let's remind ourselves that fear primarily focuses on protecting and preserving "me." Overcoming fear begins with deciding that some things in life are more important than ourselves. Things like the eternal destinies of others, the prosperity of the work of Christ in our world, the fact that the reputation of Jesus is more strategically important than my fleeting popularity, and that His integrity and righteousness showing up in my life is more important than cheating for some personal gain. Once you and I realize that a self-surpassing passion for others and Jesus trumps fear, we can understand why the apostle John wrote that love casts out fear (1 John 4:18
).
But loving can often feel like a risky, sometimes losing proposition, which is why we need another ingredient to release the power of the love that conquers fear. That ingredient is trust. Trusting that God will protect you when you are fearful, that God will reward you when you feel at risk, that God will give you guidance and courage when you feel lost and intimidated is what it takes to defeat the fear that holds you back. Are you afraid that when you love you will become vulnerable, misunderstood, taken advantage of, or misused? Trust God to watch over you, meet your needs, and give you His best, and those fears will become increasingly nonexistent.
When our lives are characterized by trust-filled love, fear ultimately will not be a factor. As President Roosevelt said in his inaugural speech, "The only thing we have to fear is fear itself!"