John 14: 8-10
…

8  

Philip said to Him, "Lord, show us the Father, and that will be enough for us." 
10  

Do you not believe that I am in the Father and the Father is in Me? The words I say to you, I do not speak on My own. Instead, it is the Father dwelling in Me, carrying out His work.…
The Father and I are one." John 10:30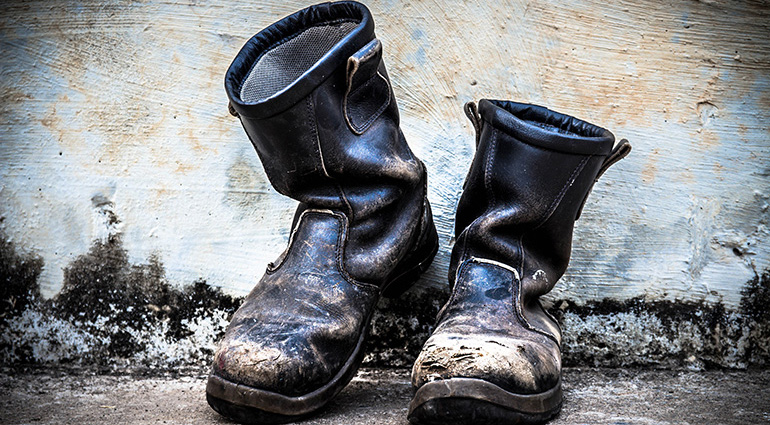 My father's dusty, heeled-over, cowboy boots rest on the floor of my study, daily reminders of the kind of man he was.
Among other things, he raised and trained cutting horses—equine athletes that move like quicksilver. I loved to watch him at work, marveling that he could stay astride.
As a boy, growing up, I wanted to be just like him. I'm in my eighties, and his boots are still too large for me to fill.
My father's in heaven now, but I have another Father to emulate. I want to be just like Him—filled with His goodness, fragrant with His love. I'm not there and never will be in this life; His boots are much too large for me to fill.
But the apostle Peter said this: "The God of all grace, who called you to his eternal glory in Christ . . . will himself restore you and make you strong, firm and steadfast" (1 Peter 5:10). He has the wisdom and power to do that, you know (v. 11).
Our lack of likeness to our heavenly Father will not last forever. God has called us to share the beauty of character that is His. In this life we reflect Him poorly, but in heaven our sin and sorrow will be no more and we'll reflect Him more fully! This is the "true grace of God" (v. 12).
Father God, we want to be just like You. Help us to grow more and more like You each day!
Through the cross, believers are made perfect in His sight.
"And when He had spoken this, He said to him, 'Follow Me' " (John 21:19). Three years earlier Jesus had said, "Follow Me" (Matthew 4:19), and Peter followed with no hesitation. The irresistible attraction of Jesus was upon him and he did not need the Holy Spirit to help him do it. Later he came to the place where he denied Jesus, and his heart broke. Then he received the Holy Spirit and Jesus said again, "Follow Me" (John 21:19). Now no one is in front of Peter except the Lord Jesus Christ. The first "Follow Me" was nothing mysterious; it was an external following. Jesus is now asking for an internal sacrifice and yielding (see John 21:18).
Between these two times Peter denied Jesus with oaths and curses (see Matthew 26:69-75). But then he came completely to the end of himself and all of his self-sufficiency. There was no part of himself he would ever rely on again. In his state of destitution, he was finally ready to receive all that the risen Lord had for him. "…He breathed on them, and said to them, 'Receive the Holy Spirit' " (John 20:22). No matter what changes God has performed in you, never rely on them. Build only on a Person, the Lord Jesus Christ, and on the Spirit He gives.
All our promises and resolutions end in denial because we have no power to accomplish them. When we come to the end of ourselves, not just mentally but completely, we are able to "receive the Holy Spirit." "Receive the Holy Spirit" — the idea is that of invasion. There is now only One who directs the course of your life, the Lord Jesus Christ.
Lord, there is none beside thee to help. (2 Chronicles 14:11, RV).
Remind God of His entire responsibility. "There is none beside thee to help." The odds against Asa were enormous. There was a million of men in arms against him, besides three hundred chariots. It seemed impossible to hold his own against that vast multitude. There were no allies who would come to his help; his only hope, therefore, was in God.
It may be that your difficulties have been allowed to come to so alarming a pitch that you may be compelled to renounce all creature aid, to which in lesser trials you have had recourse, and cast yourself back on your Almighty Friend. Put God between yourself and the foe.
To Asa's faith, Jehovah seemed to stand between the might of Zerah and himself, as one who had no strength. Nor was he mistaken. We are told that the Ethiopians were destroyed before the Lord and before His host, as though celestial combatants flung themselves against the foe in Israel's behalf, and put the large host to rout, so that Israel had only to follow up and gather the spoil. Our God is Jehovah of hosts, who can summon unexpected reinforcements at any moment to aid His people. Believe that He is there between you and your difficulty, and what baffles you will flee before Him, as clouds before the gale.
–F. B. Meyer
When nothing whereon to lean remains,
When strongholds crumble to dust;
When nothing is sure but that God still reigns,
That is just the time to trust.
'Tis better to walk by faith than sight,
In this path of yours and mine;
And the pitch-black night, when there's no outer light
Is the time for faith to shine.
Abraham believed God, and said to sight, "Stand back!" and to the laws of nature, "Hold your peace!" and to a misgiving heart, "Silence, thou lying tempter!" He believed God.
–Joseph Parker