For by grace you have been saved through faith. And this is not your own doing; it is the gift of God, not a result of works, so that no one may boast. (Ephesians 2:8-9 ESV)
Jesus Christ was the greatest gift ever given to man.
The Gift of the Magi
From: Our Daily Bread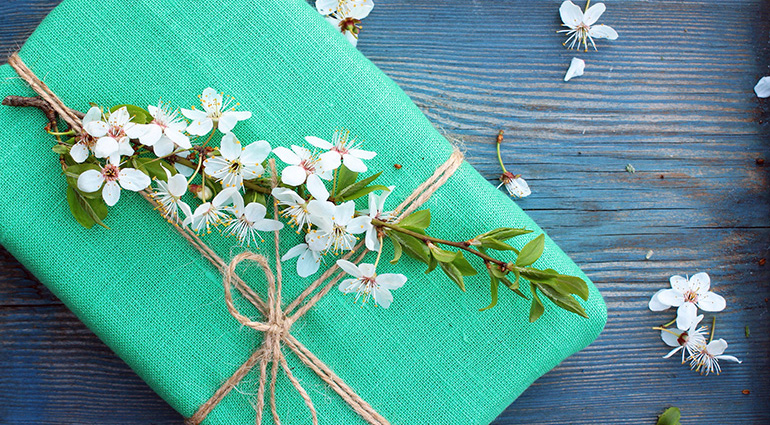 We saw his star when it rose and have come to worship him. Matthew 2:2
A young married couple had more love than money. As Christmas neared, both struggled to find a gift that would show how much they cared for the other. Finally, on Christmas Eve, Della sold her long, knee-length hair to buy Jim a platinum chain for the watch he'd inherited from his father and grandfather. Jim, however, had just sold the watch to buy a set of expensive combs for Della's hair.
Author O. Henry called the couple's story The Gift of the Magi. His creation suggests that even though their gifts became useless and may have caused them to look foolish on Christmas morning, their love made them among the wisest of those who give gifts.
The wise men of the first Christmas story also could have looked foolish to some as they arrived in Bethlehem with gifts of gold, frankincense, and myrrh (Matthew 2:11). They weren't Jewish. They were outsiders, Gentiles, who didn't realize how much they would disturb the peace of Jerusalem by asking about a newly born king of the Jews (v. 2).
As with Jim and Della's experience, the magi's plans didn't turn out the way they expected. But they gave what money cannot buy. They came with gifts, but then bowed to worship One who would ultimately make the greatest of all loving sacrifices for them—and for us.
Father in heaven, please help us to learn what it means to give what money cannot buy.
God's gift of grace is priceless.
Eyes to See
From: Our Daily Journey
My sister, a forensic scientist, once told me: "There's no perfect crime. Many evidences are left behind at the crime scene, which the naked eye can't see." Blood, even minute quantities that remain after cleanup, can be made to glow by spraying chemicals on affected surfaces.
There's more to reality than meets the eye.
Elisha's servant learned this lesson on the morning he and the prophet were surrounded by a foreign army. As far as his eyes could see, thousands of soldiers mounted on powerful warhorses had circled the city (2 Kings 6:15). It was obvious they were grossly outnumbered, or so it seemed.
Elisha assured the young man: "Don't be afraid! . . . For there are more on our side than on theirs!" (2 Kings 6:16). Then he asked God to help his servant supernaturally see the spiritual forces prepared to defend them, praying, "O Lord , open his eyes and let him see!" Then the young man "saw that the hillside around Elisha was filled with horses and chariots of fire" (2 Kings 6:17).
Elisha knew that what we see isn't all there is. There's an invisible spiritual realm that is just as real. Scripture speaks about angels as a part of this realm (Psalm 34:7). If we belong to God, we can trust Him to protect us until the moment He draws us to be where He is. As Psalm 91:11 promises, "He will order his angels to protect you wherever you go."
Are you facing a situation in which the odds seem to be stacked against you? Do you feel alone and helpless? Allow the truths of Scripture to encourage you, and in prayer ask God to help you see things as He does. Then, like Elisha, may you possess eyes that see the unseen and have courage to face your challenges in His strength.
The Illusion of Control
By: Shadia Hrichi, Author
After Abraham and Sarah use Hagar, Sarah's maidservant, to conceive a son, it doesn't take long before conflict arises. One day, it went too far. In response to Hagar's disrespect, "Then Sarai treated Hagar so harshly that she finally ran away." (Genesis 16:6 NLT)
Poor Hagar. Taken into a man's chamber, but never into his heart; released by her mistress, but never set free. When Hagar realized her attempt to gain the upper hand did not work, she ran away. I imagine that Hagar never felt so alone. Perhaps she ran away thinking, "No one will miss me." Or, "If I run away, then they'll miss me."
When Hagar was treated as chattel, she reacted with contempt. When Sarah was treated with contempt, she responded by bullying. When Hagar was bullied, she ran away. Just as in the Garden of Eden, all the enemy needs is one person to take the first bite to set in motion a tragic chain reaction.
For Hagar, running away likely offered her the temporary illusion of being in control. Even if she did not know where she was going, at least she could feel she was the one deciding which direction to take. It is not difficult to sympathize with Hagar's identity crisis. She was likely acquired by Sarah at a young age. By now, her homeland is a distant memory, along with its pagan gods. She has no real relationship with the father of her child, and her mistress would probably love for Hagar to simply disappear. With no real home of her own, it is no surprise that Hagar does not know how to fully answer the Angel of the Lord's question in Genesis 16:8, "…Where have you come from and where are you going?" (Genesis 16:8a ESV)
While God does not always call us to an easy road, His ways can always be trusted. Despite how Hagar may have felt, Scripture assures us that she was never alone. God not only saw Hagar in her affliction, but He comforted her with an amazing promise. "The angel of the Lord also said to her, 'I will surely multiply your offspring so that they cannot be numbered for multitude.'" (Genesis 16:10 ESV)
Hagar is the only woman in the Bible to whom God personally promised a multitude of offspring. Whereas Sarah will certainly be blessed with similar and more far-reaching promises, God bestows upon Hagar His personal blessing of "a multitude" that cannot be counted. Hagar is also the only person in the entire Bible to give God a name, "You are the God who sees me" (Gen. 16:13 NIV).
How precious! In the midst of the wilderness and her woundedness, Hagar discovered she was known and she was loved. Her encounter with God gave her the courage to surrender control, obey His command, and return to her mistress – but she did not return the same. She had a voice. And she had a place. While she would remain the servant of Sarah, Hagar would also be known as the mother of Abraham's son, whom God Himself gave the tender name Ishmael, meaning, "God hears" (Genesis 16:11). One minute we see an oppressed runaway slave; the next minute, we see a bold and courageous servant of God. No one can encounter the living God and remain unchanged.
Throughout our lives, you and I will face challenges whereby we are tempted to go our own way. It may seem like we are in control, but the reality is that control is an illusion. We are all dependent on God for everything; even our very breath comes from Him (Genesis 2:7). The truth is that when you and I resist God's sovereignty, we hinder our own ability to experience His peace – the very thing our hearts long for the most. But praise God that He does not leave us in the midst of the wilderness and our woundedness – but willingly pursues us there!
"Where shall I go from your Spirit? Or where shall I flee from your presence?" (Psalm 139:7 ESV)
How about you? Are there any areas in your life where you struggle for control? How can your perception of being able to take care of your problems yourself lessen your awareness of your dependence on God?