John 8: 12
When Jesus spoke again to the people, he said, "I am the light of the world. Whoever follows me will never walk in darkness, but will have the light of life."
Light in the Darkness
From: Our Daily Journey
Moving to a new home and community can be daunting. So during a recent transition, I was grateful when my friend's seven-year-old daughter, Maria, offered to help.
Maria couldn't assist much in a physical way, but her presence and thoughtful gestures turned an otherwise dreary experience into a delightful one. In the midst of my "moving daze," Maria's happy words and acts of kindness created reasons to smile and give thanks. She created a lighthearted mood in what would have otherwise been a gloomy day.
To me, Maria sweetly reflected the joy and beauty of the God who brought light and life into darkness. It's astonishing to ponder what transpired when "in the beginning God created the heavens and the earth. The earth was formless and empty, and darkness covered the deep waters. And the Spirit of God was hovering over the surface of the waters" (Genesis 1:1-2).
Into an unformed, bare earth, God spoke light into existence and distinguished day from night (Genesis 1:3-4). He made the sky by establishing the atmosphere and the oceans (Genesis 1:6-8) and land that sprouted vegetation (Genesis 1:9-13). He made the sun, moon, and stars (Genesis 1:14-19) and filled the earth and sky with creatures and birds (Genesis 1:20-23).
After filling the earth with "all sorts of wild animals, livestock, and small animals" (Genesis 1:25), "God created human beings in his own image. In the image of God he created them; male and female he created them" (Genesis 1:27). And as He looked over all that He had made, God declared that it was "very good!" (Genesis 1:31).
God continues to create light and life where there's darkness. As we draw near to Him, may we experience His joy and beauty wherever we are!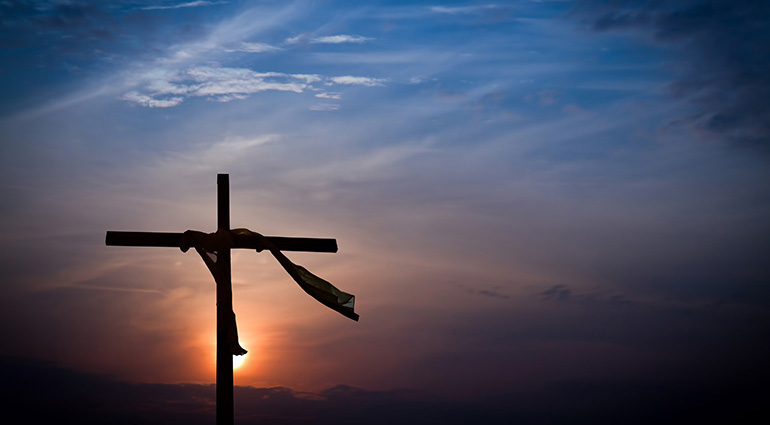 At the name of Jesus every knee should bow, in heaven and on earth and under the earth. Philippians 2:10
Cleopatra, Galileo, Shakespeare, Elvis, Pelé. They are all so well known that they need only one name to be recognized. They have remained prominent in history because of who they were and what they did. But there is another name that stands far above these or any other name!
Before the Son of God was born into this world, the angel told Mary and Joseph to name Him Jesus because "he will save his people from their sins" (Matthew 1:21), and "he . . . will be called the Son of the Most High" (Luke 1:32). Jesus didn't come as a celebrity but as a servant who humbled Himself and died on the cross so that anyone who receives Him can be forgiven and freed from the power of sin.
The apostle Paul wrote, "God exalted him to the highest place and gave him the name that is above every name, that at the name of Jesus every knee should bow, in heaven and on earth and under the earth, and every tongue acknowledge that Jesus Christ is Lord, to the glory of God the Father" (Philippians 2:9–11).
In our times of greatest joy and our deepest need, the name we cling to is Jesus. He will never leave us, and His love will not fail.
Jesus, You are the name above all names, our Savior and Lord. We lift our praise to You as we celebrate Your presence and power in our lives today.
Jesus Christ is not valued at all until He is valued above all.  Augustine
 Intimate With Jesus
These words were not spoken as a rebuke, nor even with surprise; Jesus was encouraging Philip to draw closer. Yet the last person we get intimate with is Jesus. Before Pentecost the disciples knew Jesus as the One who gave them power to conquer demons and to bring about a revival (see Luke 10:18-20). It was a wonderful intimacy, but there was a much closer intimacy to come: "…I have called you friends…" (John 15:15). True friendship is rare on earth. It means identifying with someone in thought, heart, and spirit. The whole experience of life is designed to enable us to enter into this closest relationship with Jesus Christ. We receive His blessings and know His Word, but do we really know Him?
Jesus said, "It is to your advantage that I go away…" (John 16:7). He left that relationship to lead them even closer. It is a joy to Jesus when a disciple takes time to walk more intimately with Him. The bearing of fruit is always shown in Scripture to be the visible result of an intimate relationship with Jesus Christ (see John 15:1-4).
Once we get intimate with Jesus we are never lonely and we never lack for understanding or compassion. We can continually pour out our hearts to Him without being perceived as overly emotional or pitiful. The Christian who is truly intimate with Jesus will never draw attention to himself but will only show the evidence of a life where Jesus is completely in control. This is the outcome of allowing Jesus to satisfy every area of life to its depth. The picture resulting from such a life is that of the strong, calm balance that our Lord gives to those who are intimate with Him.
 Today's Devotions
From: Through The Bible Daily
Morning
January 7
Genesis 3:6 (NIV) 6When the woman saw that the fruit of the tree was good for food and pleasing to the eye, and also desirable for gaining wisdom, she took some and ate it. She also gave some to her husband, who was with her, and he ate it.
Yesterday we saw a few of Satan's strategies, and in this verse, we see why they are effective. In 1 John 2:15-17, John wrote that the world consists of the lust of the eyes, the lust of the flesh and the pride of life. When Satan was able to get Eve to question God, she looked at the fruit. The child of God is to walk by faith and not by sight. We are to see in the spiritual realm with our spiritual eyes what is eternal and not be tricked by what we see in the physical. It looked good for food. Was it? As good as death! But she allowed her eyes to deceive her, instead of trusting in what God had said.
The fruit looked like it could satisfy her natural desires. The world never really satisfies. We often think it can fill the void within, but it leaves us hungrier than before. Like all addictions, there is some satisfaction, but you need to constantly increase the quantity of money, drugs, food, sex or whatever it is you are seeking to fill your emptiness. Finally that excess ends in an empty death. The void within us can only be filled by the eternal, infinite God.
She thought it would make her wise. There is a grain of truth in Satan's lies. She would know what it was to rebel against God, to feel remorse, to be separated from His presence, to fear His justice.
These three weaknesses that both this story and the Apostle John described are with us today as much as ever. Recognize them! They are of the world. The world and its lusts pass away, but he who does the will of His Father lives forever.