The Debt Eraser
From: Our Daily Bread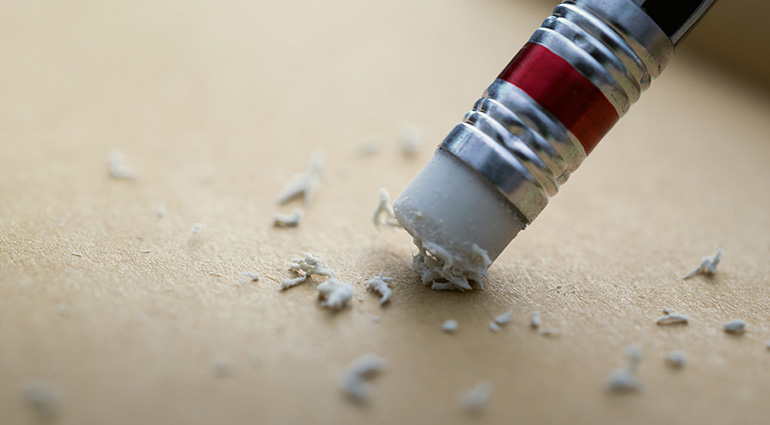 As far as the east is from the west, so far has he removed our transgressions from us. Psalm 103:12
I blinked back tears as I reviewed my medical bill. Considering my husband's severe cut in salary after a lengthy unemployment, even paying half of the balance would require years of small monthly installments. I prayed before calling the doctor's office to explain our situation and request a payment plan.
After leaving me on hold for a short time, the receptionist informed me the doctor had zeroed out our account.
I sobbed a thank you. The generous gift overwhelmed me with gratitude. Hanging up the phone, I praised God. I considered saving the bill, not as a reminder of what I used to owe but as a reminder of what God had done.
My physician's choice to pardon my debt brought to mind God's choice to forgive the insurmountable debt of my sins. Scripture assures us God is "compassionate and gracious" and "abounding in love" (Psalm 103:8). He "does not treat us as our sins deserve" (v. 10). He removes our sins "as far as the east is from the west" (v. 12), when we repent and accept Christ as our Savior. His sacrifice erases the debt we once owed. Completely.
Once forgiven, we aren't defined by or limited by our past debt. In response to the Lord's extravagant gift, we can acknowledge all He's done. Offering our devoted worship and grateful affection, we can live for Him and share Him with others.
Thank You for erasing our debt completely when we place our confidence in You, Lord.
Our greatest debt, caused by sin, is erased by our greater God.
This event is a picture of the mistake we make in thinking that the ultimate God wants of us is the sacrifice of death. What God wants is the sacrifice through death which enables us to do what Jesus did, that is, sacrifice our lives. Not— "Lord, I am ready to go with You…to death" (Luke 22:33). But— "I am willing to be identified with Your death so that I may sacrifice my life to God."
We seem to think that God wants us to give up things! God purified Abraham from this error, and the same process is at work in our lives. God never tells us to give up things just for the sake of giving them up, but He tells us to give them up for the sake of the only thing worth having, namely, life with Himself. It is a matter of loosening the bands that hold back our lives. Those bands are loosened immediately by identification with the death of Jesus. Then we enter into a relationship with God whereby we may sacrifice our lives to Him.
It is of no value to God to give Him your life for death. He wants you to be a "living sacrifice"— to let Him have all your strengths that have been saved and sanctified through Jesus (Romans 12:1). This is what is acceptable to God.
Forgetting the True Reason
Read:
Ezekiel 16:1-34
You were adorned with gold and silver. Your clothes were made of fine linen . . . and were beautifully embroidered. You ate the finest foods . . . and became more beautiful than ever. You looked like a queen, and so you were! (Ezekiel 16:13).
Tim Keller aptly expressed the spiritual state of humanity when he wrote, "Everything that troubles [us] is a result of idolatry. And what is idolatry? It's taking a good thing and making it an ultimate thing." View nearly any form of visual media today and you'll see that we've exchanged our worship of the Creator for the created. We were designed by God to respond to beauty—His beauty. But the promise of perfection and the temptation of power draw us to lesser gods. Food, sex, fashion, you name it. Our bodies have become our idols.
A picture of God's adoption of Israel and their rejection of Him, Ezekiel 16 expresses the idolatry of a nation in language of intimacy and betrayal. While it might be easy to distance ourselves historically from the imagery of this passage, its truth applies to us today. We "came naked from [our] mother's womb" (Job 1:21) with nothing to offer but our broken, marred humanity covered in the blood of our sin (Ezekiel 16:4-6; Romans 3:10). A protective and covenant-keeping God rescued us (Ezekiel 16:7-8), and we've been transformed by His love (Ezekiel 16:9-13).
But we're tempted to forget (Ezekiel 16:15). Enticed by the world and all it offers, we turn our affection toward the voices of people and seek their affirmation. Like the Israelites, our strength, our beauty, our very talents, can become the lure drawing us into idolatrous relationship to our culture (Ezekiel 16:16-19,33-34). Sadder still, we may pass on our idolatrous tendencies to the next generation by teaching them to fit in rather than stand out (Ezekiel 16:20-21).
True hope doesn't forget the One who rescued us. May we remember that God's forgiveness restores what was lost, and our worship of Him reclaims our inheritance.