Jesus Blesses the Children
13 Then the little children were brought to Jesus for Him to place His hands on them and pray for them; and the disciples rebuked those who brought them. 
14 But Jesus said, "Let the little children come to Me, and do not hinder them! For the kingdom of heaven" belongs to such as these. 
15 And after He had placed His hands on them, He went on from there.…
God loves you like you love your children.
Knowing and Loving
From: Our Daily Bread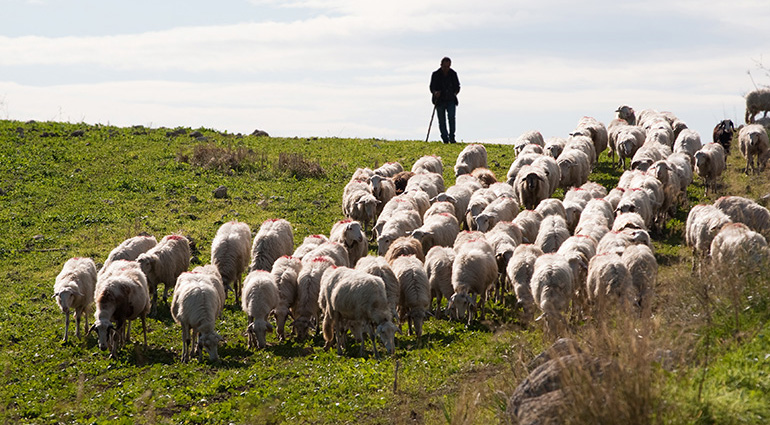 My sheep listen to my voice; I know them, and they follow me. John 10:27
"Jesus loves me, this I know, for the Bible tells me so" is the message of one of Christian music's most enduring songs, particularly for children. Written by Anna B. Warner in the 1800s, this lyric tenderly affirms our relationship with Him—we are loved.
Someone gave my wife a plaque for our home that gives these words a fresh twist by flipping that simple idea. It reads, "Jesus knows me, this I love." This provides a different perspective on our relationship with Him—we are known.
In ancient Israel, loving and knowing the sheep distinguished a true shepherd from a hired hand. The shepherd spent so much time with his sheep that he developed an abiding care for and a deep knowledge of his lambs. Little wonder then that Jesus tells His own, "I am the good shepherd; I know my sheep and my sheep know me. . . . My sheep listen to my voice; I know them, and they follow me" (John 10:14, 27).
He knows us and He loves us! We can trust Jesus's purposes for us and rest in the promise of His care because His Father "knows what [we] need before [we] ask him" (Matthew 6:8). As you deal with the ups and downs of life today, be at rest. You are known and loved by the Shepherd of your heart.
Dear Lord, thank You for how You tenderly love and care for me. Help me to trust You in all areas of my life.
The wonder of it all—just to think that Jesus loves me!
Turn Back and Live
From: Our Daily Journey
When a boyfriend and I ended our dating relationship, I lamented, "I'll never meet another man who enjoys grilling food like he did." As shallow (and embarrassing) as that sounds, I thought I'd forfeited my opportunity to be with a gourmet chef. A few weeks later though, while in a store that sold a variety of grills, it dawned on me that my former boyfriend wasn't the only gifted griller out there!
From the trivial to the most important matters of life and faith, we often allow circumstances, experiences, and culture to dictate what we deem to be bona fide rather than what Scripture reveals.
This tendency is poignantly evidenced in Ezekiel 18, where we learn of a group of Israelites whose muddled view of God and misguided understanding of His character and judgment led them to proclaim, "The parents have eaten sour grapes, but their children's mouths pucker at the taste" (Ezekiel 18:2). In other words, they considered God to be a stern judge who not only punished their sinful parents but also punished them for their parents' sins (Ezekiel 18:19).
But through Ezekiel, God debunked their distorted beliefs about Him, saying, "The person who sins is the one who will die. The child will not be punished for the parent's sins, and the parent will not be punished for the child's sins. Righteous people will be rewarded for their own righteous behavior, and wicked people will be punished for their own wickedness" (Ezekiel 18:20).
But amazingly, God doesn't want even the guilty to die as a result of sin. He wants us to "turn back and live!" and to receive salvation through faith in Jesus Christ (Ezekiel 18:32; Ephesians 2:8-9). May we turn to Him and experience true life.
The ravens' cry
From: Charles Spurgeon
'He gives to the beast his food, and to the young ravens which cry.' Psalm 147:9
Suggested Further Reading: Revelation 8:1–4
Never a sinner prays truly without Christ praying at the same time. You cannot see nor hear him, but never does Jesus stir the depths of your soul by his Spirit without his soul being stirred too. O sinner! your prayer when it comes before God is a very different thing from what it is when it issues forth from you. Sometimes poor people come to us with petitions which they wish to send to some company or great personage. They bring the petition and ask us to have it presented for them. It is very badly spelt, very strangely written, and we can but just make out what they mean; but still there is enough to let us know what they want. First of all we make out a fair copy for them, and then, having stated their case, we put our own name at the bottom, and if we have any interest, of course they get what they desire through the power of the name signed at the foot of the petition. This is just what the Lord Jesus Christ does with our poor prayers. He makes a fair copy of them, stamps them with the seal of his own atoning blood, puts his own name at the foot, and thus they go up to God's throne. It is your prayer, but it is his prayer too, and it is the fact of its being his prayer that makes it prevail. Now, this is a sledgehammer argument: if the ravens prevail when they cry all alone, if their poor chattering brings them what they want of themselves, how much more shall the plaintive petitions of the poor trembling sinner prevail who can say, 'For Jesus' sake,' and who can clench all his own arguments with the blessed plea, 'The Lord Jesus Christ deserves it; O Lord, give it to me for his sake.'
For meditation: To say 'For Jesus' sake' or 'In Jesus' name' at the end of prayer is not supposed to be regarded as the done thing or as a magic formula. It is a humble confession that we do not deserve an audience with God, but a confident profession of faith in the only one who does (John 14:13–14; 15:16; 16:23–24).
Sermon no. 672
The sin of unbelief
From: Charles Spurgeon
"And that lord answered the man of God, and said, Now, behold, if the Lord should make windows in heaven, might such a thing be? And he said, Behold, thou shalt see it with thine eyes, but shalt not eat thereof." 2 Kings 7:19
Suggested Further Reading: John 20:24-29
"Thou shalt shall see it with thine eyes, but shalt not eat thereof." It is so often with God's own saints. When they are unbelieving, they see the mercy with their eyes, but do not eat it. Now, here is corn in this land of Egypt, but there are some of God's saints who come here on the Sabbath, and say, "I do not know whether the Lord will be with me or not." Some of them say, "Well, the gospel is preached, but I do not know whether it will be successful." They are always doubting and fearing. Listen to them when they get out of the chapel. "Well, did you get a good meal this morning?" "Nothing for me." Of course not. Ye could see it with your eyes, but did not eat it, because you had no faith. If you had come up with faith, you would have had a morsel. I have found Christians, who have grown so very critical, that if the whole portion of the meat they are to have, in due season, is not cut up exactly into square pieces, and put upon some choice dish of porcelain, they cannot eat it. Then they ought to go without, until they are brought to their appetites. They will have some affliction, which will act like quinine upon them: they will be made to eat by means of bitters in their mouths; they will be put in prison for a day or two until their appetite returns, and then they will be glad to eat the most ordinary food, off the most common platter, or no platter at all. But the real reason why God's people do not feed under a gospel ministry, is because they have not faith. If you believed, if you heard only one promise, that would be enough.
For meditation: The unbeliever needs to hear in order to believe (Romans 10:14); the believer needs to believe in order to hear.
Sermon no. 3