Pursuing Unity
From: Our Daily Bread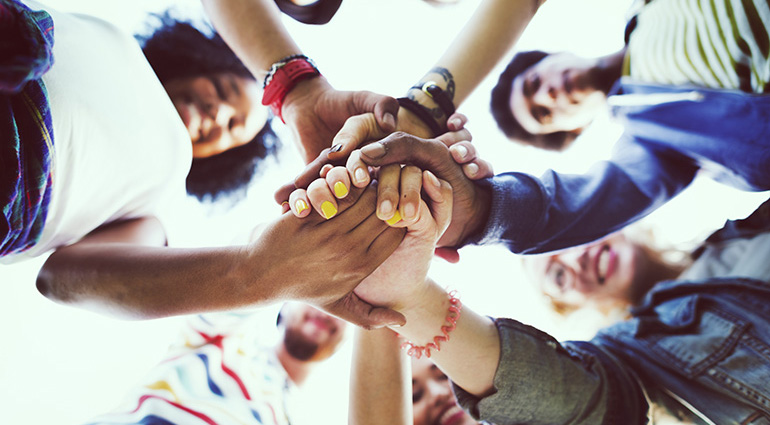 Here there is no Gentile or Jew, circumcised or uncircumcised, barbarian, Scythian, slave or free, but Christ is all, and in all. Colossians 3:11
Growing up during the 1950s, I never questioned racism and the segregation practices that permeated daily life in the city where we lived. In schools, restaurants, public transportation, and neighborhoods, people with different shades of skin color were separated.
My attitude changed in 1968 when I entered US Army Basic Training. Our company included young men from many different cultural groups. We soon learned that we needed to understand and accept each other, work together, and accomplish our mission.
When Paul wrote to the first-century church at Colossae, he was well aware of the diversity of its members. He reminded them, "Here there is no Gentile or Jew, circumcised or uncircumcised, barbarian, Scythian, slave or free, but Christ is all, and in all" (Colossians 3:11). In a group where surface as well as deeper differences could easily divide people, Paul urged them to "clothe [themselves] with compassion, kindness, humility, gentleness and patience" (v. 12). And over all these virtues, he told them to put on love "which binds them all together in perfect unity" (v. 14).
Putting these principles into practice may often be a work in progress, but that is what Jesus calls us to. What we as believers hold in common is our love for Him. On that basis, we pursue understanding, peace, and unity as members of the body of Christ.
Amid all our wonderful diversity, we pursue an even greater unity in Christ.
Christ's love creates unity in the midst of diversity.
Old Self, New Self
From: Our Daily Journey
Read:
Ephesians 4:17-25
Throw off your old sinful nature and your former way of life . . . . Put on your new nature, created to be like God—truly righteous and holy (Ephesians 4:22-24).
I once was treated to a makeover in which a generous friend not only bought me gorgeous clothes, but arranged for a swanky haircut and new makeup. Giggling and thanking her, I swished around my stylish tresses. My friend knew I had recently made some life changes so that I could better follow Christ and wanted to celebrate by helping me feel beautiful not only on the inside but on the outside too. It was a truly special moment. I knew that those who follow Jesus don't need a makeover to reveal God's presence to others, but my friend's gesture gave me a visual reminder that when we submit our lives to Him our lives are transformed.
As the apostle Paul wrote in many of his letters, believers in Jesus are continually transformed to be like Him. But, as we see in Ephesians 4, we are not passive in the process. In the original language, the verbs for resisting our old patterns and being made new in our minds are all active. "Throw off your old sinful nature . . . . Put onyour new nature" (Ephesians 4:22-24).
As we grow, we must continually embrace the "new self" we have in Him, instead of returning to the person we are on our own—our "old self." Because it's easy to fall back into the old habits we had before knowing Jesus, we need to submit to the Spirit's transformation continually.
And we are changed, inside out, as Paul wrote in 2 Corinthians: "Anyone who belongs to Christ has become a new person. The old life is gone; a new life has begun!" (2 Corinthians 5:17)
This is a freeing message, for daily transformation means we can become more like Christ moment by moment. We don't have to be stuck in the mire of sinful patterns of behavior. Through the Holy Spirit's power we can embrace a truly new way of life.
In the Pit
From: Pauline Hylton
Ever had one of those times at work when you know you've been misrepresented by someone? Maybe you had an idea and told your boss, and they presented it as their own. Or perhaps a co-worker made a mistake and blamed you. Or what if you were maliciously attacked and fired for no good reason?
That's embarrassing. Humiliating. And it hurts.
Especially if it was a friend.
Imagine if it were your brothers.
Genesis 37: 24 NASB … "and they took him and threw him into the pit. Now the pit was empty, without any water in it."
It happened to Joseph. They tossed him into an empty well, sat down to eat a meal, and planned to kill him. Sure, he probably rubbed his brothers the wrong way by telling them of his dreams about them bowing to him one day. And it didn't help that their father bought him a multi-colored tunic. Talk about sibling rivalry.
They wanted to kill him—but they didn't.
They couldn't—because God had a purpose.
The oldest brother secretly decides to free Joseph later, but when he returns after running an errand, his younger brothers sell Joseph to slave traders.
Poof—he's off to Egypt with seemingly no help, no hope, and for no reason, Joseph is in the pit, literally.
You ever been there? You might even be there now. If not, it might be right around the corner. So, what do you do when you are surrounded by darkness and can't even view the light at the top?
First, look up. Joseph's misfortune had a divine purpose. As you continue your Bible reading in Genesis, you will see how grand and great and awesome that purpose was. He is treated unfairly, condemned for something he did not do, and forgotten. Yet, at just the right time, he became the Prime Minister of Egypt. Not for his glory, but God's. Jehovah's plans cannot be thwarted. He purposed to rescue His people. And He gives them hope and comfort while He does.
It reminds me of another Scripture passage:
"And we know that in all things God works for the good of those who love him, who have been called according to his purpose." Romans 8:28 NIV
So, look up and hang in there.
Next, look around. Maybe someone around you needs your encouragement. In my 58 years of life, I've noticed again and again that you never know what is going on in someone's life. I tell everyone everything. (Which is not a good idea.) But, most people keep things to themselves. But if you look and pray and watch, you may have the great privilege of receiving a blessing by being a blessing.
Check out these verses:
Praise be to the God and Father of our Lord Jesus Christ, the Father of compassion and the God of all comfort, who comforts us in all our troubles, so that we can comfort those in any trouble with the comfort we ourselves receive from God." 2 Corinthians 1:3-4 NIV
God comforts us, we comfort others, and then they comfort someone else. It's a God thing.
And then, trust God. The end of Joseph's story probably exceeded his expectations. But some pits don't end so well. Maybe you've lost your health, or your spouse left you, or a child died.
That is a deep pit.
Remember this: This is NOT our best life now!
Look at these verses:
"Blessed be the God and Father of our Lord Jesus Christ, who according to His great mercy has caused us to be born again to a living hope through the resurrection of Jesus Christ from the dead, to obtain an inheritance which is imperishable and undefiled and will not fade away, reserved in heaven for you," 1 Peter 1:3-4 NASB.
Being Prime Minister of Egypt doesn't compare to heaven.
You can count on that.
So my friend, look up, look around, and trust God.
That is our happy ending.