Romans 11:33-36
33 Oh, the depth of the riches both of the wisdom and knowledge of God! How unsearchable are His judgments and His ways past finding out!
34 "For who has known the mind of the Lord?
Or who has become His counselor?"[a]
35 "Or who has first given to Him
And it shall be repaid to him?"[b]
36 For of Him and through Him and to Him are all things, to whom be glory forever. Amen.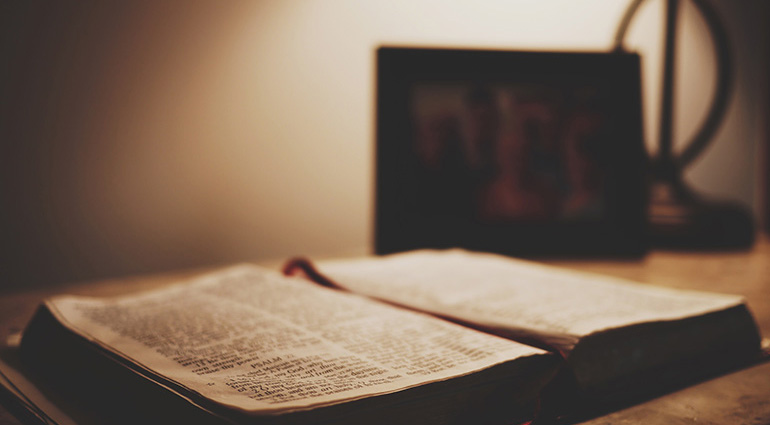 For from him and through him and for him are all things. Romans 11:36
Would you like to cultivate a greater sense of gratitude? George Herbert, a seventeenth-century British poet, encourages readers toward that goal in his poem "Gratefulness": "Thou that hast given so much to me, give one thing more: a grateful heart."
Herbert recognized the only thing he needed in order to be thankful was simply an awareness of the blessings God had already given him.
The Bible declares Christ Jesus as the source of all blessing in Romans 11:36, "For from him and through him and for him are all things." "All things" encompasses both the extravagant and the mundane, everyday gifts in our lives. Everything we receive in life comes directly from our heavenly Father (James 1:17), and He willingly gives us those gifts out of His love for us.
To expand my awareness of God's blessings in my life, I am learning to cultivate a heart that acknowledges the source of all the joys I experience each day, but especially the ones I often take for granted. Today those included a crisp morning to run, the anticipation of an evening with friends, a stocked pantry so I could make French toast with my daughters, the beauty of the world outside my window, and the aroma of freshly brewed coffee.
What is the "so much" that God has already given to you? Opening our eyes to those blessings will help us to develop grateful hearts.
Take a few minutes to thank God for what comes to your mind right now. Try to do that throughout the day as well.
When you think of all that's good, thank God.
Spectacular Provision
From: Our Daily Journey
Once while on a trip visiting some friends in a village in China, we trekked deeper and deeper into the forest, venturing farther and farther away from the village. After an hour or so, we heard the deafening roar of a waterfall. Quickening our steps, we soon reached a clearing and were greeted by the beautiful vision of a rushing curtain of white water flowing over gray rocks. Spectacular!
Our friends suggested we enjoy a picnic there. It sounded like a great idea, except where was the food? None of us had packed as much as a snack. But soon we got to work, some of us picking up wood and starting a fire, while others disappeared into the surrounding forest to look for food. As the fire began to blaze, they returned with an assortment of fruits and vegetables—even some freshly caught fish!
That day, I had a better glimpse of the meaning of Genesis 1:29 in which God declared, "Look! I have given you every seed-bearing plant throughout the earth and all the fruit trees for your food." In Singapore we have access to produce from all over the world in our grocery stores and markets. But that day, I relied directly on the earth for food and was able to try unfamiliar but delicious exotic fruits and vegetables.
Creation declares God's extravagant provision, clearly displaying proof of His generosity through "all sorts of seed-bearing plants, and trees with seed-bearing fruit" that He's given to us (Genesis 1:12).
Are there moments where you find it hard to trust God to meet your needs? Just consider the variety of fruits and vegetables in our world! Our God has provided so much for us—physically and spiritually. May we trust and rest in His loving provision.
With a Glimmer of Hope
From: CBN, Wally Odum, Author
Halford E. Luccock shares this story in his book, Unfinished Business:
"One night at dinner a man, who had spent many summers in Maine, fascinated his companions by telling of his experiences in a little town named Flagstaff. The town was to be flooded, as part of a large lake for which a dam was being built. In the months before it was to be flooded, all improvements and repairs in the whole town were stopped. What was the use of painting a house if it were to be covered with water in six months? Why repair anything when the whole village was to be wiped out? So, week by week, the whole town became more and more bedraggled, more gone to seed, more woebegone."
Then he added by way of explanation: "Where there is no faith in the future, there is no power in the present."
Isaiah spoke about Jesus hundreds of years before Jesus' birth. Matthew reached back to that prophecy to help us understand who Jesus is and what He came to do. Jesus came to bring hope to the world. Hope is so often in short supply in our world. Fear and negativity can cloud our vision of the future. Jesus has come for those whose hope is failing.
Isaiah put it this way "A bruised reed he will not break, and a smoldering wick he will not snuff out" (Isaiah 42:3).
Matthew quoted him, "He will not crush those who are weak, or quench the smallest hope, until he brings full justice with his final victory. And his name will be the hope of all the world" (Matthew 12:20-21).
His name is not only the hope of the world at large. He is the hope for the weakest and smallest person. He is the hope for us all. He takes us, weak as we are, and builds on the smallest glimmer of hope.
Jamie Buckingham quoted Hugo Gryn, a London rabbi, in Charisma magazine. Hugo told of a holocaust experience in the German magazine, Der Morgen:
"It was the cold winter of 1944 and although we had nothing like calendars, my father who was a fellow prisoner there, took me and some of our friends to a corner of the barrack. He announced it was the eve of Hanukkah, produced a curious-shaped clay bowl, and began to light a wick immersed in his precious, but now melted, margarine ration.
Before he could recite the blessing, I protested at this waste of food. He said, 'You and I have seen that it is possible to live up to three weeks without food. We once lived almost three days without water. But you cannot live properly for three minutes without hope.' "
No matter what we face today, Jesus is our hope. Even if we're weak and our hope is small, He has come to give us a bright picture of tomorrow. We can rest in that.