If we confess our sins, he is faithful and just to forgive us our sins and to cleanse us from all unrighteousness.
"For God so loved the world, that he gave his only Son, that whoever believes in him should not perish but have eternal life.
Truly, truly, I say to you, whoever hears my word and believes him who sent me has eternal life. He does not come into judgment, but has passed from death to life.
He himself bore our sins in his body on the tree, that we might die to sin and live to righteousness. By his wounds you have been healed.
[Written by Joe Stowell for Our Daily Bread.]
My garage serves as "storage" for things that don't have a place in our home, and, frankly, there are times when I am ashamed to open the door. I don't want anyone to see the clutter. So, periodically, I set aside a workday to clean it up.
Our hearts and minds are a lot like that—they accumulate lots of clutter. As we rub shoulders with the world, inevitably, perhaps unknowingly, we pick up ungodly thoughts and attitudes. Thinking that life is all about "me." Demanding our rights. Reacting bitterly toward those who have hurt us. Before long, our hearts and minds are no longer clean and orderly. And while we think we can hide the mess, eventually it will show.
Paul pointedly asked, "Do you not know that your body is the temple of the Holy Spirit?" (1 Cor. 6:19
)—which makes me wonder if God often feels like He is living in our messy garage.
Perhaps it's time to set aside a spiritual workday and, with His help, get to work clearing out the clutter. Discard those thoughts of bitterness. Bag up and throw out the old patterns of sensual thoughts. Organize your attitudes. Fill your heart with the beauty of God's Word. Make it clean to the core, and then leave the door open for all to see!
More like the Master I would ever be,
More of His meekness, more humility;
More zeal to labor, more courage to be true,
More consecration for work He bids me do. —Gabriel
Don't let the Spirit reside in a cluttered heart. Take some time to clean it up today!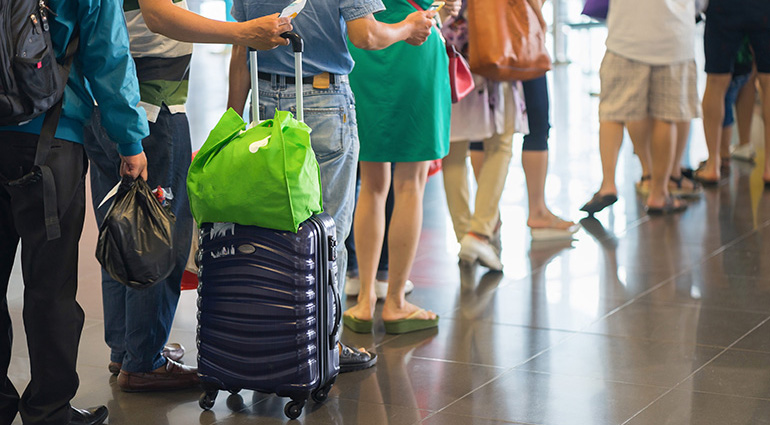 So then, it was not you who sent me here, but God. Genesis 45:8
A global computer system outage causes widespread flight cancellations, stranding hundreds of thousands of passengers at airports. During a winter storm, multiple auto accidents close major highways. The person who promised to send a reply "right away" has failed to do so. Delays can often produce anger and frustration, but as followers of Jesus, we have the privilege of looking to Him for help.
One of the Bible's great examples of patience is Joseph, who was sold to slave traders by his jealous brothers, falsely accused by his employer's wife, and imprisoned in Egypt. "But while Joseph was there in the prison, the Lord was with him" (Genesis 39:20–21). Years later, when Joseph interpreted Pharaoh's dreams, he was made second in command in Egypt (ch. 41).
The most remarkable fruit of his patience occurred when his brothers came to buy grain during a famine. "I am your brother Joseph," he told them, "the one you sold into Egypt! And now, do not be distressed and do not be angry with yourselves for selling me here, because it was to save lives that God sent me ahead of you. . . . So then, it was not you who sent me here, but God"  (45:4–5, 8).
In all our delays, brief or long, may we, like Joseph, gain patience, perspective, and peace as we trust in the Lord.
Father in heaven, in all of our delays may we trust Your faithful hand of guidance and experience Your presence with us in every situation.
Confidence in God enables us to live out our faith patiently.
"It Is the Lord!"
"Jesus said to her, 'Give Me a drink' " (John 4:7). How many of us are expecting Jesus Christ to quench our thirst when we should be satisfying Him! We should be pouring out our lives, investing our total beings, not drawing on Him to satisfy us. "You shall be witnesses to Me…" (Acts 1:8). That means lives of pure, uncompromising, and unrestrained devotion to the Lord Jesus, which will be satisfying to Him wherever He may send us.
Beware of anything that competes with your loyalty to Jesus Christ. The greatest competitor of true devotion to Jesus is the service we do for Him. It is easier to serve than to pour out our lives completely for Him. The goal of the call of God is His satisfaction, not simply that we should do something for Him. We are not sent to do battle for God, but to be used by God in His battles. Are we more devoted to service than we are to Jesus Christ Himself?
Broad rivers and streams
From: Charles Spurgeon, and Biblegateway.com
'Look upon Zion … thine eyes shall see Jerusalem … there the glorious Lord will be unto us a place of broad rivers and streams; wherein shall go no galley with oars, neither shall gallant ship pass thereby. For the Lord is our judge, the Lord is our lawgiver, the Lord is our king; he will save us.' Isaiah 33:20–22
Suggested Further Reading: Exodus 14:10–31
In 1588, when the Armada sailed towards Britain, God blew with his winds and all Spain's mighty hosts were broken, and God's favoured isle was free. We were doubtless spared the horrors of war under Napoleon because of the Channel. It was especially so in the old times of ancient warfare; then a narrow trench was almost as useful as a broad channel would be now, for they had no ready means of crossing, though on old Assyrian sculptures we see galleys with oars crossing over rivers, and we have one or two sculptures, I believe, in the British Museum, of the Assyrian king turning the river into another channel so that he might the more easily take the city. But still, rivers were for a defence. O beloved, what a defence is God to his church! Ah, the devil cannot cross this broad river of God. Between me and you, O fiend of hell, is my God. Do remember this, Christian; between you and your arch-enemy is your God; Satan has to stand on the other side, and how he wishes he could dry up that stream, but God is omnipotent. How he wishes he could change the current, but fear not, for God abides immutably the same. How he wishes he could get at you and me; but only once let us get safe landed in Zion, we may look over its walls across the broad rivers and streams, and remember that we are out of gunshot of the enemy so far as our spiritual existence is concerned. He cannot destroy us; worry us he may; for we are such timid souls, but kill he cannot, for God, even our mighty God keeps us safe beyond all possibility of destruction.
For meditation: Others may have assumed the title 'Defender of the Faith' or even undermined it—'Defender of faith'—but God is the true and everlasting defender of his people (Psalm 5:11; 20:1; 59:1; Isaiah 31:5; 37:35; 38:6; Zechariah 12:8).