"I have manifested Your name to the men whom You gave Me out of the world; they were Yours and You gave them to Me, and they have kept Your word.
"Father, I desire that they also, whom You have given Me, be with Me where I am, so that they may see My glory which You have given Me, for You loved Me before the foundation of the world.
For those whom He foreknew, He also predestined to become conformed to the image of His Son, so that He would be the firstborn among many brethren;
 Just as a person can save a drowning victim.  Jesus Christ will save a person from their sins through faith.
Save One
From: Our Daily Journey
The bundle of hyperactivity known as Liam was making a day of terrorizing his older (and much calmer) brother. Finally, Mom had enough of it, and Liam earned the mother of all timeouts. Well, at least for the rest of the morning.
Just before lunch, the boys' mom spied a note on the cookie jar with its dwindling contents. In the distinctive handwriting of the aggrieved older brother it read: "Save one for Liam." Ah, the sweet aroma of compassion.
Compassion is a key aspect of God's nature. But it's a common misperception that the God of the Old Testament is full of wrath while the God of the New Testament is the compassionate one. He's the same God, and we see both aspects of Him throughout Scripture.
In Isaiah 42, God had disciplined His people for their disobedience. "His own people have been robbed and plundered, enslaved, imprisoned, and trapped," said the prophet. "They are fair game for anyone and have no one to protect them, no one to take them back home" (Isaiah 42:22). "Who allowed Israel to be robbed and hurt? It was the Lord, against whom we sinned" (Isaiah 42:24).
Thankfully, the passage goes on. "But now, O Jacob, listen to the Lord who created you. O Israel, the one who formed you says, 'Do not be afraid, for I have ransomed you' " (Isaiah 43:1).
Israel needed God's compassionate correction. And Liam needed his timeout, or he would have persisted in self-centered behavior. He also needed his family's love and grace.
Any glimpse we see of that kind of grace in this world reflects the loving nature of God. He corrects us when we sin because He loves us. But He never abandons us. He says, "I have called you by name; you are mine" (Isaiah 43:1).
 How to Change a Life
From: Our Daily Bread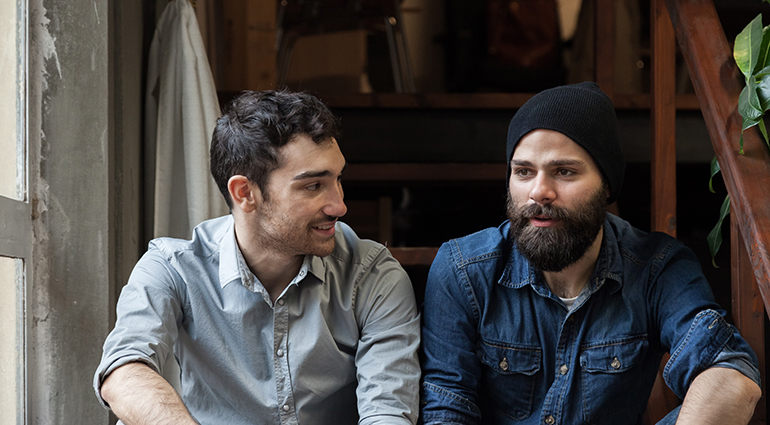 Gracious words are a honeycomb, sweet to the soul and healing to the bones. Proverbs 16:24
Sometimes our lives can change in a moment through the powerful impact of others. For rock 'n' roll legend Bruce Springsteen, it was the work of musical artists that helped him through a difficult childhood and a persistent struggle with depression. He found meaning in his own work through the truth he'd experienced firsthand, that "You can change someone's life in three minutes with the right song."
Like a compelling song, others' well-chosen words can also give us hope, even change the course of our lives. I'm sure most of us could share stories of a conversation that forever impacted our lives—words from a teacher that changed the way we saw the world, words of encouragement that restored our confidence, gentle words from a friend that carried us through a difficult time.
Perhaps this is why the book of Proverbs spends so much time emphasizing our responsibility to treasure words and use them wisely. Scripture never treats speech as if it's "just talk." Instead, we are taught that our words can have life-or-death consequences (18:21). In just a few words we could crush someone's spirit, or, through words of wisdom and hope, nourish and strengthen others (15:4).
Not all of us have the ability to create powerful music. But we each can seek God's wisdom to serve others through our speech (Psalm 141:3). With just a few well-chosen words, God can use us to change a life.
Lord, help us never to take for granted the powerful gift of language. May we use our words wisely to heal and strengthen others and point to the hope we have in You.
God has given us the power to have an impact on lives through our words.
The earnest of heaven
From: Charles Spurgeon, Bible Gateway
"That holy Spirit of promise, which is the earnest of our inheritance." Ephesians 1:13-14
Suggested Further Reading: 1 Corinthians 2:6-16
You remember the day, some of you, when you first learned the doctrines of grace. When we were first converted, we did not know much about them, we did not know whether God had converted us, or we had converted ourselves; but we heard a discourse one day in which some sentences were used, which gave us the clue to the whole system, and we began at once to see how God the Father planned, and God the Son carried out, and God the Holy Spirit applied, and we found ourselves suddenly brought into the midst of a system of truths, which we might perhaps have believed before, but which we could not have clearly stated, and did not understand. Well, the joy of that advance in knowledge was exceeding great. I know it was to me. I can remember well the day and hour, when first I received those truths in my own soul—when they were burnt into me, as John Bunyan says—burnt as with a hot iron into my soul; and I can recollect how I felt I had grown suddenly from a babe into a man—that I had made progress in Scriptural knowledge, from having got a hold once and for all of the clue to the truth of God. Well, now, in that moment when God the Holy Spirit increased your knowledge, and opened the eyes of your understanding, you had the earnest, that you shall one day see, not through a glass darkly, but face to face, and then you shall know the whole truth, even as you are known.
For meditation: The best teacher and interpreter of Scripture is God the Holy Spirit who moved chosen men to record his Word (2 Peter 1:20-21). Do you always seek his help when you are reading or studying God's Word?