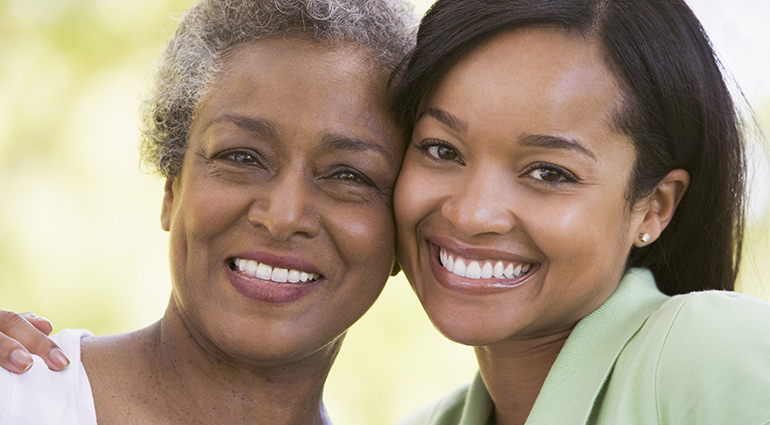 Shall we accept good from God, and not trouble? Job 2:10
"It's cancer." I wanted to be strong when Mom said those words to me. But I burst into tears. You never want to hear those words even one time. But this was Mom's third bout with cancer. After a routine mammogram and biopsy, Mom learned that she had a malignant tumor under her arm.
Though Mom was the one with bad news, she had to comfort me. Her response was eye-opening for me: "I know God is always good to me. He's always faithful." Even as she faced a difficult surgery, followed up by radiation treatments, Mom was assured of God's presence and faithfulness.
How like Job. Job lost his children, his wealth, and his health. But after hearing the news, Job 1:20 tells us "he fell to the ground in worship." When advised to curse God, he said, "Shall we accept good from God, and not trouble?" (2:10). What a radical initial response. Though Job later complained, ultimately he accepted that God had never changed. Job knew that God was still with him and that He still cared.
For most of us, praise is not our first response to difficulties. Sometimes the pain of our circumstances is so overwhelming, we lash out in fear or anger. But watching Mom's response reminded me that God is still present, still good. He will help us through hard times.
The Fire of His Glory
From: Christian Broadcasting Network
I believe we have entered a new day and time. The world is being shaken as never before. This goes far beyond the economic morass of this present time. Yet in the midst of coming tribulation, Father God is preparing His body, His church for that last end time move of His Spirit. All over the world, hungry hearts are lifting their hands and hearts heavenward.
Their hearts are driven by an inner knowledge and hunger to seek the face of God in this hour.
I believe Father is calling out to His church to prepare both for the judgments foretold in His word that shall come, but also the glory he is about to reveal in His church. God has given us a marvelous example in His word of what is beginning to happen in the body of Christ today. God delivered His chosen people from Egyptian bondage and slavery. He established His covenant with them, and through His servant, Moses, the people were instructed to construct a Tabernacle where His divine glory and eternal presence would reside.
Over this holy abode, a pillar of fire by night and a pillar or cloud of glory by day could be seen by one and all. There is a message in this to the church of our day and believers everywhere. Today the fire and glory of His eternal presence are beginning to move like never before. Most Christians, like God's people of that day, are content to gaze out of the tent flaps of their hearts and gaze in wonder at the glory cloud of God being released in this day in our midst.
Our churches are filled with people who are content to warm themselves by the fire of His glory. They will dance before Him in His presence. Yet grand and glorious though this revelation may be there is a higher revelation. We have all been called into the priesthood of our Lord and our God. Most believers are content to see the glory cloud but there are others who hunger for more.
These are those who by faith in the divine sacrifice of the Son will move past the cloud of glory and enter into the Holy Place of God. Such individuals long to walk in an awareness or revelation of the life and nature of God himself. They willingly lay down their lives that they might receive that greatest of revelations that can only be seen by the dedicated and consecrated.
It is one thing to stand with the crowd outside of the Tabernacle in awe of the glory cloud and pillar of fire. It is another thing altogether to allow the Holy Spirit such access to your life that he will prepare your heart for a holy quest that you may know Him. Father is going to share His heart with this generation of the body Christ. Such awareness will cause the heart to tremble in His presence. Yet it shall produce a revelation that will shake the world as never before.
In this hour and at this time, Father is calling a holy remnant unto himself. His heart shall be unveiled in the fire of His glory. Evil shall be judged in this day, but those sons and daughters who will now begin to humble themselves before God, shall walk in a renewal of power and kingdom authority. Theirs shall be a voice of love and consolation. They shall be driven by a divine revelation of the heart of God. Their inspiration shall come from the kingdom of glory that is even now being birthed in the world.
Father is preparing us one and all for that wondrous transformation that he is bringing. One by one he is calling out to the consecrated to enter into the fire of His glory. The lusts and diverse sins of this world will one day be no more. Father, I believe, is calling out to every believer to so dedicate ourselves in His service to the kingdom of God that His coming will come alive in our hearts. Let us in the body of Christ wait on Him daily for that internal transformation of fire and glory that living in His presence brings.
February 6, 2018


What I Love About You
SUZIE ELLERFrom: Crosswalk.com
"I rejoice at the coming of Stephanas and Fortunatus and Achaicus, because they have made up for your absence, for they refreshed my spirit as well as yours. Give recognition to such people." 1 Corinthians 16:17-18 (ESV)
We'd all herded into the small waiting room at the crack of dawn, each of us there for a loved one's surgery. I noticed a woman sitting across from her husband, frail hands clasped in his. When the nurse called him back, their lips met like two butterflies.
Hours later, the doctor sat to talk with her. I wasn't trying to eavesdrop, but the physician's matter-of-fact words fell like bricks. I heard her intake of breath at the worrisome news.
This caused me to look at the man sitting beside me. Our hands weren't gnarled with time, but several years had passed since we first fell in love and walked down the aisle. Children came. Activities and busyness and commitments pulled and tugged at both of us all the time. We often talked about the season of life we were in, giving lots of grace to each other, but also knowing that our relationship sometimes came in last.
As I watched this elderly woman wipe away tears, I wondered: One day, when our hair is white with age and our lips meet like butterflies, will I wish I had done anything differently?
In today's passage, Paul writes from prison. He's in a hard place. As he wraps up his letter, he shares the news that three friends will soon visit. His description of these friends cracks wide open a need in Paul's heart.
"I rejoice at the coming of Stephanas and Fortunatus and Achaicus, because they have made up for your absence, for they refreshed my spirit as well as yours. Give recognition to such people" (1 Corinthians 16:17-18).
Paul is in need of refreshment, something that seems to be absent at that time in his relationship with the church at Ephesus. His tone isn't condemning. The church has been a blessing in the past and will be again. However, he takes special care to describe how the arrival of three friends is a welcome respite.
That day, as I watched the older couple, it caused me to reflect on my own marriage. Sure, I was present. My husband knew I loved him. Yet, I didn't want to look back one day with regret, knowing I'd been absent, or had taken him for granted or always gave our marriage last place in our busy lives.
That led me to look for ways to show him that I loved and appreciated him — right then, in the midst of our busy lives. One day, I broke down the recyclables and took them to the curb. It was a small thing, but it's something he often had to do at the end of a long day. I left a note on the bathroom mirror that said, "I love you," and his smile when he came out showed me it hit the spot.
There were deeper ways to show him he mattered, such as forgiving a small hurt I might have once held onto. I put his name in my journal and prayed for him daily. I tried to remember to laugh with him, rather than be serious about all the to-do's we had to tackle.
None of this cost me anything, but I could see that it refreshed him. In fact, it refreshed us both.
As we live day-by-day, pulled in a thousand different directions, may we be intentional. Seasons will pass. One day, when frail hands clasp, and lips meet like butterflies, may it be with few regrets. Let us look back and know that when our loved one saw us coming, our presence was refreshing.
Such a person is worth knowing.
Dear Jesus, I'm so consumed by the day-to-day commitments that my closest relationships can get a little lost. Show me ways to bless those I care about today. In Jesus' Name, Amen.