The wolf will live with the lamb, the leopard will lie down with the goat, the
calf and the lion and the yearling together. Isaiah 11:6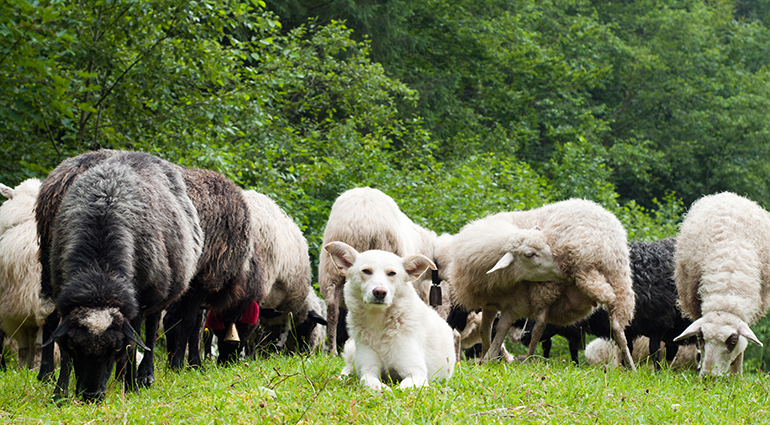 The wolf will live with the lamb, the leopard will lie down with the goat, the calf and the lion and the yearling together. Isaiah 11:6
My Facebook friends often post endearing videos of unlikely animal friendships, such as a recent video I watched of an inseparable pup and pig, another of a deer and cat, and yet another of an orangutan mothering several tiger cubs.
When I view such heartwarmingly unusual friendships, it reminds me of the description of the garden of Eden. In this setting, Adam and Eve lived in harmony with God and each other. And because God gave them plants for food, I imagine even the animals lived peacefully together (Genesis 1:30). But this idyllic scene was disrupted when Adam and Eve sinned (3:21–23). Now in both human relationships and the creation, we see constant struggle and conflict.
Yet the prophet Isaiah reassures us that one day, "The wolf will live with the lamb, the leopard will lie down with the goat, the calf and the lion and the yearling together" (11:6). Many interpret that future day as when Jesus comes again to reign. When He returns, there will be no more divisions and "no more death . . . or pain, for the old order of things has passed away" (Revelation 21:4). On that renewed earth, creation will be restored to its former harmony and people of every tribe, nation, and language will join together to worship God (7:9–10; 22:1–5).
Until then, God can help us to restore broken relationships and to develop new, unlikely friendships.
Dear Father, help us to break down barriers and to seek to befriend others; and as we do, enable us to be bearers of the gospel of peace.
One day God will restore the world to perfect peace.
"The grass withers, the flower fades, but the word of our God will stand forever." Isaiah 40:8 (ESV)
It's okay, God. Just admit it. This is all a big joke.
I was standing in the cafeteria line, a sophomore in college, surrounded by hungry post-practice athletes. Loud conversations swirled around me, but the silent cry of my heart was louder.
Earlier that year, the Lord had given me a crazy promise. And dreamer that I was, with a bent toward faith in the impossible, I watched and waited for God to do His miraculous work.
I waited.
And waited.
And waited.
Until that evening in the cafeteria when my heart was weary of all the waiting. I was convinced that because I hadn't seen the fruit of the promise, God was just waiting for the right moment to tell me it was all a joke, and my faith had been in vain.
The line moved forward, and as I slid a slice of steaming pizza onto my plate, I heard a gentle whisper: "I don't play with your heart."
The weight of those words settled over me, echoing off the concave angles of my heart, as I nonchalantly fought back tears.
In that moment God reminded me that no matter how things appear, He is trustworthy.
He's as worthy of my trust in this season of waiting as He was when Israel was waiting to enter the Promised Land.
After centuries of slavery and months in the desert, Israel was free; yet, they were convinced God had led them out of Egypt to die. Then, when they were right on the edge of receiving the promise, Israel turned back in fear and spent the next four decades wandering the desert.
As that generation died out, a new one rose up, and God again promised them that land, saying, "Every place that the sole of your foot will tread upon I have given to you, just as I promised Moses" (Joshua 1:3, ESV).
Despite the fact that Israel rejected God's plan the first time, God's Word still came about.
There are times when waiting on the Lord's promises feels impossibly hard. And sometimes, like Israel, we give in to fear and turn a different direction.
But even then, God's promises still stand true. God can do all things, and no purpose of His can be thwarted. (Job 42:2)
To this day, I'm still waiting on that promise. I'm still clinging to God through it with all that I am, trusting that He is good, and He keeps His Word. And when those days of doubt whisper that this is all some practical joke, I remember those words:
He doesn't play with our hearts.
If He's promised something, you can rest assured He will fulfill that promise. It might not happen how or when we expect, but God is faithful. And His Word stands forever.
Dear Lord, You know my heart. You know sometimes it's really hard to believe what You've said when I don't yet see it. Help me trust You. Help me trust what You've said is Truth, and it will come about just like You've said. In Jesus' Name, Amen.
Well Done
From: Christian Broadcasting Network
His feet bleeding from open blisters, and his hands and legs cramping almost beyond endurance, a young man reached the end of a three-day, 65-mile march. He carried 125 pounds of gear, slept no more than four hours a night, and had just enough food for two and a half meals. He had struggled his way through all kinds of obstacles both day and night. Yet, he had one more major challenge: to climb the rugged mountain in front of him.
He forced his mind to ignore the pain and focus on the goal, whispered a prayer to his Lord, and with all his remaining strength, began to climb. His body was pushed to the breaking point, yet still he climbed. At last, he reached the top and the moment he had been waiting for arrived. He had made it through the crucible.
The crucible is the last test a recruit must pass in Marine boot camp. It tests him physically, mentally and morally. The young recruits learn quickly that they must rely on one another to solve the problems and overcome the obstacles they are faced with. No one gets through it alone. Although at times it seems impossible to go on, the anticipation of the reward compels them forward.
At the top of the mountain, their drill instructor awaits them. Upon arrival, he presents these young recruits with their Marine Corps insignia – eagle, globe, and anchor; then shakes their hands and for the first time addresses them as Marines. Our grandson experienced this November 5, 2010, and as his drill instructor shook his hand he said, "I'm proud of you Wilkenson." I'm not sure there are any words to describe the emotion our grandson felt at that moment, but this is one ceremony that moves even Marines to tears.
At times, we as God's children can feel like we are in a spiritual crucible. The attacks of our enemy are vicious and brutal, often coming without warning. The journey seems long and full of obstacles and problems that we can't deal with alone. Although we know our Lord has promised to be with us and to never give us more than we can bear, like these young recruits, we feel pushed beyond our limits.
The Marine Corps is turning young, inexperienced, undisciplined men and women into Marines. This is no easy task. It involves problems, challenges, pain, suffering, deprivation, and change. It takes determination and commitment on the part of the recruit to stick it out. The goal set before him, motivates him to continue. He wants to be a Marine.
Our Lord is conforming us to His image (Romans 8:28-29). This too involves problems, challenges, pain, suffering, loss, and many changes throughout our life. Commitment and discipline are required if we are to finish the course our Lord has set before us. We must yield our will to His, and in submissive obedience follow our Commander, just like those young recruits.
Our reward, however, will be much greater than receiving the Marine Insignia. We will receive crowns of glory from the nail-scarred hands of Jesus Christ, our Savior. The emotion in the young recruit as he heard his drill sergeant say he was proud of him was overwhelming. But can you imagine how we will feel when we stand face to face with Jesus and hear Him say, "Well done thou good and faithful servant"? (Matthew 25:21,23)
We have one gigantic advantage over these young recruits. Our Commander is Almighty God and He goes with us giving us strength, guidance, and comfort on our journey. Therefore, let us determine with joy and anticipation even as Paul did, to press toward the mark for the prize of the high calling of God in Christ Jesus (Philippians 3:14). We can do it!  "I can do all things through Christ who strengthens me." Philippians 4:13