When Simon Peter heard that it was the Lord, he put on his outer garment…and plunged into the sea. —John 21:7
(When Simon Peter Realized that it was the risen Christ calling to them, he dove into the water and swam to shore to talk with Him).
All or Nothing?
From: Utmost.org
Have you ever had a crisis in your life in which you deliberately, earnestly, and recklessly abandoned everything? It is a crisis of the will. You may come to that point many times externally, but it will amount to nothing. The true deep crisis of abandonment, or total surrender, is reached internally, not externally. The giving up of only external things may actually be an indication of your being in total bondage.
Have you deliberately committed your will to Jesus Christ? It is a transaction of the will, not of emotion; any positive emotion that results is simply a superficial blessing arising out of the transaction. If you focus your attention on the emotion, you will never make the transaction. Do not ask God what the transaction is to be, but make the determination to surrender your will regarding whatever you see, whether it is in the shallow or the deep, profound places internally.
If you have heard Jesus Christ's voice on the waves of the sea, you can let your convictions and your consistency take care of themselves by concentrating on maintaining your intimate relationship to Him.
At Home With Jesus
From: Our Daily Bread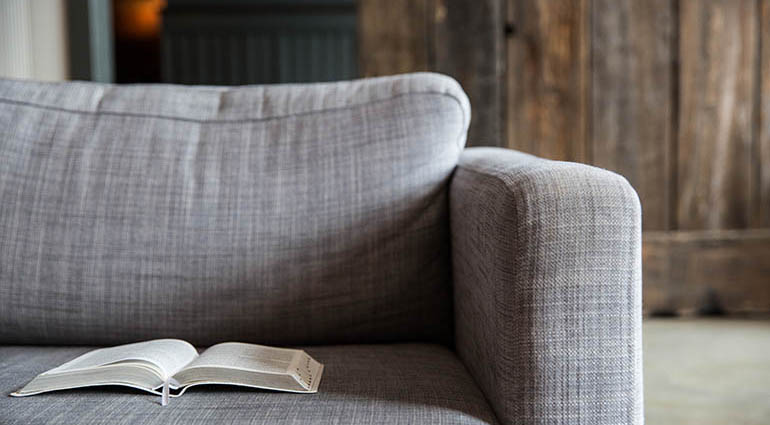 "There's no place like home." The phrase reflects a deeply rooted yearning within us to have a place to rest, be, and belong. Jesus addressed this desire for rootedness when, after He and His friends had their last supper together, He spoke about His impending death and resurrection. He promised that although He would go away, He would come back for them. And He would prepare a room for them. A dwelling-place. A home.
He made this place for them—and us—through fulfilling the requirements of God's law when He died on the cross as the sinless man. He assured His disciples that if He went to the trouble of creating this home, that of course He would come back for them and not leave them alone. They didn't need to fear or be worried about their lives, whether on earth or in heaven.
We can take comfort and assurance from Jesus's words, for we believe and trust that He makes a home for us; that He makes His home within us (see John 14:23); and that He has gone ahead of us to prepare our heavenly home. Whatever sort of physical place we live in, we belong with Jesus, upheld by His love and surrounded in His peace. With Him, there's no place like home.
Lord Jesus Christ, if and when we feel homeless, remind us that You are our home. May we share this sense of belonging with those we meet.
Jesus prepares a place for us to live forever.
Farming Hope
From: Our Daily Journey
Read:
Joel 3:17-21
In that day the mountains will drip with sweet wine, and the hills will flow with milk (Joel 3:18).
I'm not a farmer, but I once attempted to be one as the guest of a self-sustaining community. The group lived together in dormitories, eating their meals together as a family. They grew most of the food they consumed and raised cattle for milk and meat. During my stay, I performed a number of barnyard chores, from shoveling dung to taking the old cow on her morning walk around the property—leash and all!
The ancient Hebrews understood both the hard work of farming and their dependence on creation. Their lifestyle was tied closely to agriculture. In order to survive, they depended upon the vitality of their produce, healthy livestock, and the availability of fresh water. If a plague or enemy destroyed their crops, they despaired (Joel 1:2-20).
Joel 3:17-21 is a depiction of the future for all believers in Jesus. It refers to that hopefully-someday-soon time when God will completely eliminate wickedness and return His creation to peace and vitality in His presence (Joel 3:21). Joel illustrated this great day with agricultural images: sweet wine (vegetation, produce), milk (birth, cattle), and a fountain that waters arid places (Joel 3:18).
Although many of us likely buy our food without knowing the farmers who produce what we consume, we are all dependent on an earth that often struggles to be fruitful. But a time is coming when God will renew the earth for farming and provide an endless river of life (2 Peter 3:13; Revelation 22:1-2). As Paul wrote, "With eager hope, the creation looks forward to the day when it will join God's children in glorious freedom from death and decay" (Romans 8:20-21). In whatever trial we're facing, with whatever unmet need, we can place our trust in God. The future He's preparing is full of hope and life!