Acts 2:14-42
Peter Preaches to the Crowd
14 Then Peter stepped forward with the eleven other apostles and shouted to the crowd, "Listen carefully, all of you, fellow Jews and residents of Jerusalem! Make no mistake about this. 15 These people are not drunk, as some of you are assuming. Nine o'clock in the morning is much too early for that. 16 No, what you see was predicted long ago by the prophet Joel:
17 'In the last days,' God says,
    'I will pour out my Spirit upon all people.
Your sons and daughters will prophesy.
    Your young men will see visions,
    and your old men will dream dreams.
18 In those days I will pour out my Spirit
    even on my servants—men and women alike—
    and they will prophesy.
19 And I will cause wonders in the heavens above
    and signs on the earth below—
    blood and fire and clouds of smoke.
20 The sun will become dark,
    and the moon will turn blood red
    before that great and glorious day of the Lord arrives.
21 But everyone who calls on the name of the Lord
    will be saved.'[a]
(Peter was not trained to speak. When the Holy Spirit came upon him, he spoke the truth with power. He was not afraid. He spoke and many souls were saved. )
Could I Say That?
From: Our Daily Bread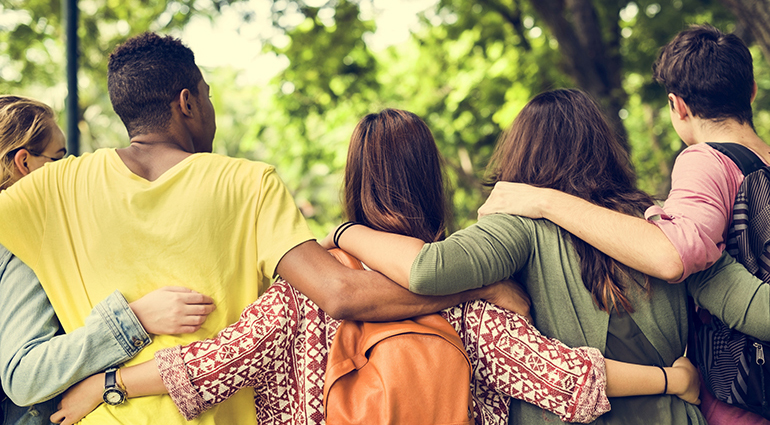 "The perception of favoritism is one of the biggest factors in sibling rivalry," said Dr. Barbara Howard, a developmental behavioral pediatrician ("When Parents Have a Favorite Child" nytimes.com). An example would be the Old Testament character Joseph, who was his father's favorite son, which made his older brothers furious (Gen. 37:3–4). So they sold Joseph to merchants traveling to Egypt and made it appear that a wild animal had killed him (37:12–36). His dreams had been shattered and his future appeared hopeless.
Yet, along Joseph's journey of life, he chose to be true to his God and rely on Him even when it seemed to make his situation worse. After being falsely accused by his employer's wife and imprisoned for something he didn't do, Joseph struggled with the injustice of his situation but kept trusting the Lord.
Years later his brothers came to Egypt to buy grain during a famine and were terrified to discover that their despised younger brother was now the Prime Minister. But Joseph told them, "Do not be distressed and do not be angry with yourselves for selling me here, because it was to save lives that God sent me ahead of you . . . . It was not you who sent me here, but God" (45:5, 8).
Joseph's kind words cause me to wonder if I would be ready for revenge. Or would I be gracious because my heart had confidence in the Lord?
Dear Father, give us the faith to trust You today and the ability to see Your hand of good along our road of life.
In the darkest hours of life, only through the eyes of faith can we see the loving hand of God.
Limited View
From: Our Daily Journey
Read:
1 Corinthians 4:1-16
So don't make judgments about anyone ahead of time—before the Lord returns. For he will bring our darkest secrets to light and will reveal our private motives. Then God will give to each one whatever praise is due.
The spot began as a small discoloration on the baseboard adjacent to one of our bedroom doors. Unsure of what caused it, we dismissed it as an unidentified spill. After a lengthy stretch of rainy days, however, the three-inch spot had not only grown, but the baseboard on the opposite side of the door began to yellow as well. The bowing wood and the musty smell of damp carpet hastened our investigation, and we discovered that our original assessment had neglected to capture the full picture. Overflow from the rain had seeped into the door frame of our back porch, resulting in damage that had now become plain to see.
We all see our own opinions quite clearly. We're confident in assessing the reliability of what we see—especially in our appraisal of others. After all, we assure ourselves, we see what we see. Or do we?
In 1 Corinthians 3–4, Paul deals with a type of conflict that we still experience today among believers in Jesus: divisive, opinionated allegiance. We often fail to recognize our own limitations regarding the level of knowledge we possess. Paul's admonishment of the Corinthian church is relevant: We're not qualified to assess others because we rarely have total clarity of our own motives (1 Corinthians 4:2-4). Only God is qualified to evaluate and acknowledge what's praiseworthy (1 Corinthians 4:5).
We desire security and sureness of truth, but setting our allegiances based on our human opinion is dangerous ground. Our perspective is limited, and even what insight we might possess is often not our own (1 Corinthians 4:7). True love for God is revealed in our sacrifices for the good of others, and the deeper proof of our wisdom is seen in our willingness to remain teachable (1 Corinthians 4:9-16).
Don't Plan Without God
From: Utmost.org
Don't plan without God. God seems to have a delightful way of upsetting the plans we have made, when we have not taken Him into account. We get ourselves into circumstances that were not chosen by God, and suddenly we realize that we have been making our plans without Him— that we have not even considered Him to be a vital, living factor in the planning of our lives. And yet the only thing that will keep us from even the possibility of worrying is to bring God in as the greatest factor in all of our planning.
In spiritual issues it is customary for us to put God first, but we tend to think that it is inappropriate and unnecessary to put Him first in the practical, everyday issues of our lives. If we have the idea that we have to put on our "spiritual face" before we can come near to God, then we will never come near to Him. We must come as we are.
Don't plan with a concern for evil in mind. Does God really mean for us to plan without taking the evil around us into account? "Love…thinks no evil" (1 Corinthians 13:4-5). Love is not ignorant of the existence of evil, but it does not take it into account as a factor in planning. When we were apart from God, we did take evil into account, doing all of our planning with it in mind, and we tried to reason out all of our work from its standpoint.
Don't plan with a rainy day in mind. You cannot hoard things for a rainy day if you are truly trusting Christ. Jesus said, "Let not your heart be troubled…" (John 14:1). God will not keep your heart from being troubled. It is a command— "Let not…." To do it, continually pick yourself up, even if you fall a hundred and one times a day, until you get into the habit of putting God first and planning with Him in mind.