"My thoughts are nothing like your thoughts," says the Lord. "And my ways are far beyond anything you could imagine. For just as the heavens are higher than the earth, so my ways are higher than your ways and my thoughts higher than your thoughts." –Isaiah 55:8-9
DISAPPOINTMENTS
This is my doing. (1 Kings 12:24)
The disappointments of life are simply the hidden appointments of love.
–C.A. Fox
My child, I have a message for you today. Let me whisper it in your ear so any storm clouds that may arise will shine with glory, and the rough places you may have to walk will be made smooth. It is only four words, but let them sink into your inner being, and use them as a pillow to rest your weary head. "This is my doing."
Have you ever realized that whatever concerns you concerns Me too? "For whoever touches you touches the apple of [my] eye" (Zech. 2:8). "You are precious and honored in my sight" (Isa. 43:4). Therefore it is My special delight to teach you.
I want you to learn when temptations attack you, and the enemy comes in "like a pent up flood" (Isa. 59:19)., that "this is my doing" and that your weakness needs My strength, and your safety lies in letting Me fight for you.
Are you in difficult circumstances, surrounded by people who do not understand you, never ask your opinion, and always push you aside? "This is my doing." I am the God of circumstances. You did not come to this place by accident — you are exactly where I meant for you to be.
Have you not asked Me to make you humble? Then see that I have placed you in the perfect school where this lesson is taught. Your circumstances and the people around you are only being used to accomplish My will.
Are you having problems with money, finding it hard to make ends meet? "This is my doing," for I am the One who keeps your finances, and I want you to learn to depend upon Me. My supply is limitless and I "will meet your needs" (Phil. 4:19). I want you to prove My promises so no one may say, "You did not trust in the Lord your God" (Deut. 1:32).
Are you experiencing a time of sorrow? "This is my doing." I am "a man of sorrows, and familiar with suffering" (Isa. 53:3). I have allowed your earthly comforters to fail you, so that by turning to Me you may receive "eternal encouragement and good hope" (2 Thess. 2:16). Have you longed to do some great work for Me but instead have been set aside on a bed of sickness and pain? "This is my doing." You were so busy I could not get your attention, and I wanted to teach you some of My deepest truths. "They also serve who only stand and wait." In fact, some of My greatest workers are those physically unable to serve, but who have learned to wield the powerful weapon of prayer.
Today I place a cup of holy oil in your hands. Use it freely, My child. Anoint with it every new circumstance, every word that hurts you, every interruption that makes you impatient, and every weakness you have. The pain will leave as you learn to see Me in all things.
–Laura A. Barter Snow
"This is from Me," the Savior said,
As bending low He kissed my brow,
"For One who loves you thus has led.
Just rest in Me, be patient now,
Your Father knows you have need of this,
Though, why perhaps you cannot see–
Grieve not for things you've seemed to miss.
The thing I send is best for thee."
Then, looking through my tears, I plead,
"Dear Lord, forgive, I did not know,
It will not be hard since You do tread,
Each path before me here below."
And for my good this thing must be,
His grace sufficient for each test.
So still I'll sing, "Whatever be
God's way for me is always best."
---
National Treasure
From: Our Daily Bread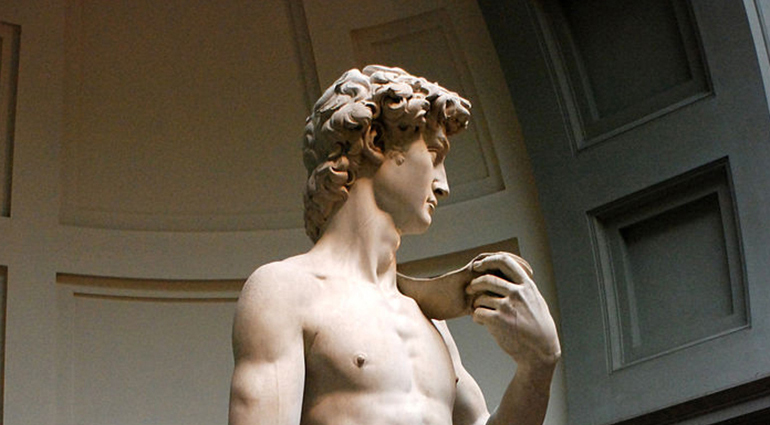 Hosanna to the Son of David! Blessed is he who comes in the name of the Lord! Matthew 21:9
When an advertiser altered a photo of Michelangelo's famous marble sculpture of the biblical hero David, Italy's government and gallery officials objected. Picturing David with a military rifle slung over his shoulder (instead of his slingshot) would be a violation—"like taking a hammer to it or worse," a cultural official said.
In first-century Jerusalem, David was remembered as the shepherd-songwriter and soldier-king of Israel's fondest memories and greatest hopes. Prophets foretold that David's descendant would finally defeat the enemies of Israel. So, centuries later, when crowds welcomed Jesus as the Son of David (Matthew 21:6–9), they were expecting Him to lead the revolt that would overthrow their Roman occupiers. Instead Jesus knocked over the tables of temple money-changers to restore His Father's house as a house of prayer for all nations. Israel's leaders were furious. This wasn't the kind of Messiah and Son of David they were looking for. So without realizing what they were doing, they called for Roman executioners to take a hammer to the hands and feet of the true glory of Israel.
Instead of stopping them, Jesus let Himself be lifted up on a cross of shame—defaced and disgraced. Only by resurrection would it be known that the true Son of David had defeated His enemies with love and enlisted the children of all nations to spread the word.
Father in heaven, it's hard to admit. But it's true. We get so confused. We try to protect the images we love more than the love You consider priceless.
Jesus shows that God is always better than our expectations.
Paul states here that the call of God is to preach the gospel. But remember what Paul means by "the gospel," namely, the reality of redemption in our Lord Jesus Christ. We are inclined to make sanctification the goal of our preaching. Paul refers to personal experiences only by way of illustration, never as the end of the matter. We are not commissioned to preach salvation or sanctification— we are commissioned to lift up Jesus Christ (see John 12:32). It is an injustice to say that Jesus Christ labored in redemption to make me a saint. Jesus Christ labored in redemption to redeem the whole world and to place it perfectly whole and restored before the throne of God. The fact that we can experience redemption illustrates the power of its reality, but that experience is a byproduct and not the goal of redemption. If God were human, how sick and tired He would be of the constant requests we make for our salvation and for our sanctification. We burden His energies from morning till night asking for things for ourselves or for something from which we want to be delivered! When we finally touch the underlying foundation of the reality of the gospel of God, we will never bother Him anymore with little personal complaints.
The one passion of Paul's life was to proclaim the gospel of God. He welcomed heartbreak, disillusionment, and tribulation for only one reason— these things kept him unmovable in his devotion to the gospel of God.
Making The Cut
From: Get More Strength
[Jesus] said to them, "Follow Me, and I will make you fishers of men." —Matthew 4:19
Every year, high-school seniors apply to their favorite universities and then watch the mailbox for the letter announcing their acceptance.
It was different for teens in New Testament times. Jewish boys would often attend rabbinical schools until age 13. Then only the best and brightest would be chosen to "follow" the local rabbi. This small, select group of disciples would go where he went and eat what he ate—modeling their lives after the rabbi. Those who didn't make the cut would pick up a trade like carpentry, sheep-herding, or fishing.
Guys like Simon, Andrew, James, and John hadn't made the cut. So instead of following the local rabbi, they were down by the docks, knee-deep in the family business. It's interesting that Jesus sought out the men the local rabbi had rejected. Instead of targeting the best and brightest, Jesus offered His invitation, "Follow Me," to ordinary run-of-the-mill fishermen. What an honor! They would become followers of the ultimate Rabbi.
Jesus extends the same honor to you and me—not because we are the best or brightest, but because He needs ordinary people like us to model His life and to lovingly rescue people on His behalf. So, follow Him and let Him make something of your life!
As followers of Jesus
Who love Him from the heart,
We may be ordinary,
But we've been set apart. —Sper
Even the ordinary and the outcast can make the cut to follow Jesus.