The Power of Resurrection
Monday, January 19, 2009
God's Character, Reassurance of Faith
"Why do you seek the living One among the dead? He is not here, but He has risen just as He said." Luke 24:5-6
For the followers of the Lord Jesus Christ, Jesus' resurrection is the most powerful event in history. All that we ascribe to, all that our life and worship is about is based upon this foundational piece that Jesus Christ rose from the dead.
Nothing short of God provides power like that.
Does your life lack power? Is there much you would like to accomplish but you don't have the capacity and strength to do it? Maybe you can't break the chain of a sinful habit or overcome fear or anxiety or be the man or woman that God created you to be. Whatever it is—habit, circumstance, or need for growth . . . Jesus Christ can change your life. His resurrection is evidence of the power to prove that.
Let's make it personal.Luke 24 gives us a glimpse into the lives of three women who were the first to hear of the Easter miracle. Jesus died late on a Friday afternoon and we join them early Sunday morning while it was still dark. As their final act of devotion, the grief-stricken ladies made their way to Jesus' tomb to prepare His body for burial. They were shocked to find the stone rolled away from the entrance and His body gone. All their emotions crashed around them. They didn't know what to do. Suddenly two angels stood before them, asking, "Why do you seek the living among the dead? He is not here, but has risen" (v. 5).
I can imagine these ladies kneeling, trembling, and then being asked such a pointed question. Can you imagine how their hope began to rise as the angels said, "He is not here but He is risen. Remember how he told you . . ." (Luke 24:6). Overwhelmed by their circumstances they had forgotten what Jesus had promised—the three most powerful words ever spoken: I will rise.
All it took for their confusion to lift was to remember His Word (v. 8).
To you who are suffering under the weight of a difficult situation, I write today with this same message: Jesus has risen and He wants to bring the power of His resurrection to bear upon whatever you're facing. Do what these ladies did: Believe what He said. Take Him at His Word. Remember His promises.
The resurrection of Jesus Christ is proof that God will do what He said. Rehearse God's faithfulness in what He did on that pivotal, powerful morning and be filled with faith at how He is still at work today in your life.
Despised for All of This
From: Our Daily Bread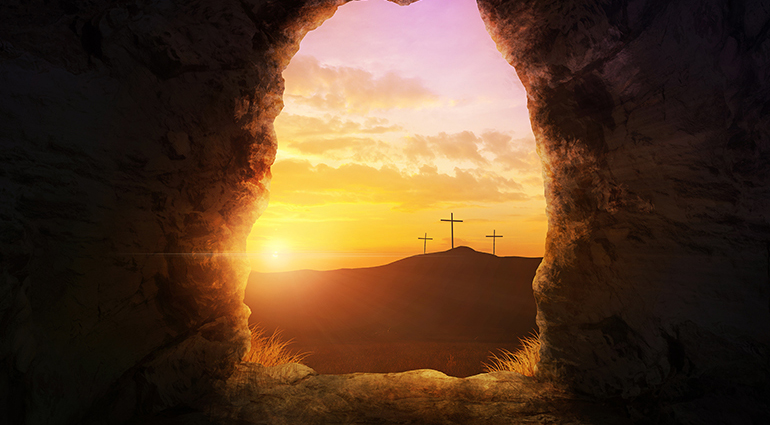 He bore the sin of many, and made intercession for the transgressors. Isaiah 53:12
Susannah Cibber gained fame in the eighteenth century for her talent as a singer. However, she was equally well known for her scandalous marital problems. That's why when Handel's Messiah was first performed in Dublin in April 1742, many in the audience did not approve of her role as a featured soloist.
During that inaugural performance, Cibber sang of the Messiah: "He is despised and rejected of men; a man of sorrows, and acquainted with grief" (Isaiah 53:3 kjv). Those words so moved Rev. Patrick Delany that he jumped to his feet and said, "Woman, for this be all thy sins forgiven thee!"
The connection between Susannah Cibber and the theme of Handel's Messiah is evident. The "man of sorrows"—Jesus the Messiah—was "despised and rejected" because of sin. The prophet Isaiah said, "My righteous servant will justify many, and he will bear their iniquities" (v. 11).
The connection between Messiah and us is no less apparent. Whether we stand with the judgmental audience members, with Susannah Cibber, or somewhere in between, we all need to repent and receive God's forgiveness. Jesus, by His life, death, and resurrection, restored our relationship with God our Father.
For this—for all Jesus did—be all our sins forgiven.
Father in heaven, we all stand in need of Your forgiveness. We stand too in awe of Your Son Jesus, who was despised and rejected for our sins. Thank You for coming to us in Jesus 2,000 years ago so that we might know You now.
Alleluia: for the Lord God omnipotent reigneth. Revelation 19:6 kjv
Every Corner of Life
From: Our Daily Journey
Read:
John 20:1-18
Mary Magdalene found the disciples and told them, "I have seen the Lord!" Then she gave them his message (John 20:18).
On the Sunday morning following Jesus' crucifixion, a woman stood outside of His tomb weeping bitterly. Her dearest friend and mentor had just endured a grisly death. Now it appeared someone had broken into His grave and stolen His battered body (John 20:11-15).
As she wept, a fully alive Jesus appeared to her. Her swollen, reddened eyes initially mistook him for the gardener, until He called to her by name—"Mary!" (John 20:16). Instantly, sheer joy swept over her.
Until Easter morning, Mary and the rest of Jesus' closest followers had remained puzzled. They had yet to "[understand] the Scriptures that said Jesus must rise from the dead" (John 20:9). It took them even more time to grasp all that His resurrection meant.
Author N. T. Wright notes, "The early Christians looked back with joy to that great event." He goes on to write that as the enormous implications of this most surprising event began sinking in, they also "looked forward eagerly to an event yet to come in which what began at Easter would be completed."
The first Christians would soon realize that Easter morning shouted the start of new creation! The Creator-God, who made the world and saw His image-bearers turn against Him, had begun to rescue and renew all things. Jesus' resurrection from the dead points our attention forward to the end of the story when He will return to this earth and complete what God began the morning He raised His Son from the grave (see Acts 3:21).
Christ coming out of the tomb was the first act of so much more healing and life to arrive in our broken world, waiting to break into every corner of life. And when it happens—even in the smallest of ways—there's great joy!