John 15:10-11
"If you keep My commandments, you will abide in My love; just as I have kept My Father's commandments and abide in His love. "These things I have spoken to you so that My joy may be in you, and that your joy may be made full.
Psalm 4:8
In peace I will both lie down and sleep, For You alone, O LORD, make me to dwell in safety.
Matthew 11:28-29
"Come to Me, all who are weary and heavy-laden, and I will give you rest. "Take My yoke upon you and learn from Me, for I am gentle and humble in heart, and YOU WILL FIND REST FOR YOUR SOULS.
John 16:33
"These things I have spoken to you, so that in Me you may have peace In the world you have tribulation, but take courage; I have overcome the world."
The Conditions of Discipleship
From: Utmost.org
The Christian life is a life characterized by true and spontaneous creativity. Consequently, a disciple is subject to the same charge that was leveled against Jesus Christ, namely, the charge of inconsistency. But Jesus Christ was always consistent in His relationship to God, and a Christian must be consistent in his relationship to the life of the Son of God in him, not consistent to strict, unyielding doctrines. People pour themselves into their own doctrines, and God has to blast them out of their preconceived ideas before they can become devoted to Jesus Christ.
Taking Shortcuts
From: Our Daily Bread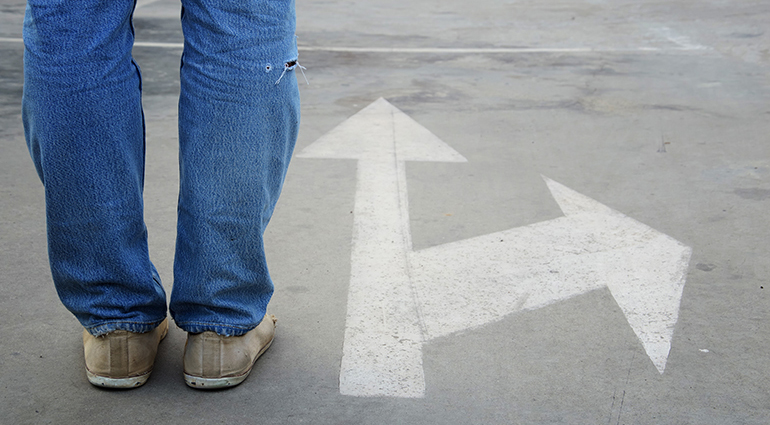 Whoever wants to be my disciple must deny themselves and take up their cross daily and follow me. Luke 9:23
Sipping her tea, Nancy gazed out her friend's window and sighed. Spring rains and sunshine had coaxed a riotous expanse of color from a well-groomed flowerbed of lilies, phlox, irises, and evening primrose.
"I want that look," she said wistfully, "without all the work."
Some shortcuts are fine—even practical. Others short-circuit our spirit and deaden our lives. We want romance without the difficulties and messiness of committing to someone so different from ourselves. We want "greatness" without the risks and failures necessary in the adventure of real life. We desire to please God, but not when it inconveniences us.
Jesus made clear to His followers that there is no shortcut that avoids the hard choice of surrendering our lives to Him. He warned a prospective disciple, "No one who puts a hand to the plow and looks back is fit for service in the kingdom of God" (Luke 9:62). To follow Christ requires a radical altering of our loyalties.
When we turn in faith to Jesus, the work just begins. But it is oh-so-worth-it, for He also told us that no one who sacrifices "for me and the gospel will fail to receive a hundred times as much in this present age . . . and in the age to come eternal life" (Mark 10:29–30). The work of following Christ is difficult, but He's given us His Spirit and the reward is a full, joyful life now and forever.
Father, I will find the strength to do the work You have for me to do, only as I rely on Your Holy Spirit. Help me, please, to be sensitive to that today.
Most things worth doing are difficult.
A Laughing Faith
From: Our Daily Journey
I remember where I was sitting in the cramped living room of our apartment when Miska told me she was pregnant with our first son, Wyatt. I must have sat mute for several moments because Miska asked, "Are you okay? What are you thinking?" In theory, I wanted to be a dad someday, but it had seemed like a distant possibility. But here it was . . . I was going to be a dad, and I was dumbstruck.
Abraham was in a very different situation. He was an old man, and for decades he'd wanted to father a son with his wife, Sarah. But of course, now it appeared to be too late. His body was withered and Sarah, at age 90, was advanced in years as well. It seemed that there would be no children for them.
God appeared to Abraham, however, and told him the most ludicrous, unexpected news: "I will bless [Sarah] and give you a son from her! Yes, I will bless her richly, and she will become the mother of many nations. Kings of nations will be among her descendants" (Genesis 17:16). Abraham "bowed down to the ground, but he laughed to himself in disbelief" (Genesis 17:17). God must be mistaken, he thought; the idea was preposterous.
Of course, before too long, Abraham and Sarah did indeed have a son—Isaac. God revived their withered bodies and made them fertile again. He kept His promise.
Do any of God's promises—such as "eternal life" (John 4:14) and a "satisfying life" (John 10:10)—seem so wonderful that you can't help but laugh? Do any of God's good and hopeful words seem impossible? Has it been difficult for you to hold on to belief in His kind intentions? Have you ever read a verse that contains a clear promise from Him—and couldn't contain the laughter? If God has spoken, then hold on because His promises are true.