"As the deer pants for streams of water, so my soul pants for you, O God. My soul thirsts for God, for the living God. When can I go and meet with God?" Psalm 42:1-2
From: Get More Strength.com
"As the deer pants for streams of water, so my soul pants for you, O God. My soul thirsts for God, for the living God. When can I go and meet with God?" Psalm 42:1-2
In my opinion, intimacy is a really attractive word. Deep down inside, all of us long for meaningful connections that satisfy our souls and chase away the shadows of aloneness. But if we're not careful, we may be looking for true intimacy in all the wrong places. Thoughts of intimacy often conjure up mental pictures of close encounters of the physical kind or the shallow, shabby offers of alluring lingerie, one-night stands, colognes, video titles, evenings of candlelight and red wine, or voyeuristic exchanges on the Internet. More innocently, your thoughts of intimacy may be about just finding a good friend that can be a soul mate. But even deep friendships can be sometimes fleeting and fickle.
It's easy to be lured into counterfeit offers of intimacy only to find that they are not what our soul really craves. In fact, every time we dip into these buckets, we eventually come up empty, disappointed, and frequently left with shame and regret. Accept no substitutes! Don't stop looking until you have found the soul mate that will truly satisfy.
You ask, "Who would that be?" Search no more, the offer of fulfilling intimacy is found in a deepening relationship with God Himself. After all, you were built for intimacy with Him. That's what Adam and Eve experienced in the Garden of Eden until sin blocked access to God. But thankfully, God didn't give up on His desire for intimacy with you. He stepped in and removed the barrier through the death of His Son so that intimacy with Him could be restored! And now He welcomes you to Himself by saying, "Come near to [me] and [I] will draw near to you" (James 4:8
) and "Here I am! I stand at the door and knock" (Revelation 3:20
). He's wanting and waiting to come in and dine with you!
God is the only One perfectly suited to satisfy and sustain us. The joy of true intimacy is ours as we grow more deeply conscious of, connected to, and confident in God—and Him alone—as our unfailing resource in life.
As in any relationship, intimacy with God has some dynamics that make it grow. We don't experience His nearness by just telling Him that we love Him, as important as that is. Intimacy is cultivated by drawing near to Him in obedience; by loving what He loves and hating what He hates; by sharing our deepest desires and struggles with Him in prayer; and by expressing our love to Him by acts of loyalty, sacrifice, and service to others. These attitudes and actions all say to God, "I love you!" in clear and compelling ways. Hebrews assures us that God is a rewarder of those who diligently seek Him (Hebrews 11:6
). Indeed, intimacy with God will reward your spirit with peace, confidence, a sense of direction and purpose, and the blessing of knowing that you are loved, really loved, by the one who promises that He will never leave you nor forsake you!
Intimacy with God can't be bought at the corner newsstand. Nor can it be purchased at the mall, found on an exotic vacation, or acquired in developing the most impressive of social calendars. When it comes to the joy of intimacy, these things are the small talk of life compared to the deep satisfaction that comes from the privilege of knowing that "in a love that cannot cease, I am His and He is mine!"
"The poor will eat and be satisfied; those who seek the LORD will praise him — may your hearts live forever!" Psalm 22:26 (NIV)
When was the last time you had one of those days?
Sometimes that downhill day teaches us a lesson that sticks with us forever. For me, a pivotal day like that happened a few years ago. I walked into the post office mid-morning with my preschooler. It wasn't the holidays, so I expected to get in and out quickly.
It turned out lots of people must've had the same thought because the post office was packed. The line was to the door and moving slowly. Two post office clerks worked as swiftly as they could, but there were just too many people.
"Did you bring a snack?" my little Lucy asked immediately.
Usually I was stocked like a well-appointed pantry for long outings, but I thought the post office would be a quick errand. I didn't have a cracker to my name.
Lucy whined, "I'm hungry, Mommy!"
A few minutes turned into 25. Lucy and I were both unhappy campers. My day's schedule was thrown out of balance. Later in the day, it was time for Lucy's afternoon nap. She is usually great about taking her naps. But of course, on this non-perfect post office kind of day, she resisted. Protested. Fought. Struggled.
Finally, Lucy was sleeping soundly.
I work from home, but there was not any work getting done that day. Once Lucy was asleep, I turned toward the kitchen to prepare dinner.
I'm not really a cook; I'm more of a food assembler. But on this particular day, I had planned to make a casserole. Standing at my kitchen counter, chopping up pieces of chicken, I again realized why I don't cook complex recipes (read here: things with more than five items). They take too much time!
I felt incredibly irritated about my wasted day.
My husband James was in the next room practicing his guitar. He's a beginner, so insert creaky chords here. He was learning a praise song and without even thinking about it, I began to sing along.
Within just a few minutes of singing praises to God (I'm still chopping chicken), my whole demeanor changed.
The unfulfilled to-do lists and the burdens of the day lifted off my shoulders.
I was filled with gratitude instead of grumbling.
My irritation disappeared.
Instantly I was at peace. All my striving could not produce happiness, but when I looked to Jesus and sang praises to Him, all of a sudden, everything was made right.
I was satisfied just like the key verse says, "The poor will eat and be satisfied; those who seek the LORD will praise him" (Psalm 22:26a).
When you praise God for who He is, even when the day has left your soul poor and hungry, you turn that downhill day around. God has given us the gift of song to praise Him. Our key verse of praise from Psalm 22 is sung even when everything is going wrong in the writer David's life.
Psalm 22:1 opens the chapter with painful words that will be quoted by Jesus on the cross, "My God, my God why have you forsaken me? Why are you so far from saving me, so far from my cries of anguish?" (NIV)
But the perspective shifts in verse 3, "Yet you are enthroned as the Holy One; you are the one Israel praises." (NIV)
"Yet you …"
Let those two little words grab a hold of your heart today. You may be working in a dead-end job. You may be in a cloud of sadness. You may feel stuck in the kitchen or a crazed post office line: "Yet you are enthroned as the Holy One"(Psalm 22:3a, NIV).
Jesus Christ is worthy of all praise. The first verse of Psalm 22 speaks of despair. But the last verse, Psalm 22:31, speaks of praise and victory: "They will proclaim his righteousness, declaring to a people yet unborn: He has done it!" (NIV)
That day at my kitchen counter, I learned praise was the key to turning a downhill day around. Don't use your circumstances to measure your days. Instead turn your eyes upon Jesus Christ.
When you praise Him, no matter what's happening in your life, He will give you divine perspective. Peace. Calm. Joy. Even when you're chopping chicken.
Dear Jesus, I worship You because You are worthy of praise. You have defeated death, and You can turn around my downhill days. Dominion, power, glory and blessing belong to You alone. Set my soul free from anxiety as I praise. In Jesus' Name, Amen.
Fame and Humility
From: Our Daily Bread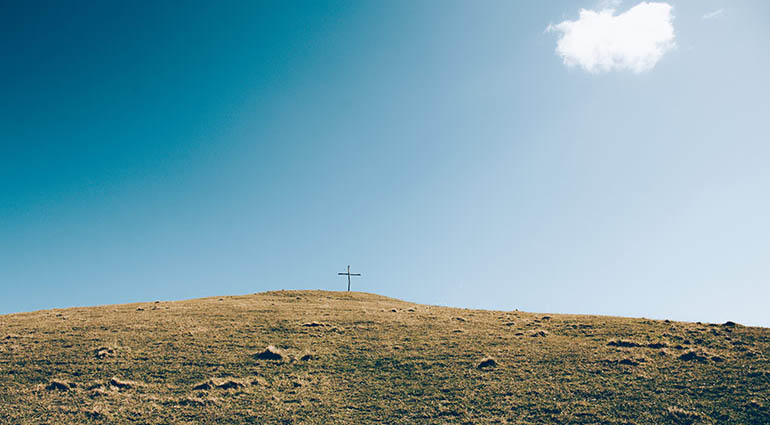 He humbled himself by becoming obedient to death—even death on a cross! Philippians 2:8
Many of us are obsessed with fame—either with being famous ourselves or with following every detail of famous people's lives. International book or film tours. Late-night show appearances. Millions of followers on Twitter.
In a recent study in the US, researchers ranked the names of famous individuals using a specially developed algorithm that scoured the Internet. Jesus topped the list as the most famous person in history.
Yet Jesus was never concerned about obtaining celebrity status. When He was here on earth, He never sought fame (Matt. 9:30; John 6:15)—although fame found Him all the same as news about Him quickly traveled throughout the region of Galilee (Mark 1:28; Luke 4:37).
Wherever Jesus went, crowds soon gathered. The miracles He performed drew people to Him. But when they tried to make Him a king by force, He slipped away by Himself (John 6:15). United in purpose with His Father, He repeatedly deferred to the Father's will and timing (4:34; 8:29; 12:23). "He humbled himself by becoming obedient to death—even death on a cross" (Phil. 2:8).
Fame was never Jesus's goal. His purpose was simple. As the Son of God, He humbly, obediently, and voluntarily offered Himself as the sacrifice for our sins.
You are to be celebrated, Lord, above all others. You have been highly exalted and given a name that is above every name. One day every knee will bow and every tongue confess that You are Lord.
Jesus came not to be famous, but to humbly offer Himself as the sacrifice for our sins.
The Distraction of Contempt
What we must beware of is not damage to our belief in God but damage to our Christian disposition or state of mind. "Take heed to your spirit, that you do not deal treacherously" (Malachi 2:16). Our state of mind is powerful in its effects. It can be the enemy that penetrates right into our soul and distracts our mind from God. There are certain attitudes we should never dare to indulge. If we do, we will find they have distracted us from faith in God. Until we get back into a quiet mood before Him, our faith is of no value, and our confidence in the flesh and in human ingenuity is what rules our lives.
Beware of "the cares of this world…" (Mark 4:19). They are the very things that produce the wrong attitudes in our soul. It is incredible what enormous power there is in simple things to distract our attention away from God. Refuse to be swamped by "the cares of this world."
Another thing that distracts us is our passion for vindication. St. Augustine prayed, "O Lord, deliver me from this lust of always vindicating myself." Such a need for constant vindication destroys our soul's faith in God. Don't say, "I must explain myself," or, "I must get people to understand." Our Lord never explained anything— He left the misunderstandings or misconceptions of others to correct themselves.
When we discern that other people are not growing spiritually and allow that discernment to turn to criticism, we block our fellowship with God. God never gives us discernment so that we may criticize, but that we may intercede.