Deep Roots
From: Our Daily Bread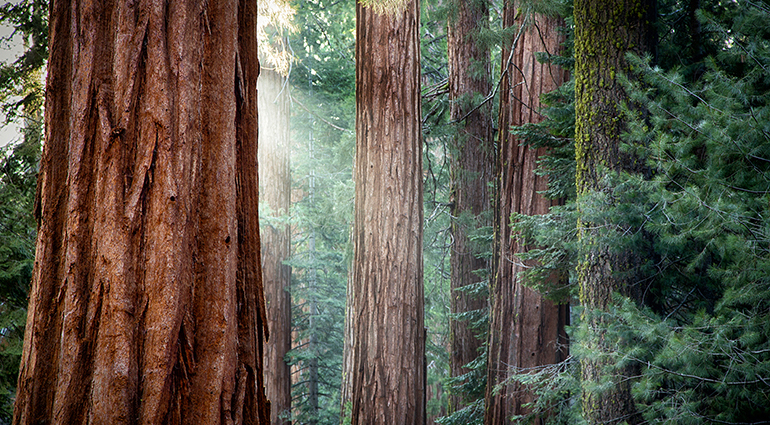 Then he opened their minds so they could understand the Scriptures. Luke 24:45
The sequoia tree, one of three species of redwoods, is among the world's largest and most enduring organisms. It can grow to 300 feet in height, weigh over 2.5 million pounds (1.1 million kg), and live for 3,000 years. But the majestic sequoia owes much of its size and longevity to what lies below the surface. A twelve- to fourteen-foot-deep matting of roots, spreading over as much as an acre of earth, firmly grounds its towering height and astonishing weight.
A redwood's expansive root system, however, is small compared to the national history, religion, and anticipation that undergird the life of Jesus. On one occasion He told a group of religious leaders that the Scriptures they loved and trusted told His story (John 5:39). In the synagogue of Nazareth He opened the scroll of Isaiah, read a description of Israel's Messiah, and said, "Today this Scripture is fulfilled in your hearing" (Luke 4:21).
Later, after His resurrection, Jesus helped His disciples understand how the words of Moses, the prophets, and even the songs of Israel showed why it was necessary for Him to suffer, die, and rise from the dead (24:46).
What grace and grandeur—to see Jesus rooted in the history and Scriptures of a nation, and to see how extensively our own lives are rooted in our need of Him.
Father in heaven, please help us never forget that the history of Israel and the inspired words of Scripture ground us in seeing our need of Your Son.
All Scripture helps us see our need of Jesus.
From: Streams In The Desert
Because thou hast done this thing, and hast not withheld thy son, thine only son… I will multiply thy seed as the stars of the heaven; …because thou hast obeyed my voice (Genesis 22:16-18).
And from that day to this, men have been learning that when, at God's voice, they surrender up to Him the one thing above all else that was dearest to their very hearts, that same thing is returned to them by Him a thousand times over. Abraham gives up his one and only son, at God's call, and with this disappear all his hopes for the boy's life and manhood, and for a noble family bearing his name. But the boy is restored, the family becomes as the stars and sands in number, and out of it, in the fullness of time, appears Jesus Christ.
That is just the way God meets every real sacrifice of every child of His. We surrender all and accept poverty; and He sends wealth. We renounce a rich field of service; He sends us a richer one than we had dared to dream of. We give up all our cherished hopes, and die unto self; He sends us the life more abundant, and tingling joy.
And the crown of it all is our Jesus Christ. For we can never know the fullness of the life that is in Christ until we have made Abraham's supreme sacrifice. The earthly founder of the family of Christ must commence by losing himself and his only son, just as the Heavenly Founder of that family did. We cannot be members of that family with the full privileges and joys of membership upon any other basis.
–C. G. Trumbull
We sometimes seem to forget that what God takes He takes in fire; and that the only way to the resurrection life and the ascension mount is the way of the garden, the cross, and the grave.
Think not, O soul of man, that Abraham's was a unique and solitary experience. It is simply a specimen and pattern of God's dealings with all souls who are prepared to obey Him at whatever cost. After thou hast patiently endured, thou shalt receive the promise. The moment of supreme sacrifice shall be the moment of supreme and rapturous blessing. God's river, which is full of water, shall burst its banks, and pour upon thee a tide of wealth and grace.
There is nothing, indeed, which God will not do for a man who dares to step out upon what seems to be the mist; though as he puts down his foot he finds a rock beneath him.
–F. B. Meyer 
The Concept of Divine Control
From: Utmost.org
Jesus is laying down the rules of conduct in this passage for those people who have His Spirit. He urges us to keep our minds filled with the concept of God's control over everything, which means that a disciple must maintain an attitude of perfect trust and an eagerness to ask and to seek.
Fill your mind with the thought that God is there. And once your mind is truly filled with that thought, when you experience difficulties it will be as easy as breathing for you to remember, "My heavenly Father knows all about this!" This will be no effort at all, but will be a natural thing for you when difficulties and uncertainties arise. Before you formed this concept of divine control so powerfully in your mind, you used to go from person to person seeking help, but now you go to God about it. Jesus is laying down the rules of conduct for those people who have His Spirit, and it works on the following principle: God is my Father, He loves me, and I will never think of anything that He will forget, so why should I worry?
Jesus said there are times when God cannot lift the darkness from you, but you should trust Him. At times God will appear like an unkind friend, but He is not; He will appear like an unnatural father, but He is not; He will appear like an unjust judge, but He is not. Keep the thought that the mind of God is behind all things strong and growing. Not even the smallest detail of life happens unless God's will is behind it. Therefore, you can rest in perfect confidence in Him. Prayer is not only asking, but is an attitude of the mind which produces the atmosphere in which asking is perfectly natural. "Ask, and it will be given to you…" (Matthew 7:7).