[Jesus] gave his life to free us from every kind of sin, to cleanse us, and to make us his very own
people, totally committed to doing good deeds (Titus 2:14).
James 1:22-25   
 (NKJV)
22 But be doers of the word, and not hearers only, deceiving yourselves. 23 For if anyone is a hearer of the word and not a doer, he is like a man observing his natural face in a mirror; 24 for he observes himself, goes away, and immediately forgets what kind of man he was. 25 But he who looks into the perfect law of liberty and continues in it, and is not a forgetful hearer but a doer of the work, this one will be blessed in what he does.
Read:
Ephesians 2:4-10
[Jesus] gave his life to free us from every kind of sin, to cleanse us, and to make us his very own people, totally committed to doing good deeds (Titus 2:14).
The story of the criminal crucified with Jesus is one of Scriptures' most dramatic conversion stories (Luke 23:32-43). About to die, the man had no time to clean up his life. Yet, because he believed in Jesus, he went to be with Him (Luke 23:42-43).
This story of God's grace illustrates the truth Paul presented to the Ephesian believers in Jesus: "It is only by God's grace that you have been saved! . . . God saved you by his grace when you believed. . . . Salvation is not a reward for the good things we have done" (Ephesians 2:5,8-9).
The reality that believers are saved by grace, through Jesus' work, is central. But this principle could lead some to argue that living good lives is unimportant—unnecessary even.
As a condemned man, the criminal on the cross couldn't do any service for God after he believed. But Paul has clearly taught elsewhere that those who've been saved by Jesus will do the work God has prepared for them to do. "[God] has created us anew in Christ Jesus, so we can do the good things he planned for us long ago" (Ephesians 2:10). As John Calvin put it, "We are saved by faith alone, but the faith that saves is never alone." If we say we believe in Jesus, but fail to do things that demonstrate this, one might question whether our claim to believe is true (James 2:14-26).
In another letter, Paul reiterated the truth that Jesus died "to free us from every kind of sin, to cleanse us, and to make us his very own people, totally committed to doing good deeds" (Titus 2:14).
And Christ gave us yet another reason to be eager to do good works: "so that everyone will praise [our] heavenly Father" (Matthew 5:16). When we serve by His power and leading, God is truly pleased (Hebrews 13:16).
What's Inside?
From: Our Daily Bread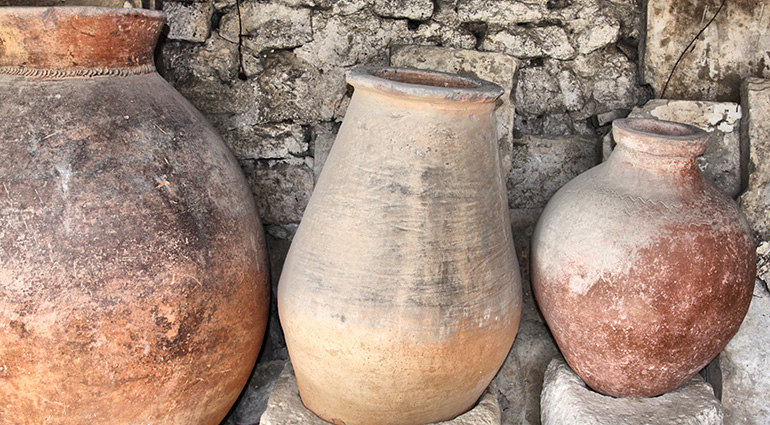 But we have this treasure in jars of clay to show that this all-surpassing power is from God and not from us. 2 Corinthians 4:7
"Do you want to see what's inside?" my friend asked. I had just complimented her on the old-fashioned rag doll her daughter held in her small arms. Instantly curious, I replied that yes, I very much wanted to see what was inside. She turned the doll face down and pulled open a discreet zipper sewn into its back. From within the cloth body, Emily gently removed a treasure: the rag doll she'd held and loved throughout the years of her own childhood more than two decades prior. The "outer" doll was merely a shell without this inner core to give it strength and form.
Paul describes the truth of Jesus's life, death, and resurrection as a treasure, carried about in the frail humanity of God's people. That treasure enables those who trust in Him to bear up under unthinkable adversity and continue in their service. When they do, His light—His life—shines brightly through the "cracks" of their humanness. Paul encourages us all not to "lose heart" (2 Corinthians 4:16) because God strengthens us to do His work.
Like the "inner" doll, the gospel-treasure within us lends both purpose and fortitude to our lives. When God's strength shines through us, it invites others to ask, "What's inside?" We can then unzip our hearts and reveal the life-giving promise of salvation in Christ.
Thank You, Lord, for saving me. Please shine Your light brightly through my broken life so others will be invited to know You too.
The gospel of truth shines through the brokenness of God's people.
If we obey God, it is going to cost other people more than it costs us, and that is where the pain begins. If we are in love with our Lord, obedience does not cost us anything— it is a delight. But to those who do not love Him, our obedience does cost a great deal. If we obey God, it will mean that other people's plans are upset. They will ridicule us as if to say, "You call this Christianity?" We could prevent the suffering, but not if we are obedient to God. We must let the cost be paid.
When our obedience begins to cost others, our human pride entrenches itself and we say, "I will never accept anything from anyone." But we must, or disobey God. We have no right to think that the type of relationships we have with others should be any different from those the Lord Himself had (see Luke 8:1-3).
A lack of progress in our spiritual life results when we try to bear all the costs ourselves. And actually, we cannot. Because we are so involved in the universal purposes of God, others are immediately affected by our obedience to Him. Will we remain faithful in our obedience to God and be willing to suffer the humiliation of refusing to be independent? Or will we do just the opposite and say, "I will not cause other people to suffer"? We can disobey God if we choose, and it will bring immediate relief to the situation, but it will grieve our Lord. If, however, we obey God, He will care for those who have suffered the consequences of our obedience. We must simply obey and leave all the consequences with Him.
Beware of the inclination to dictate to God what consequences you would allow as a condition of your obedience to Him.