Show your mercy and Christianity by doing good works. We get into the game when we practice the things Jesus taught us. 
Get In The Game
From: Get more Strength.org
To this end I also labor, striving according to His working which works in me mightily. —Colossians 1:29
I love going to Chicago's Wrigley Field for a baseball game—sitting in the stands, downing a great hot dog, and cheering the Cubs on to victory!
Unfortunately, Christianity has become a lot like professional sports. As a friend of mine has observed, there are nine guys on the baseball field doing all the work and thousands in the stands just watching. And as you probably know, that's not God's game plan for His people. He wants us to climb out of the stands, get out on the field, and join the team.
If you are wondering what good you can do on the field, wonder no more. What about your financial resources? Jesus can take your "silver and gold" and use it to accomplish great things for His glory.
But more than just getting out your checkbook, you have gifts you can contribute. God has given each of us spiritual gifts that can help advance His kingdom. Whether it's teaching, encouraging, serving, showing hospitality, or extending mercy, each ability can yield great dividends. Let's follow the example of Paul, who tirelessly served on God's field for the joy of being used by Him (Col. 1:28-29
).
Believe me, it's far more rewarding to be on the field than to sit in the stands.
Start where you are in serving the Lord,
Claim His sure promise and trust in His Word;
God simply asks you to do what you can,
He'll use your efforts to further His plan. —Anon.
Don't make a cemetery of your life by burying your talents.
The Overshadowing of God's Personal Deliverance
From: Utmost.org
God promised Jeremiah that He would deliver him personally— "…your life shall be as a prize to you…" (Jeremiah 39:18). That is all God promises His children. Wherever God sends us, He will guard our lives. Our personal property and possessions are to be a matter of indifference to us, and our hold on these things should be very loose. If this is not the case, we will have panic, heartache, and distress. Having the proper outlook is evidence of the deeply rooted belief in the overshadowing of God's personal deliverance.
The Sermon on the Mount indicates that when we are on a mission for Jesus Christ, there is no time to stand up for ourselves. Jesus says, in effect, "Don't worry about whether or not you are being treated justly." Looking for justice is actually a sign that we have been diverted from our devotion to Him. Never look for justice in this world, but never cease to give it. If we look for justice, we will only begin to complain and to indulge ourselves in the discontent of self-pity, as if to say, "Why should I be treated like this?" If we are devoted to Jesus Christ, we have nothing to do with what we encounter, whether it is just or unjust. In essence, Jesus says, "Continue steadily on with what I have told you to do, and I will guard your life. If you try to guard it yourself, you remove yourself from My deliverance." Even the most devout among us become atheistic in this regard— we do not believe Him. We put our common sense on the throne and then attach God's name to it. We do lean to our own understanding, instead of trusting God with all our hearts (see Proverbs 3:5-6).
No Drifting
From: Our Daily Bread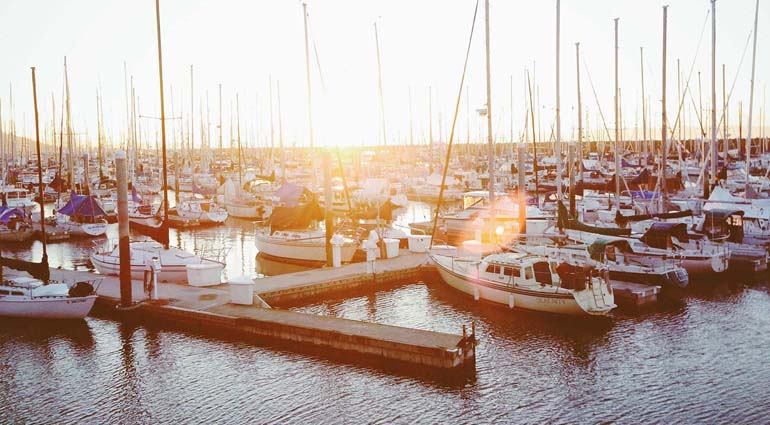 We must pay the most careful attention . . . so that we do not drift away. Hebrews 2:1
At the end of one school semester, my wife and I picked up our daughter from her school 100 kilometers (60 miles) away. On our way back home we detoured to a nearby beach resort for snacks. While enjoying our time there, we watched the boats at the seashore. Usually they are anchored to prevent them from drifting away, but I noticed one boat drifting unhindered among the others—slowly and steadily making its way out to sea.
As we drove home, I reflected on the timely caution given to believers in the book of Hebrews: "We must pay the most careful attention, therefore, to what we have heard, so that we do not drift away" (Heb. 2:1). We have good reason to stay close. The author of Hebrews says that while the Mosaic law was reliable and needed to be obeyed, the message of the Son of God is far superior. Our salvation is  "so great" in Jesus that He shouldn't be ignored (v. 3).
Drifting in our relationship with God is hardly noticeable at first; it happens gradually. However, spending time talking with Him in prayer and reading His Word, confessing our wrongs to Him, and interacting with other followers of Jesus can help us stay anchored in Him. As we connect with the Lord regularly, He will be faithful to sustain us, and we can avoid drifting away.
What do you know about Jesus that keeps you wanting to be near Him?
To avoid drifting away from God, stay anchored to the Rock.