1 Corinthians 9:24
Do you not know that those who run in a race all run, but only one receives the prize? Run in such a way that you may win.
Galatians 2:2
It was because of a revelation that I went up; and I submitted to them the gospel which I preach among the Gentiles, but I did so in private to those who were of reputation, for fear that I might be running, or had run, in vain.
Galatians 5:7
You were running well; who hindered you from obeying the truth?
Work out and condition your body before you play your sport.
Make sure you are spiritually strong before doing God's work.
First Things First
From: Our Daily Bread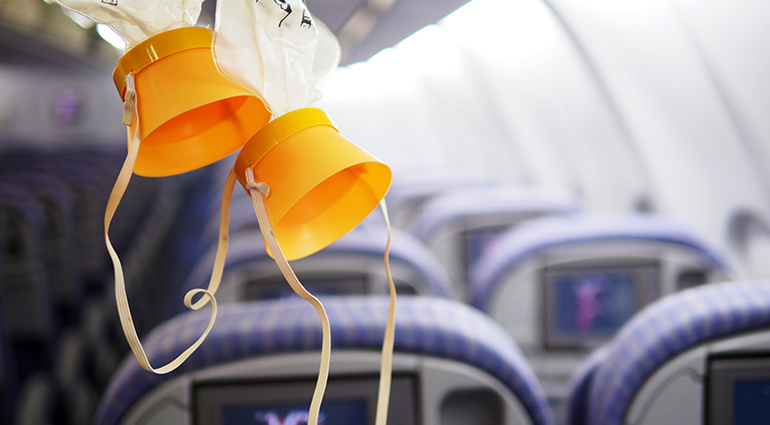 When you travel by air, before the flight takes off an airline employee presents a safety briefing, which explains what to do if there is a loss of cabin pressure. Passengers are told that oxygen masks will drop from the compartment above and they are to put one on themselves before helping others. Why? Because before you can help anyone else, you need to be physically alert yourself.
When Paul wrote to Timothy, he stressed the importance of maintaining his own spiritual health before helping and serving others. He reminded Timothy of his many responsibilities as a pastor: There were false teachings to contend with (1 Tim. 4:1–5) and wrong doctrines to correct (vv. 6–8). But to discharge his duties well, what was most important was to "watch [his] life and doctrine closely [and] persevere in them" (v. 16). He needed to take care of his own relationship with the Lord first before he could attend to others.
What Paul told Timothy applies to us too. Each day we encounter people who do not know the Lord. When we tank up on our spiritual oxygen first through time in God's Word, prayer, and the enabling of the Holy Spirit, we keep our relationship right with God. Then we will be spiritually alert to help others.
Lord, open Your Word to me now. Let me breathe in its freshness before I go out to be Your light to the world.
A Christian's life is the window through which others can see Jesus.
A Humble God
From: Our Daily Journey
Read:
Luke 2:1-7
She gave birth to her firstborn son . . . and laid him in a manger, because there was no lodging available for them (Luke 2:7).
Gaius Octavius became the first Roman emperor by working behind the scenes to consolidate his power. He changed his name to Gauis Julius Caesar Octavianus, after his adoptive father, and then promoted the idea of Caesars (Roman emperors) being divine—allowing him to be considered the son of a god. Eventually, Octavius took the title of Augustus Caesar—sole ruler of Rome—whose spirit was deemed worthy of worship by his people.
Jesus, "though he was God . . . did not think equality with God as something to cling to. Instead, he gave up his divine privileges; he took the humble position of a slave and was born as a human being" (Philippians 2:6-7). The actual Son of God used the emperor's census decree to fulfill the prophecy that the Messiah would come out of Bethlehem (Micah 5:2; Luke 2:1-4).
Born in a humble manger (Luke 2:7), the Son of God associated with society's lowest throughout His ministry. This prompted religious leaders of the day to wonder why He ate with such "scum" (Mark 2:15-16). The answer was that Jesus didn't have an agenda of focusing on Himself; rather, He came to seek and save the lost (Luke 19:10).
In doing so, "he humbled himself in obedience to God and died a criminal's death on a cross. Therefore, God elevated him to the place of highest honor and gave him the name above all other names, that at the name of Jesus every knee should bow . . . and every tongue declare that Jesus Christ is Lord" (Philippians 2:8-11).
Augustus was ruthless in his efforts to attain a man-made declaration of divinity. Jesus obediently emptied Himself in humility and attained the only divine name by which we can be saved. May we live out His humble ways by His power.
My sins, my sins, my Savior,
How sad on Thee they fall.
Conviction of sin is one of the most uncommon things that ever happens to a person. It is the beginning of an understanding of God. Jesus Christ said that when the Holy Spirit came He would convict people of sin (see John 16:8). And when the Holy Spirit stirs a person's conscience and brings him into the presence of God, it is not that person's relationship with others that bothers him but his relationship with God— "Against You, You only, have I sinned, and done this evil in your sight…" (Psalm 51:4). The wonders of conviction of sin, forgiveness, and holiness are so interwoven that it is only the forgiven person who is truly holy. He proves he is forgiven by being the opposite of what he was previously, by the grace of God. Repentance always brings a person to the point of saying, "I have sinned." The surest sign that God is at work in his life is when he says that and means it. Anything less is simply sorrow for having made foolish mistakes— a reflex action caused by self-disgust.
The entrance into the kingdom of God is through the sharp, sudden pains of repentance colliding with man's respectable "goodness." Then the Holy Spirit, who produces these struggles, begins the formation of the Son of God in the person's life (see Galatians 4:19). This new life will reveal itself in conscious repentance followed by unconscious holiness, never the other way around. The foundation of Christianity is repentance. Strictly speaking, a person cannot repent when he chooses— repentance is a gift of God. The old Puritans used to pray for "the gift of tears." If you ever cease to understand the value of repentance, you allow yourself to remain in sin. Examine yourself to see if you have forgotten how to be truly repentant.