Matthew 27:46 and Mark 15:34— as Jesus is hanging on the cross near death. So it says, "About the ninth hour Jesus cried out with a loud voice," — Amazing. How did he have any strength to do it with a loud voice? — "Eli, Eli, lema sabachthani?" — the Aramaic form — "that is, 'My God, my God, why have you forsaken me?" (Matthew 27:46).

Forsaken for Our Sake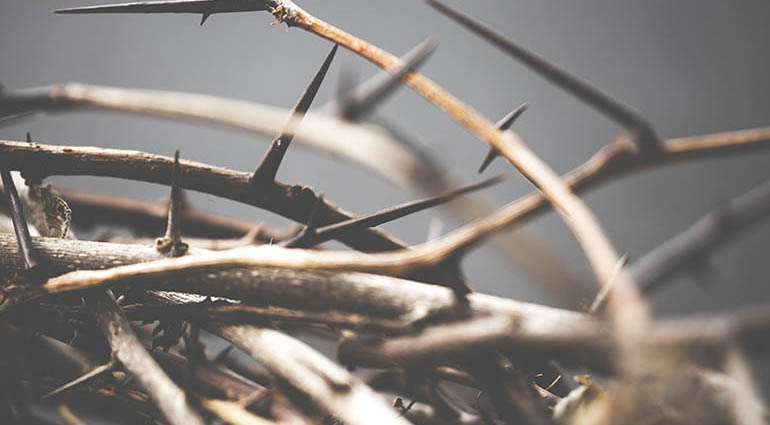 God has said, "Never will I leave you; never will I forsake you." Hebrews 13:5
Does having a friend nearby make pain more bearable? Researchers at the University of Virginia conducted a fascinating study to answer that question. They wanted to see how the brain reacted to the prospect of pain, and whether it behaved differently if a person faced the threat of pain alone, holding a stranger's hand, or holding the hand of a close friend.
Researchers ran the test on dozens of pairs, and found consistent results. When a person was alone or holding a stranger's hand while anticipating a shock, the regions of the brain that process danger lit up. But when holding the hand of a trusted person, the brain relaxed. The comfort of a friend's presence made the pain seem more bearable.
Jesus needed comfort as He prayed in the Garden of Gethsemane. He knew what He was about to face: betrayal, arrest, and death. He asked His closest friends to stay and pray with Him, telling them that His soul was "overwhelmed with sorrow" (Matt. 26:38). But Peter, James, and John kept falling asleep.
Jesus faced the agony of the garden without the comfort of a hand to hold. But because He bore that pain, we can be confident that God will never leave or forsake us (Heb. 13:5). Jesus suffered so that we will never have to experience separation from the love of God (Rom. 8:39). His companionship makes anything we endure more bearable.
Jesus, thank You for bearing the pain and isolation of the Garden of Gethsemane and the cross for us. Thank You for giving us a way to live in communion with the Father.
Because of God's love, we are never truly alone.
"Jesus said to Simon Peter, 'Simon son of John, do you love me more than these?'" John 21:15b (NIV)
Have you ever felt God stirring you to do something that's terrifyingly outside of your comfort zone? Something completely opposite of what you think you want to do?
I confess that left to my own choosing, I want to take the safe, certain and comfortable route. And then Scriptures march right up to my limited perspective and challenge me to walk a path I'd never choose on my own.
A question forms in my heart. One that forces me to stop and reconsider the path that terrifies: Do you love Jesus and want Him more than anything else?
It's this question the resurrected Jesus asked one of His disciples, Peter, at a crucial crossroads in Peter's life. And gracious, do I ever relate to Peter.
He'd been following Jesus for years.
But then things got hard. Jesus was crucified, and Peter took his eyes off that hard path of continuing in ministry that he'd been called to. He went back to what felt safe, certain and comfortable … his original occupation of fishing.
When the resurrected Jesus appeared in the flesh, He ruined Peter's justifications to stay safe. Peter's destiny wasn't to be a fisherman for the rest of his life. He was to be a shepherd of God's people.
"… Jesus said to Simon Peter, 'Simon son of John, do you love me more than these?'" (John 21:15).
For Peter, the "these" Jesus referenced might have been the large number of fish he had just caught. Or "these" could have been anything else pulling Peter away from his calling. We all have our own "these" areas in life — things we sometimes choose over Jesus.
Thankfully, Jesus continues to invite us to a life of more. A life where we refuse to settle for less than all He's called and designed us to do and to be.
That's why I love the directives Jesus gives Peter in John 21:15-17. I find it fascinating that Jesus asks Peter to do three things which mirror how shepherds actually care for their sheep in Israel today.
Jesus commands Peter:
"FEED MY LAMBS" (John 21:15) — In the morning, the shepherd gets up early in the sheepfold and feeds the little lambs first. He would pick up the little lambs. He would hold them and check them to make sure they were OK. He would call them by name because he knew the lambs that intimately.
"TAKE CARE OF MY SHEEP" (John 21:16) — After feeding the lambs, the shepherd then carefully leads the sheep down to a place where they can be fed. He leads them and cares for them.
"FEED MY SHEEP" (John 21:17) — The last step once he's fed the lambs, cared for the sheep and led them to a good pasture was to feed the sheep.
So why is it so important to note that Jesus is giving these directives to Peter?
I believe Jesus is trying to turn Peter from a quick-judging fisherman into a caring shepherd. Fishermen quickly judged and counted the fish they caught. They threw out the small fish because they'd have to pay more in taxes than the fish was actually worth. They would look at the fish and say, "This one's in, this one's out, this one's in, this one's out." Unlike a shepherd, a fisherman would never pick up the fish, love the fish, make sure the fish is OK or name the fish.
Yes, Peter has finished his season of being a fisherman of fish. Jesus is asking Peter to love Him more than the life Peter has known. Now He is calling Peter to be a shepherd for the people.
Jesus is also asking us to love Him more than the life we've known. And just like He equipped Peter by sending His Holy Spirit to fill and empower Peter for his calling (Acts 2), He willingly equips us. We have the gift of His Holy Spirit inside us and His written Word to continually guide us.
Sweet friends, let's not rush past how amazing it is that the Lord wants to work through us — even with all our fears and failings. Let's not allow fear or comfort to convince us to stay stuck in our same old ways. Let's simply say to Jesus, "Yes, Lord. I love You more than these," and follow His lead.
Lord, my soul declares "yes" to You today. Even if my hands are trembling … even if my feet feel shaky on this new path … I say "yes." I love You and I will live for You. Change me. Lead me. I'm Yours. In Jesus' Name, Amen.
Faith in the Fields
From: Our Daily Journey
One day as I drove by a vineyard located several miles from my house, I noticed a sign that read: Fieldworkers needed. For just a moment I imagined myself hard at work, standing between rows of vines with the sun on my neck and sweat on my face. I could almost smell the fruit ripening in the summer heat and feel myself snapping clusters of grapes from beneath broad leaves.
My brief longing to be a part of a harvest reminded me of Jesus' words, "The harvest is great, but the workers are few" (Matthew 9:37). Jesus wasn't talking about grapes. He was talking about people—Spirit-ripened people who were ready to receive the gift of eternal life but needed to hear how to do so (John 4:36).
I wonder if the disciples truly understood what Jesus meant by "the harvest is great." Did they know that they would be meeting plenty of people who would respond to their message? Their time in the fields would yield a massive, bountiful harvest of changed lives.
As for the problem of so few workers, Jesus' answer was simple. Pray. Instead of asking His followers to take too much work on themselves, He urged them to ask "the Lord who is in charge of the harvest . . . to send more workers into his fields" (Matthew 9:38). Even while they worked for His kingdom, Jesus wanted them to rest in God's sovereignty and provision.
We aren't responsible for whether or not the people we witness to receive Jesus as their Savior. They may reject the gift God offers. As we go out into the fields, however, we can remember that the One in charge of the harvest has equipped and empowered us by His Spirit to be His witnesses.