Matthew 28:19-20
19 Therefore go and make disciples of all nations, baptizing them in the name of the Father and of the Son and of the Holy Spirit,
20 and teaching them to obey everything I have commanded you. And surely I am with you always, to the very end of the age."

Resurrected Jesus in Emmaus talking to men who saw him crucified. Jesus was with them. They enjoyed his presence and teaching. After eating some fish and honey, he vanished but they truly were blessed by his gracious appearance.
Pizza and God's Presence
From: Our Daily Journey
Read:
Psalm 121:1-8
The Lord himself watches over you! The Lord stands beside you as your protective shade (Psalm 121:5).
Not placing an order at a pizzeria may have saved Kirk Alexander's life. When Alexander, who'd been purchasing pizza almost daily since 2009, hadn't placed an order in more than a week, the restaurant's manager asked a delivery driver to go to the customer's house and check on him. Sure enough, Alexander didn't answer the door—even though his lights and TV were on. Thanks to the driver's 911 call, Alexander—who required "immediate medical attention"—received treatment and survived.
Far more attentive than that pizzeria manager, the psalmist wrote that the "Lord himself watches over you! The Lord stands beside you as your protective shade" (Psalm 121:5). As he looked to the hills of Jerusalem (Psalm 121:1), the psalmist noted where his security could be found. He affirmed that God, who has unbounded power, was Israel's only true source of help (Psalm 121:1-2).
The God who redeemed Israel was the God who watched over, kept, and sustained His people (Psalm 121:3). Not only was He the source of their help, but He watched over His people at all times. The psalmist said God watched over Israel (the corporate community, Psalm 121:4), providing encouragement and refreshment (Psalm 121:5). God's protection moved with His people wherever they went (Psalm 121:7-8).
Did this mean that the people of Israel never experienced hardship and that we shouldn't expect times of struggle? No. But the psalmist accurately stated that God is there and aware of what's happening in our lives. We can rest in His love and care for us, even when we go through dark valleys (Psalm 23:4). And, when tough times come, we can look forward to being in His peaceful presence "forever" (Psalm 121:8).
Complete and Effective Dominion
Co-Eternal Life. Eternal life is the life which Jesus Christ exhibited on the human level. And it is this same life, not simply a copy of it, which is made evident in our mortal flesh when we are born again. Eternal life is not a gift from God; eternal life is the gift of God. The energy and the power which was so very evident in Jesus will be exhibited in us by an act of the absolute sovereign grace of God, once we have made that complete and effective decision about sin.
"You shall receive power when the Holy Spirit has come upon you…" (Acts 1:8)— not power as a gift from the Holy Spirit; the power is the Holy Spirit, not something that He gives us. The life that was in Jesus becomes ours because of His Cross, once we make the decision to be identified with Him. If it is difficult to get right with God, it is because we refuse to make this moral decision about sin. But once we do decide, the full life of God comes in immediately. Jesus came to give us an endless supply of life— "…that you may be filled with all the fullness of God" (Ephesians 3:19). Eternal life has nothing to do with time. It is the life which Jesus lived when He was down here, and the only Source of life is the Lord Jesus Christ.
Even the weakest saint can experience the power of the deity of the Son of God, when he is willing to "let go." But any effort to "hang on" to the least bit of our own power will only diminish the life of Jesus in us. We have to keep letting go, and slowly, but surely, the great full life of God will invade us, penetrating every part. Then Jesus will have complete and effective dominion in us, and people will take notice that we have been with Him.
Let Down Your Hair
From: Our Daily Bread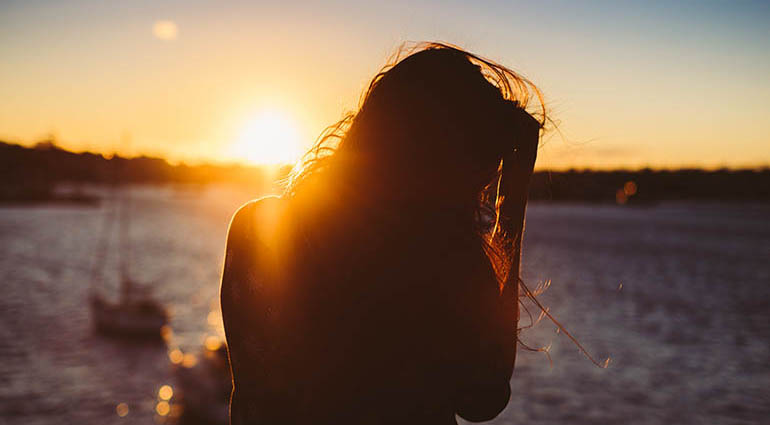 Mary took about a pint of pure nard, an expensive perfume; she poured it on Jesus' feet and wiped his feet with her hair. John 12:3
Shortly before Jesus was crucified, a woman named Mary poured a bottle of expensive perfume on His feet. Then, in what may have been an even more daring act, she wiped His feet with her hair (John 12:3). Not only did Mary sacrifice what may have been her life's savings, she also sacrificed her reputation. In first-century Middle Eastern culture, respectable women never let down their hair in public. But true worship is not concerned about what others think of us (2 Sam. 6:21–22). To worship Jesus, Mary was willing to be thought of as immodest, perhaps even immoral.
Some of us may feel pressured to be perfect when we go to church so that people will think well of us. Metaphorically speaking, we work hard to make sure we have every hair in place. But a healthy church is a place where we can let down our hair and not hide our flaws behind a façade of perfection. In church, we should be able to reveal our weaknesses to find strength rather than conceal our faults to appear strong.
Worship doesn't involve behaving as if nothing is wrong; it's making sure everything is right—right with God and with one another. When our greatest fear is letting down our hair, perhaps our greatest sin is keeping it up.
Search me, God, and know my heart. . . . See if there is any offensive way in me and lead me in the way everlasting. Psalm 139:23–24.
Our worship is right when we are right with God.