II Chronicles 16:9
For the eyes of the LORD range throughout the earth to strengthen those whose hearts are fully committed to him. You have done a foolish thing, and from now on you will be at war."

God Sees You
From: Our Daily Journey
Read:
Genesis 16:1-16
She said, "You are the God who sees me" (Genesis 16:13).
Susan had suffered one disappointment after another, and she was feeling disillusioned with God. She asked me and another friend to pray with her, and we gladly did. I'll never forget my friend's prayer, "Lord, let Susan know You love her—that You see her." The next day Susan thanked us for our prayers. She said she'd been feeling invisible, and our prayers helped her to feel visible again. She knew afresh that God saw her.
This really is the key, isn't it? The toughest part of any trial is wondering how much we and our problems matter to others. We can endure most anything when we know we count—that we're seen.
The story of Hagar is a powerful illustration of this. Hagar had been abused by the first family of our faith. Sarai had forced her to become a subordinate wife to Abram to give them a child through her and then became jealous when Hagar became pregnant and stopped respecting her. Perhaps her pregnancy made her see herself as more than a slave. In response, "Sarai treated Hagar so harshly that she finally ran away" (Genesis 16:6).
But an angel found Hagar in the wilderness and told her to name her son "Ishmael (which means 'God hears')", because "the Lord . . . heard [her] cry of distress" (Genesis 16:11). Although the path ahead wouldn't be easy, Hagar now knew God would not abandon her. She called Him El-roi, which means, "the God who sees me" (Genesis 16:13).
What difficulty has you wondering whether you matter to God? The One who heard Hagar's cries in the desert also has His eyes locked on you. He knows where you are and what pain you're enduring. The road ahead may be difficult, but you'll walk every step in full view of El-roi, the God who sees you.
Intimate Details
From: Our Daily Bread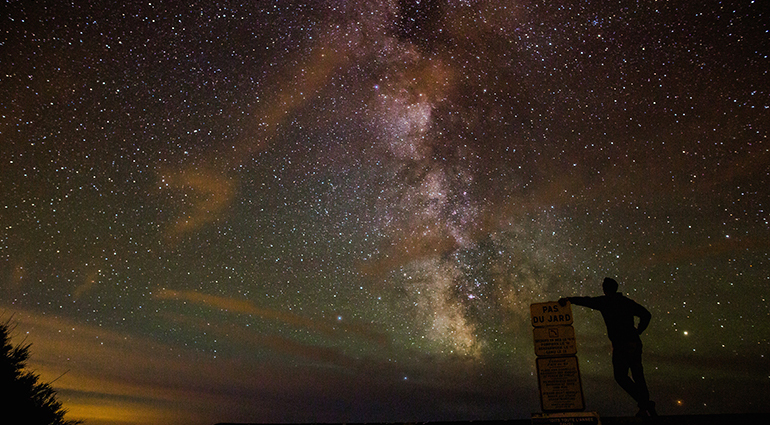 You know when I sit and when I rise; you perceive my thoughts from afar. Psalm 139:2
The universe is astonishingly grand. Right now the moon is spinning around us at nearly 2,300 miles an hour. Our Earth is spinning around the sun at 66,000 miles an hour. Our sun is one of 200 billion other stars and trillions more planets in our galaxy, and that galaxy is just one of 100 billion others hurtling through space. Astounding!
In comparison to this vast cosmos, our little Earth is no bigger than a pebble, and our individual lives no greater than a grain of sand. Yet according to Scripture, the God of the galaxies attends to each microscopic one of us in intimate detail. He saw us before we existed (Ps. 139:13–16); He watches us as we go about our days and listens for our every thought (vv. 1–6).
It can be hard to believe this sometimes. This tiny "pebble" has big problems like war and famine, and we can question God's care in times of personal suffering. But when King David wrote Psalm 139 he was in the midst of crisis himself (vv. 19–20). And when Jesus said God counts each hair on our heads (Matt. 10:30), He was living in an age of crucifixion. Biblical talk of God's caring attention isn't a naïve wish. It is real-world truth.
The One who keeps the galaxies spinning knows us intimately. That can help us get through the worst of times.
Father God, Your eye is on me as much as it is on the stars in the sky. Thank You for Your love, Your care, Your attention.
The God of the cosmos cares for us intimately.
We Are Secure
Security is a word that is in the news now. There are insecurities on every front. The stock market is not secure. The political situation around the world is not secure.
In his letter to the Ephesian believers, Paul gave us a reason for our security as Christians:
"And you also were included in Christ when you heard the word of truth, the gospel of your salvation. Having believed, you were marked in him with a seal, the promised Holy Spirit, who is a deposit guaranteeing our inheritance until the redemption of those who are God's possession—to the praise of his glory" (Ephesians 1:13-14).
There are two things Paul mentions that lead to our security. He first mentions the part we play, and then he explains the role of the Holy Spirit.
We have responsibility for listening to God and believing what He says. "You heard the word of truth" implies that we process what we hear and allow it to reshape our entire perception of what life means. Our faith comes from our hearing what God says. Romans 10:17 describes how important it is that we hear:
"Consequently, faith comes from hearing the message, and the message is heard through the word of Christ."
We not only listen to what God says, but we believe His Word. In1927, the wife of Scottish preacher Arthur Gossip died suddenly. When he returned to the pulpit, he preached a sermon entitled "When Life Tumbles In, What Then?" With his life suddenly interrupted by the tragic and unexpected death of his wife, Gossip went on to explain that during this darkest period of his life he needed his faith more than ever. He said to his congregation, "You people in the sunshine may believe the faith, but we in the shadow must believe it. We have nothing else." Faith isn't just for sunny days, we can believe during the tough times as well.
God responds to us when we hear and believe. "You were marked in him with a seal, the promised Holy Spirit, who is a deposit guaranteeing our inheritance until the redemption of those who are God's possession—to the praise of his glory." The Holy Spirit seals us and guarantees our redemption.
The idea of sealing means that there is security. Something that is sealed can't be opened and changed. What God has promised will never be altered. The Holy Spirit guarantees that.
Some people think they will not survive the responsibilities of serving Jesus. That is not true. The Holy Spirit marks us as belonging to Him, and that's the greatest blessing we could ever imagine. The Holy Spirit is evidence that we belong to God and that means we come under His divine protection. He protects what is His.
The Holy Spirit is our guarantee that God will watch over us. When difficult times threaten to overwhelm us, God will not abandon us. He will come to our rescue. How do we know that? We have heard the Word of Truth and we believe it. That means that the Holy Spirit has come alongside us to secure our safety and our final destiny.