Revelation 19:13
He is clothed with a robe dipped in blood, and His name is called The Word of God.
Revelation 7:14
I said to him, "My lord, you know." And he said to me, "These are the ones who come out of the great tribulation, and they have washed their robes and made them white in the blood of the Lamb.
For all of you who were baptized into Christ have clothed yourselves with Christ.



Clothed by God
From: Our Daily Bread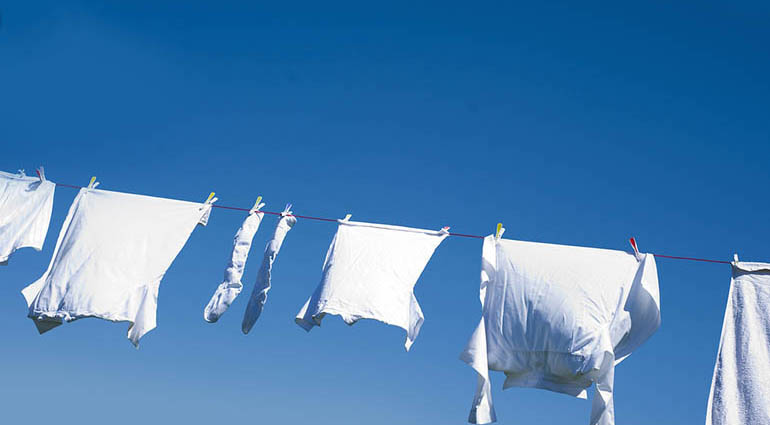 See, I have taken away your sin, and I will put fine garments on you. Zechariah 3:4
When my kids were toddlers, they would play outside in our sodden English garden and quickly become covered in mud and dirt. For their good and the good of my floor, I'd remove their clothes at the door and wrap them in towels before sticking them in the bath. They'd soon move from dirty to clean with the addition of soap, water, and hugs.
In a vision given to Zechariah, we see Joshua, a high priest, covered in rags that represent sin and wrongdoing (Zech. 3:3). But the Lord makes him clean, removing his filthy clothes and covering him in rich garments (3:5). The new turban and robe signify that the Lord has taken his sins from him.
We too can receive God's cleansing as we become free of our wrongdoing through the saving work of Jesus. As a result of His death on the cross, we can have the mud and sins that cling to us washed away as we receive the robes of God's sons and daughters. No longer are we defined by what we've done wrong (whether lying, gossiping, stealing, coveting, or other), but we can claim the names God gives to those He loves—restored, renewed, cleansed, free.
Ask God to remove any filthy rags you're wearing so you too can put on the wardrobe He has reserved for you.
Lord Jesus, through Your saving death on the cross we can find acceptance and love. May we receive this gift for Your glory.
Running the Race
From: Our Daily Journey
Read:
2 Peter 3:1-18
While you are waiting for these things to happen, make every effort to be found living peaceful lives that are pure and blameless in his sight (2 Peter 3:14).
In 2005 Dean Karnazes ran 350 miles in eighty hours—setting the world record for distance running without sleep. Ten years later, Rob Young, nicknamed the "Marathon Man," broke the record by covering nearly 374 miles in eighty-eight hours. Young, who had endured abuse by his father as a child, said he ran with two goals in mind: to test the limits of human endurance and to help the world become a better place for kids.
The apostle Peter encourages us to continue running the race for Jesus—making "every effort to be found living peaceful lives that are pure and blameless in [God's] sight," and to "grow in the grace and knowledge of our Lord and Savior Jesus Christ" (2 Peter 3:14,18). As we press on, we're reminded that although the race in Christ can sometimes seem to be long and taxing, God "isn't really being slow about his promise"—He's simply patiently allowing us to keep following His pace, for "He does not want anyone to be destroyed, but wants everyone to repent" (2 Peter 3:9).
Rob Young runs to raise funds to help kids find a better life. As believers in Jesus, we also run life's race to serve others: working toward helping them experience God's life and joy—now and eternally. We run against winds blowing contrary to God's truth—including distortions of God's intent for healthy sexuality, selfish desires, and a tendency to resist His reality (2 Peter 2:10; 3:3). However, we can live pure, blameless, grace-filled lives by sharing Christ's spirit through His Spirit as we look forward to our future with Jesus (2 Peter 3:12). He provides the wisdom, power, and strength we need to stay in the race as we grow in Christlikeness. "All glory to him, both now and forever! Amen" (2 Peter 3:18).
Living Simply— Yet Focused
From: Utmost.org
"Consider the lilies of the field, how they grow: they neither toil nor spin"— they simply are! Think of the sea, the air, the sun, the stars, and the moon— all of these simply are as well— yet what a ministry and service they render on our behalf! So often we impair God's designed influence, which He desires to exhibit through us, because of our own conscious efforts to be consistent and useful. Jesus said there is only one way to develop and grow spiritually, and that is through focusing and concentrating on God. In essence, Jesus was saying, "Do not worry about being of use to others; simply believe on Me." In other words, pay attention to the Source, and out of you "will flow rivers of living water" (John 7:38). We cannot discover the source of our natural life through common sense and reasoning, and Jesus is teaching here that growth in our spiritual life comes not from focusing directly on it, but from concentrating on our Father in heaven. Our heavenly Father knows our circumstances, and if we will stay focused on Him, instead of our circumstances, we will grow spiritually— just as "the lilies of the field."
The people who influence us the most are not those who detain us with their continual talk, but those who live their lives like the stars in the sky and "the lilies of the field"— simply and unaffectedly. Those are the lives that mold and shape us.
If you want to be of use to God, maintain the proper relationship with Jesus Christ by staying focused on Him, and He will make use of you every minute you live— yet you will be unaware, on the conscious level of your life, that you are being used of Him.