This occurred to fulfill the Lord's message through his prophet: "Look! The virgin will conceive a child! . . . They will call him Immanuel, which means 'God is with us' " (Matthew 1:22-23).
What an awesome three  words, " God with us."
Read:
Matthew 1:18-24
This occurred to fulfill the Lord's message through his prophet: "Look! The virgin will conceive a child! . . . They will call him Immanuel, which means 'God is with us' " (Matthew 1:22-23).
One year, because of a bereavement in our family, we celebrated a different sort of Christmas. Since we weren't spending the holiday at home, we couldn't devote the usual time to preparing special meals and gifts. So we tried—some days more successfully than others—to focus on the gift of God becoming Man to be with us. That is, Immanuel, who comforts us in our grief and reassures us that He's with us, each and every day (Matthew 1:23).
This idea of the gift of Jesus as Immanuel is unique to Matthew's gospel. The author tells the story through the eyes of Joseph, the man to whom Mary was betrothed. In the ancient Near East, a betrothal was a legally binding covenant between a man and a woman. So when Joseph found out that Mary was expecting a child who was not his own, he pondered how he could be released from this contract to remain pure before God, but without destroying Mary's future (Matthew 1:19). Then the angel of the Lord appeared and reassured him that the baby had been conceived by the Holy Spirit (Matthew 1:20). The angel quoted the prophet Isaiah (Isaiah 7:14), saying the child would be Immanuel, "God with us" (Matthew 1:23).
For Joseph, "God with us" meant a unique invitation to accept Mary as his wife and to raise this special One. His dream—which revealed God's message—would give him comfort and assurance as he faced questions and perhaps ridicule from the community as to why he would wed Mary.
For those who follow Jesus, "God with us" means the promise of Him living within us through His Spirit (1 John 4:13; Galatians 2:20). We're now never alone, whether we face grief, pain, or hardship, for God is always with us. May we seek His strength as we prepare to celebrate the gift of Immanuel this Christmas.
Trusting God Even If
From: Our Daily Bread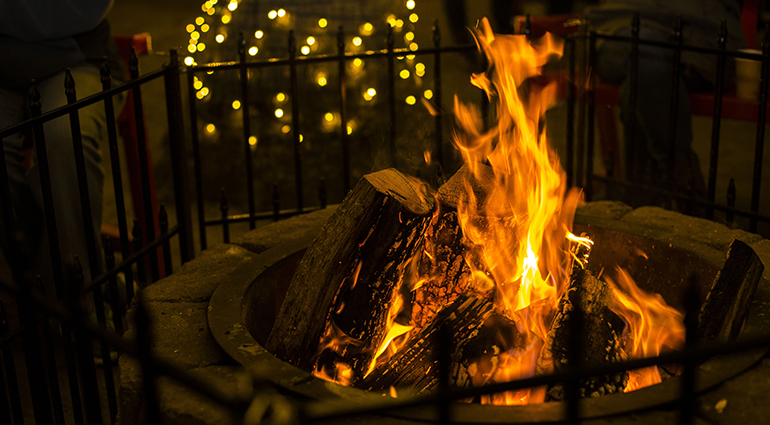 Due to an injury that occurred in 1992, I suffer from chronic pain in my upper back, shoulders, and neck. During the most excruciating and disheartening moments, it's not always easy to trust or praise the Lord. But when my situation feels unbearable, God's constant presence comforts me. He strengthens me and reassures me of His unchanging goodness, limitless power, and sustaining grace. And when I'm tempted to doubt my Lord, I'm encouraged by the determined faith of Shadrach, Meshach, and Abednego. They worshiped God and trusted He was with them, even when their situation seemed hopeless.
When King Nebuchadnezzar threatened to throw them into a blazing furnace if they didn't turn away from the true God to worship his golden statue (Dan. 3:13–15), these three men displayed courageous and confident faith. They never doubted the Lord was worthy of their worship (v. 17), "even if" He didn't rescue them from their current predicament (v. 18). And God didn't leave them alone in their time of need; He joined and protected them in the furnace (vv. 24–25).
God doesn't leave us alone either. He remains with us through trials that can feel as destructive as Nebuchadnezzar's furnace. Even if our suffering doesn't end on this side of eternity, God is and always will be mighty, trustworthy, and good. We can rely on His constant and loving presence.
Lord, thank You for being with us, no matter what we're going through.
Faith relies on our Almighty God's unchanging character, not on our circumstances.
Father and Friend
From: Get More Strength
"You are my friends if you do what I command." John 15:14
A short clip on the evening news recently featured a suburban high school's attempt to address the spiraling epidemic of teenage drinking. The reporter attended a parents' forum at the school and then spotlighted reactions from the parents after the session. One mother had it right when she said, "I was reminded that I cannot be my child's friend right now. I have to be my child's parent. One day we will be friends, but for now, I've got to be the parent."
Ever since I heard that, her comment has been Velcroed to my brain. Not just in terms of parenting, but in terms of our relationship with God. Quite frankly, most of us would rather think of God as our friend rather than our parent. Thinking of Him as our buddy, or as the one who "has our back," has a nice ring to it. And there's nothing wrong with that perspective. He actually welcomes us to a friendship with Him. In John 15:14
, He says, "You are my friends if you do what I command." But it's more than just friendship; it's the obedience part as well.
In fact, it's not until we understand and appreciate the parental authority of God the Father in our lives by heeding His instruction and seeking to align our ways with His, that we will ever understand the true joy of being His friend.
But we need to be careful here. Even our thoughts about God as Father can be a little out of whack. We like the idea of a benevolent Father who supplies our needs, who protects us, and who loves to give us good gifts. And while all those things are true, let's not forget that it's the parenting of God that puts protective boundaries in place through His law. It's the gracious parenthood of God that provides warnings along the way when we choose to turn away from God's commands. Then, when necessary, it's His loving discipline that reproves and corrects us—even painfully, if necessary—to draw us back to Him and to His good and perfect will.
Let's face it, no one really likes discipline. We don't want to be corrected. It's not pleasant. But where would we be without it? Most of us, when we look back across the landscape of our lives can see numerous times when discipline was necessary to get us back on the right track. As the writer of Hebrews advised: "My son, do not make light of the Lord's discipline, and do not lose heart when he rebukes you, because the Lord disciplines those he loves . . . . Endure hardship as discipline" (Hebrews 12:5-7
). But here's the good news: "Later on, however, it produces a harvest of righteousness and peace for those who have been trained by it" (Hebrews 12:11
).
Just as parents look forward to the day when the reproof, correction, and discipline of parenting give way to companionship and friendship with their kids, it's no different with our heavenly Father. Our humble response to His correction and discipline will allow us to enjoy more and more of His friendship. So the question is: When God thinks of you, does He say, "I look forward to the day when I can be her friend, but for now I have to be her parent"—or, have you matured to the point where you are enjoying God as your friend? If I hear Jesus correctly, glad and grateful obedience is the key!