5 As they entered the tomb, they saw a young man dressed in a white robe sitting on the right side, and they were alarmed. 6 "Don't be alarmed," he said. "You are looking for Jesus the Nazarene, who was crucified. He has risen! He is not here. See the place where they laid him. 7 But go, tell his disciples and Peter, 'He is going ahead of you into Galilee. There you will see him, just as he told you.' "

6 He is not here; he has risen! Remember how he told you, while he was still with you in Galilee: 7 'The Son of Man must be delivered over to the hands of sinners, be crucified and on the third day be raised again.' "

16 Jesus said to her, "Mary."She turned toward him and cried out in Aramaic, "Rabboni!" (which means "Teacher"). 17 Jesus said, "Do not hold on to me, for I have not yet ascended to the Father. Go instead to my brothers and tell them, 'I am ascending to my Father and your Father, to my God and your God.' " 18 Mary Magdalene went to the disciples with the news: "I have seen the Lord!" And she told them that he had said these things to her.
Resurrection: He Is Risen, Indeed!
From: CBN
Easter Sunday. To many it means the Easter bunny, a day of food and celebration. For some it is an obligatory church-attending holiday, after which life goes on as usual.
How sad that we have so quickly forgotten the true meaning of Easter. Our God reigns! Jesus Christ died, yes. But even more importantly, He rose again and is now seated at the right hand of God the Father, as we say in the Lord's Prayer.
Jesus Christ literally defied death. But He did more than just a Houdini move. We "ooo" and "ahhh" over the narrow escapes by magicians like David Copperfield and others, but eventually even those daredevils will face death. Their power is limited.
But Jesus Christ was greater — He defied death FOREVER. Jesus Christ lives and reigns for eternity, whether you or I believe that fact or not.
And He has reclaimed life for all those who believe in Him. This is the second miracle of Easter. Through God's work on the cross, we have access to eternal life as well:
For I am not ashamed of the gospel, because it is the power of God for the salvation of everyone who believes: first for the Jew, then for the Gentile. For in the gospel a righteousness from God is revealed, a righteousness that is by faith from first to last, just as it is written: ' The righteous will live by faith' (Romans 1:16-17).

If you confess with your mouth, 'Jesus is Lord,' and believe in your heart that God raised him from the dead, you will be saved. For it with your heart that you believe and are justified, and it is with your mouth that you confess and are saved (Romans 10:9-10).

Whosoever acknowledges me before men, I will also acknowledge him before my Father in heaven. But whoever disowns me before men, I will disown him before my Father in heaven (Matt. 10:32-33).
Please consider today the wonder of God's power and His love for you. He knows you. He knows what you have done. He knows what you are going to do. But He is waiting for your response, my friend. God doesn't need your praise or your service to Him; He desires it. It is not what we do for God that gets us into heaven and gives us a right relationship with God. It is only by faith in Jesus Christ. Look at these Scriptures:
Know that a man is not justified by observing the law, but by faith in Jesus Christ. So we, too, have put our faith in Christ Jesus that we may be justified by faith in Christ and not by observing the law, because by observing the law no one will be justified (Galatians 2:16).

For it is by grace you have been saved, through faith — and this not from yourselves, it is the gift of God — not by works so that no one can boast (Ephesians 2:8-9).
He Understands and Cares
From: Our Daily Bread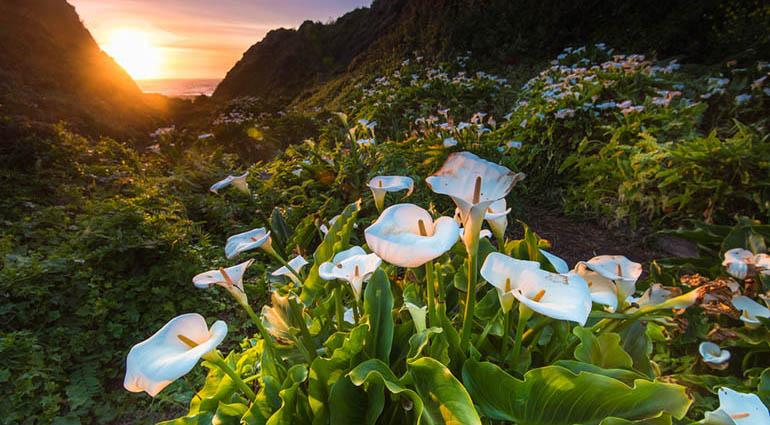 Surely he took up our pain and bore our suffering. Isaiah 53:4
When asked if he thought that ignorance and apathy were problems in modern society, a man joked, "I don't know and I don't care."
I suppose many discouraged people feel that way about the world today and the people in it. But when it comes to the perplexities and concerns of our lives, Jesus fully understands, and He deeply cares. Isaiah 53, an Old Testament prophecy of the crucifixion of Jesus, gives us a glimpse of what He went through for us. "He was oppressed and afflicted . . . led like a lamb to the slaughter" (v. 7). "For the transgression of my people he was punished" (v. 8). "It was the Lord's will to crush him and cause him to suffer, and though the Lord makes his life an offering for sin, he will see his offspring and prolong his days, and the will of the Lord will prosper in his hand" (v. 10).
On the cross Jesus willingly bore our sin and guilt. No one ever suffered more than our Lord did for us. He knew what it would cost to save us from our sins and, in love, He willingly paid it (vv. 4–6).
Because of Jesus's resurrection from the dead, He is alive and present with us today. Whatever situation we face, Jesus understands and cares. And He will carry us through.
Lord, we give thanks for Your knowledge of our circumstances and Your care for us. Today we want to walk with You and honor You in all we do.
 He is not here; He has risen! Luke 24:6
Because of Sunday
From: Our Daily Journey
Read:
Mark 10:32-34
The angel said, "Don't be alarmed. You are looking for Jesus of Nazareth, who was crucified. He isn't here! He is risen from the dead!" (Mark 16:6).
What would you do if you only had one week to live? Would you touch base with a few friends? Spend time with your family?
Knowing He had less than a week to live, Jesus responded very differently than many of us would—courageously making the journey to Jerusalem while preparing His followers for His death.
On Sunday, the crowds cheered His entrance into Jerusalem (Mark 11:1-11). Monday, He chased thieves out of the temple—calling it "a house of prayer" (Mark 11:15-17). Tuesday, the temple leaders questioned His authority (Mark 11:27-28). The Pharisees and other religious leaders also questioned Him about paying taxes and the greatest commandment (Mark 12:13-34). On Wednesday, one of Jesus' disciples, Judas Iscariot, began to plot His demise (Mark 14:10-11).
On Thursday, after a Passover meal during which Jesus prepared His disciples for life after His death, Judas betrayed Him to religious leaders who had Him arrested (Mark 14:43-46). On Friday, they handed Jesus over to Roman authorities who had Him beaten and then crucified on a cross (Mark 15:15).
As the reality of Jesus' death sank into the hearts of His followers on Saturday, so did despair—for their hopes died with Him. But then came His amazing resurrection on Sunday morning! (Mark 16:1-7).
The events of Jesus' last week shows that because of Jesus and His love we can face the trials of today in His strength. Because of Easter Sunday, we can enter the conflicts of Monday through Wednesday; we can embrace the betrayal of Thursday, the suffering and humiliation of Friday, and the despair of Saturday.
Jesus' resurrection gives us the ultimate assurance that even the most difficult realities of life in our present broken world will not have the final say.