(Jesus Goes ahead of us to Heaven. So He can prepare a place for us in Paradise).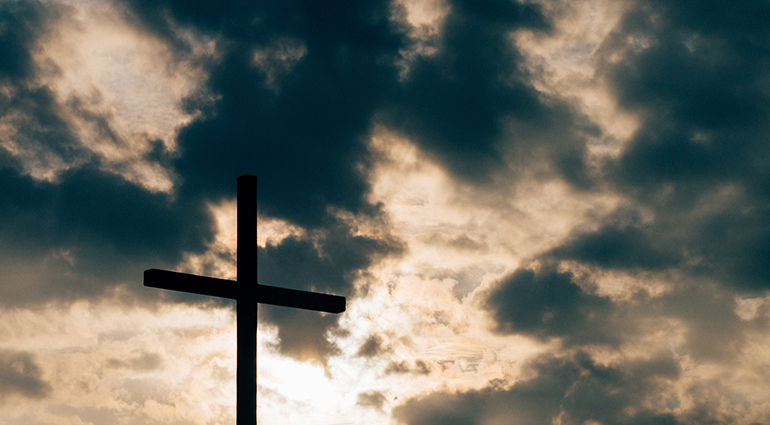 A friend recently prepared to relocate to a city more than 1,000 miles from her current hometown. She and her husband divided the labor of moving to accommodate a short timeline. He secured new living arrangements, while she packed their belongings. I was astounded by her ability to move without previewing the area or participating in the house hunt, and asked how she could do so. She acknowledged the challenge but said she knew she could trust her husband because of his attention to her preferences and needs over their years together.
In the upper room, Jesus spoke with His disciples of His coming betrayal and death. The darkest hours of Jesus's earthly life, and that of the disciples as well, lay ahead. He comforted them with the assurance that He would prepare a place for them in heaven, just as my friend's husband prepared a new home for their family. When the disciples questioned Jesus, He pointed them to their mutual history and the miracles they'd witnessed Him perform. Though they would grieve Jesus's death and absence, He reminded them He could be counted on to do as He'd said.
Even in the midst of our own dark hours, we can trust Him to lead us forward to a place of goodness. As we walk with Him, we too will learn to trust increasingly in His faithfulness.
Help me, Lord, to lean on You when my life feels uncertain and hard. You are trustworthy and good.
We can trust God to lead us through difficult times.
Love that Acts
From: Our Daily Journey
Read:
1 John 3:11-23
If someone has enough money to live well and sees a brother or sister in need but shows no compassion—how can God's love be in that person? Dear children . . . let us show the truth by our actions (1 John 3:17-18).
An early church leader named Tertullian wrote that unbelievers in Rome would say of Christians, "See how they love one another." Particularly in the first three centuries AD, individuals or families who moved from rural areas to cities in search of a better life were very vulnerable if they became ill or faced hard times. In urban areas, they had no familial or communal support network to help them as they might have had in rural villages. As a result, the streets of the Roman Empire were full of weak, sick, elderly, and other vulnerable people who were left to fend for themselves.
But believers in Jesus were different. Believers throughout the empire cared for their own as well as others who were afflicted by a plague that killed many in the third century. Infants who were abandoned—left to die of exposure, often because they were deformed, sick, unwanted simply because they were female—were taken in by believers. Historian Gary B. Ferngren writes, "Church leaders encouraged all Christians to visit the sick and help the poor, and each congregation also established an organized ministry of mercy." It didn't matter if those in need were undeserving or deserving, an enemy or a friend. Believers responded with love, and unbelievers took note (John 13:35).
The early church practiced the apostle John's commandment to love others, not just with words but with "actions" (1 John 3:18). They understood they couldn't proclaim that the love of God dwelled in them if they had "no compassion" when they saw a person in need (1 John 3:17). Love and acts of compassion and justice are always tied together. Neither Jesus' disciples nor the early church separated them. Nor should we.
REJOICE IN THE LORD
From: Streams In The Desert
Rejoice in the Lord always. I will say it again: Rejoice! (Philippians 4:4).
It is a good thing to "rejoice in the Lord." Perhaps you have tried it but seemed to fail at first. Don't give it a second thought, and forge ahead. Even when you cannot feel any joy, there is no spring in your step, nor any comfort or encouragement in your life, continue to rejoice and "consider it pure joy" (James 1:2). "Whenever you face trials of many kinds" (James 1:2), regard it as joy, delight in it, and God will reward your faith. Do you believe that your heavenly Father will let you carry the banner of His victory and joy to the very front of the battle, only to calmly withdraw to see you captured or beaten back by the enemy? NEVER! His Holy Spirit will sustain you in your bold advance and fill your heart with gladness and praise. You will find that your heart is exhilarated and refreshed by the fullness within.
Lord, teach me to rejoice in You – to "be joyful always" (1 Thess. 5:16).
–selected
The weakest saint may Satan rout,
Who meets him with a praiseful shout.
Be filled with the Spirit… Sing and make music in your heart to the Lord.
–-Ephesians 5:18-19
In these verses, the apostle Paul urges us to use singing as inspiration in our spiritual life. He warns his readers to seek motivation not through the body but through the spirit, not by stimulating the flesh but by exalting the soul.
Sometimes a light surprises
The Christian while he sings.
Let us sing even when we do not feel like it, for in this way we give wings to heavy feet and turn weariness into strength.
–John Henry Jowett
About midnight Paul and Silas were praying and signing hymns to God, and the other prisoners were listening to them.
–-Acts 16:25
O Paul, what a wonderful example you are to us! You gloried in the fact that you "bear on [your] body the marks of Jesus" (Gal. 6:17). You bore the marks from nearly being stoned to death, from three times being "beaten with rods" (2 Cor. 11:25), from receiving 195 lashes from the Jews, and from being bloodily beaten in the Philippian jail. Surely the grace that enabled you to sing praises while enduring such suffering is sufficient for us.
–J. Roach
Oh, let us rejoice in the Lord, evermore,
When darts of the Tempter are flying,
For Satan still dreads, as he oft did before,
Our singing much more than our crying.