…

23    

So all the days of Enoch were three hundred and sixty-five years.
25    

Methuselah lived one hundred and eighty-seven years, and became the father of Lamech.
…
620 × 335 – eastbaytimes.com
Friendship with God
From: Utmost.org
The Delights of His Friendship. Genesis 18 brings out the delight of true friendship with God, as compared with simply feeling His presence occasionally in prayer. This friendship means being so intimately in touch with God that you never even need to ask Him to show you His will. It is evidence of a level of intimacy which confirms that you are nearing the final stage of your discipline in the life of faith. When you have a right-standing relationship with God, you have a life of freedom, liberty, and delight; you are God's will. And all of your commonsense decisions are actually His will for you, unless you sense a feeling of restraint brought on by a check in your spirit. You are free to make decisions in the light of a perfect and delightful friendship with God, knowing that if your decisions are wrong He will lovingly produce that sense of restraint. Once he does, you must stop immediately.
The Difficulties of His Friendship. Why did Abraham stop praying when he did? He stopped because he still was lacking the level of intimacy in his relationship with God, which would enable him boldly to continue on with the Lord in prayer until his desire was granted. Whenever we stop short of our true desire in prayer and say, "Well, I don't know, maybe this is not God's will," then we still have another level to go. It shows that we are not as intimately acquainted with God as Jesus was, and as Jesus would have us to be— "…that they may be one just as We are one…" (John 17:22). Think of the last thing you prayed about— were you devoted to your desire or to God? Was your determination to get some gift of the Spirit for yourself or to get to God? "For your Father knows the things you have need of before you ask Him" (Matthew 6:8). The reason for asking is so you may get to know God better. "Delight yourself also in the Lord, and He shall give you the desires of your heart" (Psalm 37:4). We should keep praying to get a perfect understanding of God Himself.
Running and Rest
From: Our Daily Bread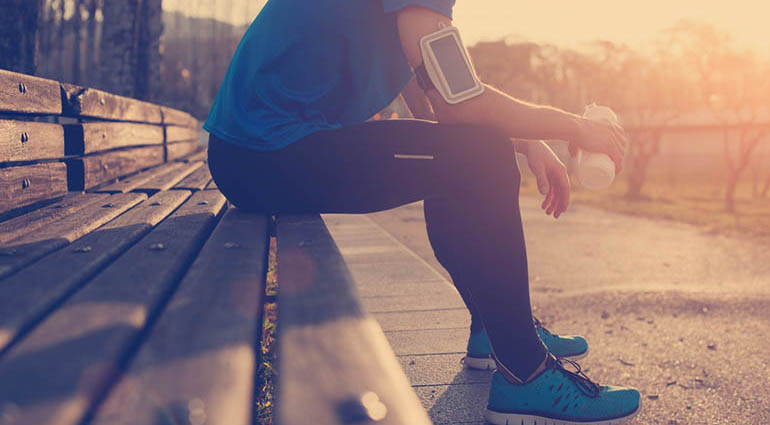 [Jesus] said to them, "Come with me by yourselves to a quiet place and get some rest." Mark 6:31
The headline caught my eye: "Rest Days Important for Runners." In Tommy Manning's article, the former member of the U.S. Mountain Running Team emphasized a principle that dedicated athletes sometimes ignore—the body needs time to rest and rebuild after exercise. "Physiologically, the adaptations that occur as a result of training only happen during rest," Manning wrote. "This means rest is as important as workouts."
The same is true in our walk of faith and service. Regular times of rest are essential to avoid burnout and discouragement. Jesus sought spiritual balance during His life on Earth, even in the face of great demands. When His disciples returned from a strenuous time of teaching and healing others, "He said to them, 'Come with me by yourselves to a quiet place and get some rest'" (Mark 6:31). But a large crowd followed them, so Jesus taught them and fed them with only five loaves and two fish (vv. 32–44). When everyone was gone, Jesus "went up on a mountainside to pray" (v. 46).
If our lives are defined by work, then what we do becomes less and less effective. Jesus invites us to regularly join Him in a quiet place to pray and get some rest.
Lord Jesus, thank You for Your example of prayer alone with Your Father. Give us wisdom and determination to make rest a priority as we follow You.
In our life of faith and service, rest is as important as work.
"Be devoted to one another in love. Honor one another above yourselves." Romans 12:10 (NIV)
I was reserved as a child. When my parents started attending a church, I didn't want to be separated from them, so I refused to go with the other elementary school kids. I enjoyed my comfort zone, just a few feet away from my parents. As an only child, I was accustomed to a predictable life, free from siblings. I was afraid of being in unfamiliar territory.
What if I couldn't find anyone to sit next to me in kid's church?
What if I had a question, but I didn't know who to ask?
After many months of comfortably sitting next to my parents in the main service, my mother decided to give me a little pep talk.
"You are going to try the children's program soon," she said. "When you go into the room, look for the other kids who are by themselves. Show interest and ask questions about what they like. If you care for others, you won't be lonely yourself."
That conversation with my mom helped me reframe my young fears. At first it was hard to overcome my nervousness to talk to other children I didn't know. But over time, I learned to say hi to any girls who were sitting alone. My fear of being separated from my parents turned into an interest in others (with a little prodding from my mom). I became more comfortable — and now almost 40 years later, I still follow my mom's advice when I'm in a room filled with people I don't know.
Look for the lonely.
For many of us, it's easy to walk into a crowded room and either stick with the people we know or hide in a corner with a phone. Yet in today's key verse, we're instructed to consider others, even if it costs us something. When you're shy, it's difficult to make that first move toward a stranger. But as God's children, we are called to reach out to others, which is an act of service to the Lord.
This idea of reaching out to others isn't just for children's church, work parties or networking events. It's the way a Christian ought to behave: looking outwardly, looking for the lonely, looking for ways to bless others.
In this context of being affectionate to each other in brotherly love, the Apostle Paul writes we are to be diligent and fervent (Romans 12:11). Not lagging in diligence means not being lazy when serving the Lord. To be fervent in spirit means to glow with enthusiasm for God. Romans 12:13 says we are to contribute to the needs of the saints and to be given to hospitality. Our hearts, homes and pocketbooks should be open, generously and joyfully creating opportunities to reach out to those in need.
In our brief key verse, the phrase "one another" is mentioned twice, denoting just how important loving others is to God. We are to be devoted to one another and to honor one another. Verse 16 continues this theme; we are to live in harmony with one another.
Herein lies the cure for loneliness and shyness.
Be "one another" minded toward your brothers and sisters in Christ. Look for the lonely. When you look outwardly to serve others, putting the spotlight on your family, friends, neighbors, pastors or co-workers, you won't be lonely very often. Shyness melts away when God's people make a heart-to-heart connection.
Although I'm an only child, I do have many brothers and sisters … in Christ. You are not alone, my friend. You are part of God's beautiful, loving family.
Lord Jesus, thank You for loving me first, which gives me the ability to love others. Help me notice those around me who need a special touch from You. Use me to befriend the friendless. May I overcome any inhibitions to become the caring person You want me to be. In Jesus' Name, Amen.